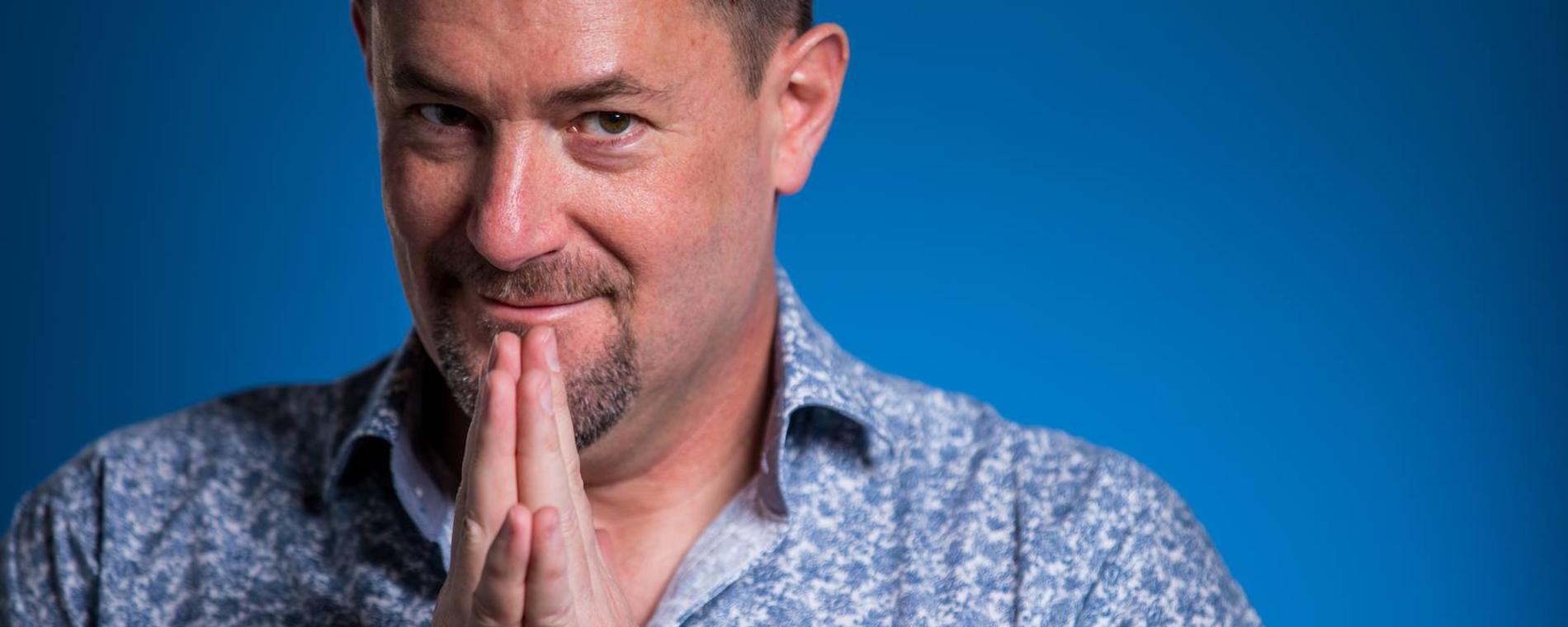 Back to Previous
The Mastermind Show with Curtis the Mentalist
The dates for this event have already occurred, please check back again for new dates.
The Mastermind Show is the most unique LIVE comedy show that plays regularly at the Loony Bin Comedy Club.
From the moment he struts onstage in his dark sunglasses, Curtis The Mentalist takes audiences on a 75-minute wild ride with his mind-bending and hilarious mental demonstrations. He's like a giant, human cartoon who is somehow able to tell you the names of people you're thinking about, places you've traveled to, and even draw pictures that you create in your mind. He also keeps you laughing the entire time while doing it.
It's a fast-paced show where no spectator is safe. He stands people up out of their seats, throws things into the audience, pulls playing cards out of his crotch, and wields a giant wiffle ball bat.
The Mastermind Show is not a show where you merely sit back and watch, it's a show where you get directly involved--an evening of comedy club entertainment that you must experience for yourself.
Get Tickets | 18+
Admission:

Starting at $15

The Mastermind Show with Curtis the Mentalist <p>The Mastermind Show is the most unique LIVE comedy show that plays regularly at the Loony Bin Comedy Club.</p> <p>From the moment he struts onstage in his dark sunglasses, Curtis The Mentalist takes audiences on a 75-minute wild ride with his mind-bending and hilarious mental demonstrations. He's like a giant, human cartoon who is somehow able to tell you the names of people you're thinking about, places you've traveled to, and even draw pictures that you create in your mind. He also keeps you laughing the entire time while doing it.</p> <p>It's a fast-paced show where no spectator is safe. He stands people up out of their seats, throws things into the audience, pulls playing cards out of his crotch, and wields a giant wiffle ball bat.</p> <p>The Mastermind Show is not a show where you merely sit back and watch, it's a show where you get directly involved--an evening of comedy club entertainment that you must experience for yourself.</p> <p><strong><a title="Get Tickets" href="http://wichita.loonybincomedy.com" rel="nofollow" target="_blank">Get Tickets</a> | 18+</strong></p> America/Chicago
Back To Previous