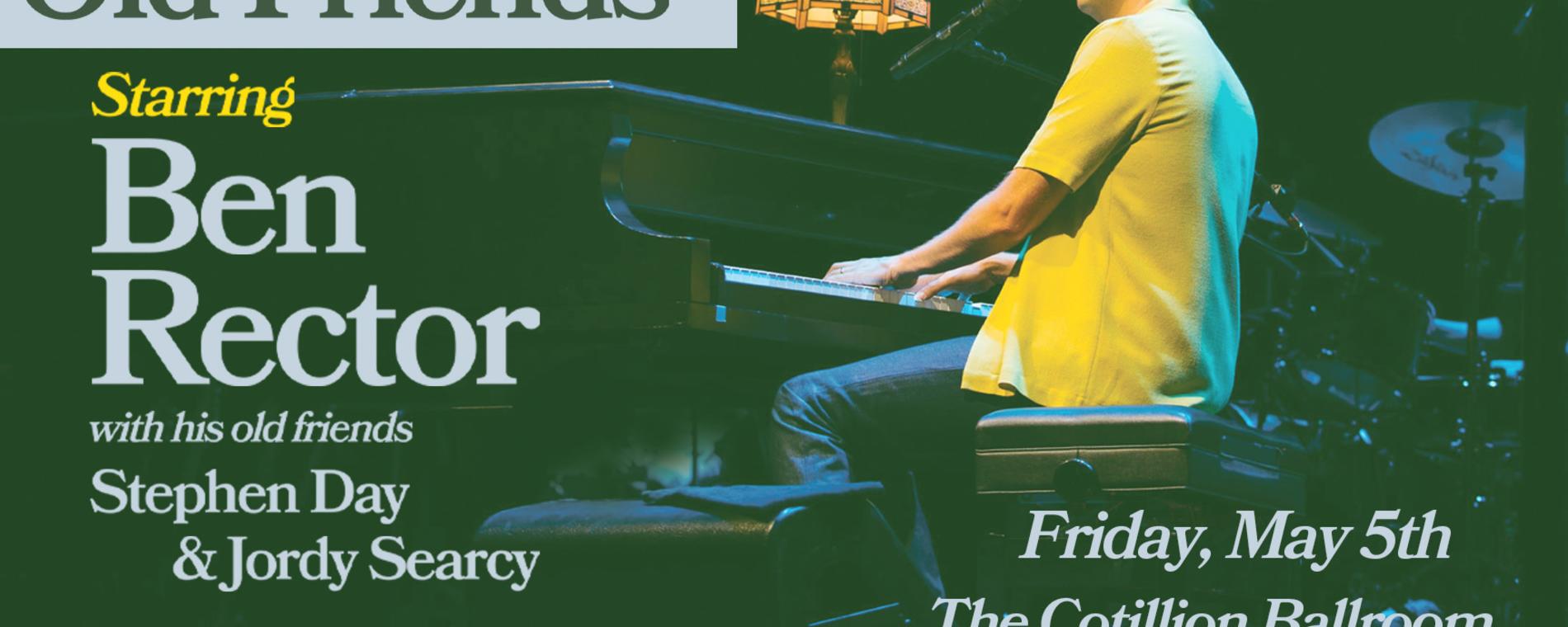 Back to Previous
The Old Friends Acoustic Tour Starring Ben Rector at The Cotillion
From: 07:30 PM to 10:30 PM, May 5, 2023 | The Cotillion
See The Old Friends Acoustic Tour starring Ben Rector with special guests Jordy Searcy & Stephen Day

Text ACOUSTIC to 49798 for Venue PreSale Info
This show is for all ages. All seating is reserved. Concessions and full bars will be open. Support acts are subject to change. 
Coat check is open during events to check your coats, hats, merch and more.  Coat check is located next to merch by the front doors.
All sales are final.  No exchanges or refunds unless a show is cancelled or postponed.
COVID-19 Show Policy: There are no restrictions on this show but we encourage face masks when you can not social distance and ask that you stay home if you are feeling sick or have been exposed recently to someone with COVID-19.  

AVAILABLE PRESALES:
Fan Club Presale - Tues, Nov 15 at 10AM thru Thurs, Nov 17 at 10PM
Spotify Presale - Wed, Nov 16 at 10AM thru Thurs, Nov 17 at 10PM
Support Presale - Thurs, Nov 17 at 10AM thru Thurs, Nov 17 at 10PM
Venue Presale - Thurs, Nov 17 at 10AM thru Thurs, Nov 17 at 10PM
*presales may require a passcode
Admission:

Reserved Seating $35, $44, $49, $69, $79

Days:

May 5, 2023

>

2023-05-05 2023-05-05 22:30:00 The Old Friends Acoustic Tour Starring Ben Rector at The Cotillion <p>See The Old Friends Acoustic Tour starring Ben Rector with special guests Jordy Searcy &amp; Stephen Day<br><br>Text ACOUSTIC to 49798 for Venue PreSale Info</p> <p>This show is for all ages. All seating is reserved. Concessions and full bars will be open. Support acts are subject to change. </p> <p><em>Coat check is open during events to check your coats, hats, merch and more.  Coat check is located next to merch by the front doors.</em></p> <p><em>All sales are final.  No exchanges or refunds unless a show is cancelled or postponed.</em></p> <p><strong><em>COVID-19 Show Policy: There are no restrictions on this show but we encourage face masks when you can not social distance and ask that you stay home if you are feeling sick or have been exposed recently to someone with COVID-19.  </em></strong><br><br><strong>AVAILABLE PRESALES:</strong><br>Fan Club Presale - Tues, Nov 15 at 10AM thru Thurs, Nov 17 at 10PM<br>Spotify Presale - Wed, Nov 16 at 10AM thru Thurs, Nov 17 at 10PM<br>Support Presale - Thurs, Nov 17 at 10AM thru Thurs, Nov 17 at 10PM<br>Venue Presale - Thurs, Nov 17 at 10AM thru Thurs, Nov 17 at 10PM<br><em>*presales may require a passcode</em></p> 11120 W. Kellogg Dr. Wichita, KS America/Chicago
Back To Previous