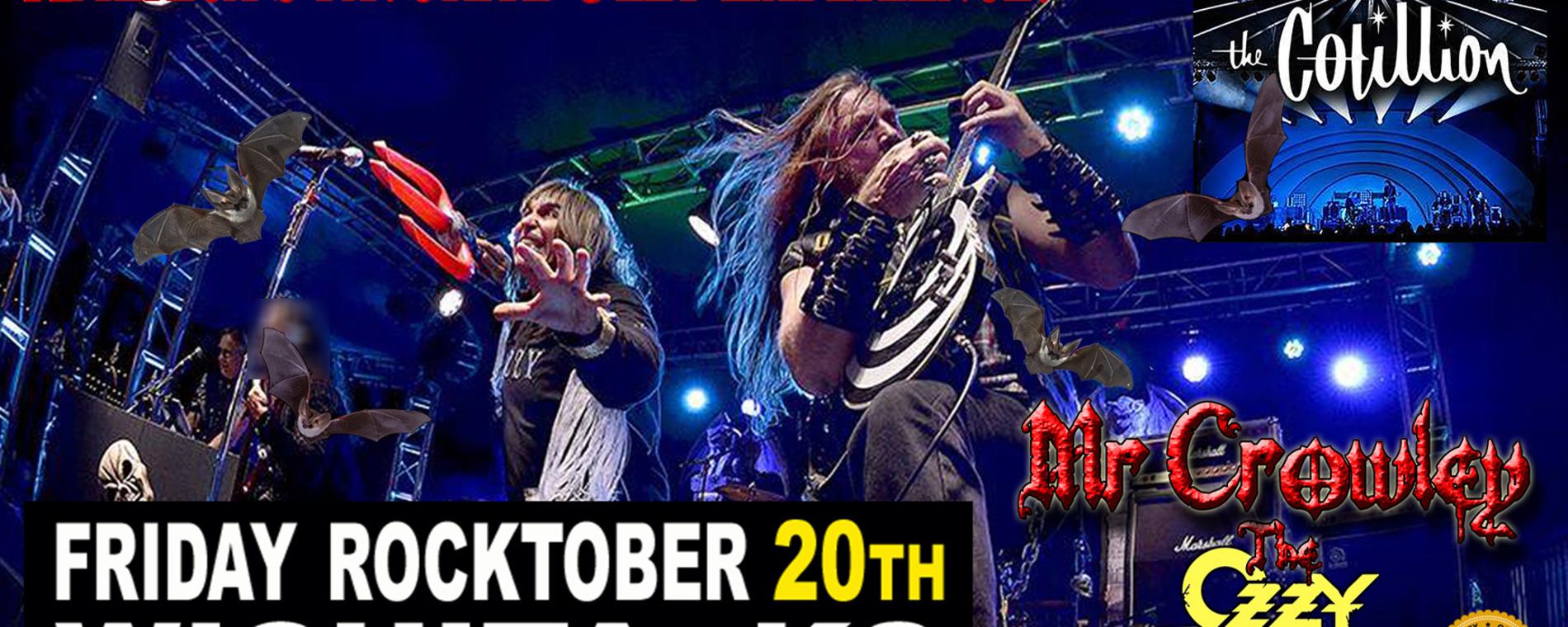 Back to Previous
The Ozzy Osbourne Experience with Mr. Crowley at The Cotillion
From: 07:30 PM to 10:30 PM, October 20, 2023 | The Cotillion
Mr. Crowley was born back in 1999, a time when there weren't any Ozzy or Black Sabbath tribute acts around yet. After more than two decades of paying tribute to The Prince Of Darkness, the passion for performing these incredible works burns stronger than ever in every one of the members…Through the last 23 years, the band has gone through countless members and incarnations, many whom have gone on to join up with larger than life acts making Mr Crowley somewhat of a breeding ground. Recently, guitar player Mark Knapp was featured on AXS-TV's Worlds Greatest Tribute Band series.
In 2013, Mr. Crowley set the Guinness Book of World Records for the Largest Air Guitar ensemble during KCAL's Rock N Roll Bingo Event at San Manuel Casino.
Seeing Mr. Crowley live is somewhat of a surreal adventure for the avid Ozzy fan as they truly are the most authentic sounding and looking Ozzy band in America. Contrary to a fairly common belief, the band uses no backing tracks EVER! What you're seeing and hearing live is being done the old fashion way.
Live and in real time. Mr. Crowley does more than just cover the songs that made Ozzy Osbourne famous, they truly tribute the man and his work, playing all of the songs of Ozzys entire catalog, including both Black Sabbath as well as his solo career.

TEXT ROCK to 49798 for concert updates.
Concessions and full bars open! Also featuring local favorites Nancy's A-Maize-N Sandwich Booth. All Ages are welcome and support acts are subject to change. 

Wear your Cotillion merch and jump to the front of the GA line. A limited number of table reservations are available by calling 316-722-4201 or in person at The Cotillion. 
Coat check is open during events to check your coats, hats, merch and more. Coat check is located next to merch by the front doors. All sales are final. No exchanges or refunds unless a show is cancelled or postponed.



Admission:

GA $20 Advance, $23 Day of Show

Buy Tickets
Days:

October 20, 2023

>

2023-10-20 2023-10-20 22:30:00 The Ozzy Osbourne Experience with Mr. Crowley at The Cotillion <p>Mr. Crowley was born back in 1999, a time when there weren't any Ozzy or Black Sabbath tribute acts around yet. After more than two decades of paying tribute to The Prince Of Darkness, the passion for performing these incredible works burns stronger than ever in every one of the members…Through the last 23 years, the band has gone through countless members and incarnations, many whom have gone on to join up with larger than life acts making Mr Crowley somewhat of a breeding ground. Recently, guitar player Mark Knapp was featured on AXS-TV's Worlds Greatest Tribute Band series.</p> <p>In 2013, Mr. Crowley set the Guinness Book of World Records for the Largest Air Guitar ensemble during KCAL's Rock N Roll Bingo Event at San Manuel Casino.<br>Seeing Mr. Crowley live is somewhat of a surreal adventure for the avid Ozzy fan as they truly are the most authentic sounding and looking Ozzy band in America. Contrary to a fairly common belief, the band uses no backing tracks EVER! What you're seeing and hearing live is being done the old fashion way.<br>Live and in real time. Mr. Crowley does more than just cover the songs that made Ozzy Osbourne famous, they truly tribute the man and his work, playing all of the songs of Ozzys entire catalog, including both Black Sabbath as well as his solo career.<br><br>TEXT ROCK to 49798 for concert updates.</p> <p>Concessions and full bars open! Also featuring local favorites Nancy's A-Maize-N Sandwich Booth. All Ages are welcome and support acts are subject to change. <br><br>Wear your Cotillion merch and jump to the front of the GA line. A limited number of table reservations are available by calling 316-722-4201 or in person at The Cotillion. </p> <p><em>Coat check is open during events to check your coats, hats, merch and more. Coat check is located next to merch by the front doors. </em><em>All sales are final. No exchanges or refunds unless a show is cancelled or postponed.<br><br><br></em></p> 11120 W. Kellogg Dr. Wichita, KS America/Chicago
Back To Previous