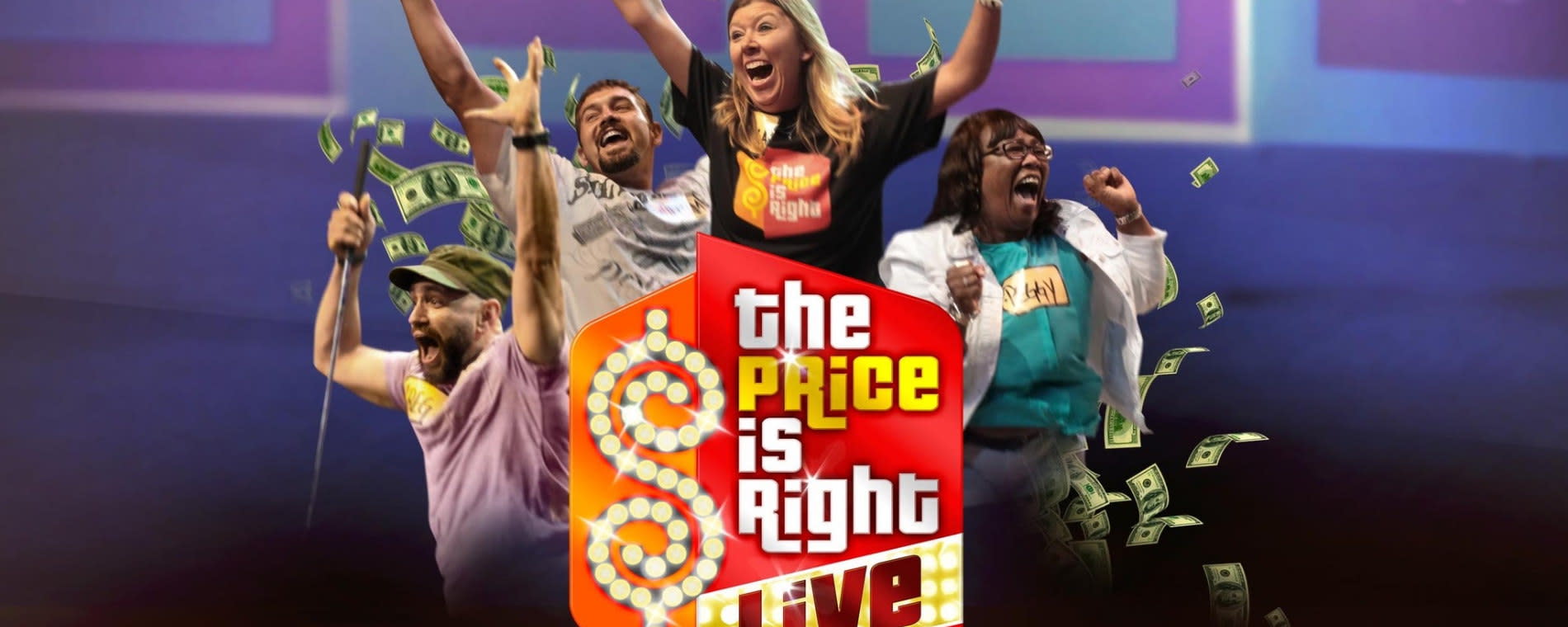 Back to Previous
The Price Is Right Live - Stage Show
7:30pm, December 4, 2021 | Hartman Arena
The Price Is Right Live™ is the hit interactive stage show that gives eligible individuals the chance to "Come On Down" and play classic games from television's most popular game show. Contestants can win cash, appliances, vacations, and possibly even a new car by playing favorites like Plinko™, Cliffhangers™, The Big Wheel™, and the fabulous Showcase!
The Price is Right™ is the longest-running game show in television history and loved by generations of viewers. This on-stage traveling version gives fans the chance to experience the same thrilling excitement of winning big, up close, and in-person.
*No Purchase Necessary to register for a chance to be a contestant. Open to legal US residents, 18 years or older. Ticket purchases will not increase your chances of being selected to play. For complete rules & regulations, including eligibility requirements, visit or call the venue box office. To enter the venue to watch the show, a ticket purchase is required.
MASKS ARE REQUIRED TO BE WORN FOR THE ENTIRETY OF THE EVENT (with the exception of actively eating and drinking) AND WHILE INSIDE HARTMAN ARENA. We appreciate your cooperation in keeping all attendees and our staff healthy and safe.
Photo: Fremantlemedia
Admission:

Starting at $32

Get Tickets
Days:

December 4, 2021

2021-12-04 2021-12-04 19:30:00 The Price Is Right Live - Stage Show <p>The Price Is Right Live™ is the hit interactive stage show that gives eligible individuals the chance to "Come On Down" and play classic games from television's most popular game show. Contestants can win cash, appliances, vacations, and possibly even a new car by playing favorites like Plinko™, Cliffhangers™, The Big Wheel™, and the fabulous Showcase!</p> <p>The Price is Right™ is the longest-running game show in television history and loved by generations of viewers. This on-stage traveling version gives fans the chance to experience the same thrilling excitement of winning big, up close, and in-person.</p> <p>*No Purchase Necessary to register for a chance to be a contestant. Open to legal US residents, 18 years or older. Ticket purchases will not increase your chances of being selected to play. For complete rules &amp; regulations, including eligibility requirements, visit or call the venue box office. To enter the venue to watch the show, a ticket purchase is required.</p> <p>MASKS ARE REQUIRED TO BE WORN FOR THE ENTIRETY OF THE EVENT (with the exception of actively eating and drinking) AND WHILE INSIDE HARTMAN ARENA. We appreciate your cooperation in keeping all attendees and our staff healthy and safe.</p> <p><em>Photo: Fremantlemedia</em></p> 8151 N. Hartman Arena Drive Park City, KS America/Chicago
Back To Previous