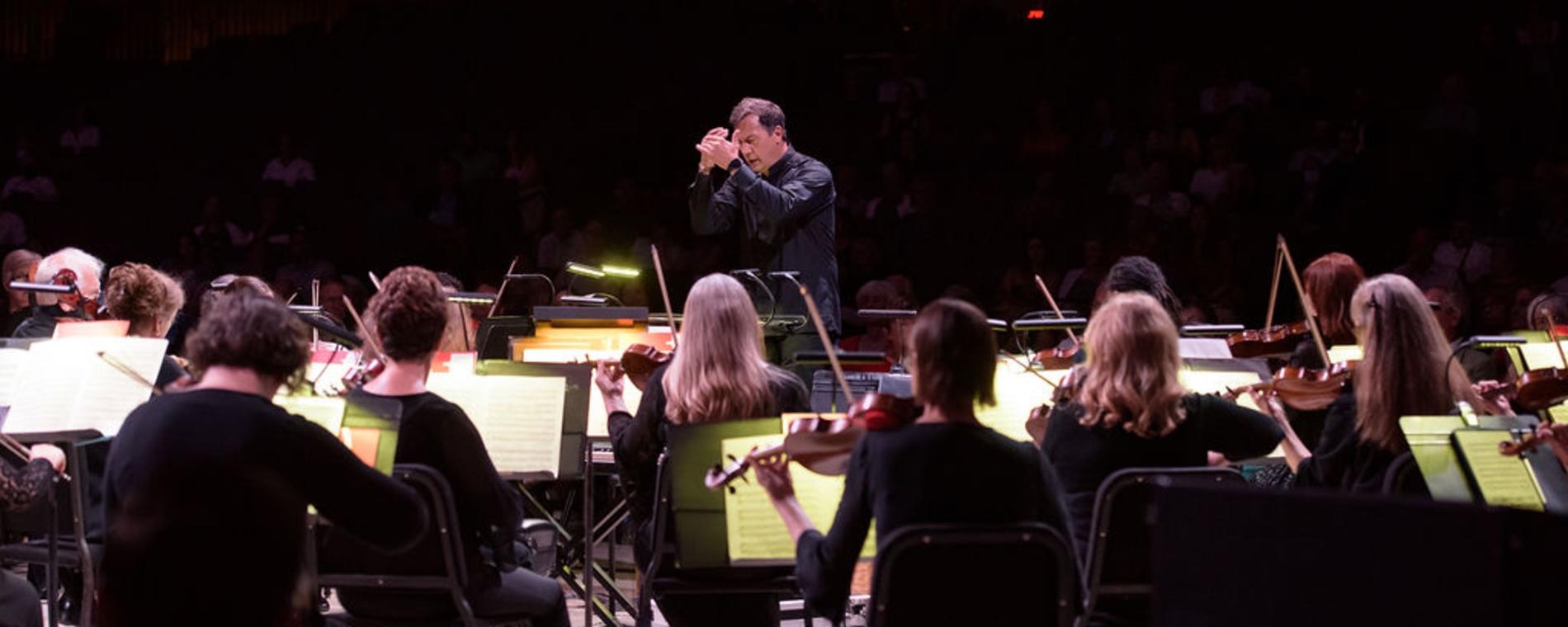 Back to Previous
The Rose of Sonora
7:30 PM on Saturday; 3:00 PM on Sunday, April 9, 2022 | Century II Performing Arts & Convention Center
This performance features Holly Mulcahy, violin and Westwater Arts, symphonic photochoreography projected on three giant screens above the orchestra.
We are proud to feature Concertmaster Holly Mulcahy in The Rose of Sonora, a violin concerto in the style of an epic Western by George S. Clinton. The piece tells a story in five scenes: 1) Escape, 2) Love and Freedom, 3) Ambush, 4) Death and Healing, 5) Vengeance.
Women of the Wild West – The Rose of Sonora was written for Holly and inspired by infamous women of the Wild West. Many of these outlaws have Kansas ties, including Rowdy Kate Lowe, Kate Bender of the Bloody Bender Gang, Big Nose Kate, Rose Dunn, Cattle Kate, and Squirrel Tooth Alice.
For Barber's Adagio for Strings and Copland's Rodeo, we take you on a journey with Westwater Arts to see two sides of the Wild West with images projected above the orchestra on three huge screens! We'll see a tribute to the Anasazi Indians, known for their cliff pueblos in the four corners region, and the action of a rodeo as only the contestants get to see it.
Tickets to The Rose of Sonora will go on sale to the general public Feb. 28, 2022. Tickets will to on sale to WSO Connect members in December 2021. Check back soon for more information.
Admission:

TBD

Buy Tickets
Days:

4/9/2022, 4/10/2022

2022-04-09 2022-04-10 19:30:00 The Rose of Sonora <p>This performance features Holly Mulcahy, violin and Westwater Arts, symphonic photochoreography projected on three giant screens above the orchestra.</p> <p>We are proud to feature Concertmaster Holly Mulcahy in The Rose of Sonora, a violin concerto in the style of an epic Western by George S. Clinton. The piece tells a story in five scenes: 1) Escape, 2) Love and Freedom, 3) Ambush, 4) Death and Healing, 5) Vengeance.</p> <p>Women of the Wild West &#8211; The Rose of Sonora was written for Holly and inspired by infamous women of the Wild West. Many of these outlaws have Kansas ties, including Rowdy Kate Lowe, Kate Bender of the Bloody Bender Gang, Big Nose Kate, Rose Dunn, Cattle Kate, and Squirrel Tooth Alice.</p> <p>For Barber's Adagio for Strings and Copland's Rodeo, we take you on a journey with Westwater Arts to see two sides of the Wild West with images projected above the orchestra on three huge screens! We'll see a tribute to the Anasazi Indians, known for their cliff pueblos in the four corners region, and the action of a rodeo as only the contestants get to see it.</p> <p>Tickets to The Rose of Sonora will go on sale to the general public Feb. 28, 2022. Tickets will to on sale to WSO Connect members in December 2021. Check back soon for more information.</p> 225 W. Douglas Ave. Wichita, KS America/Chicago
Back To Previous