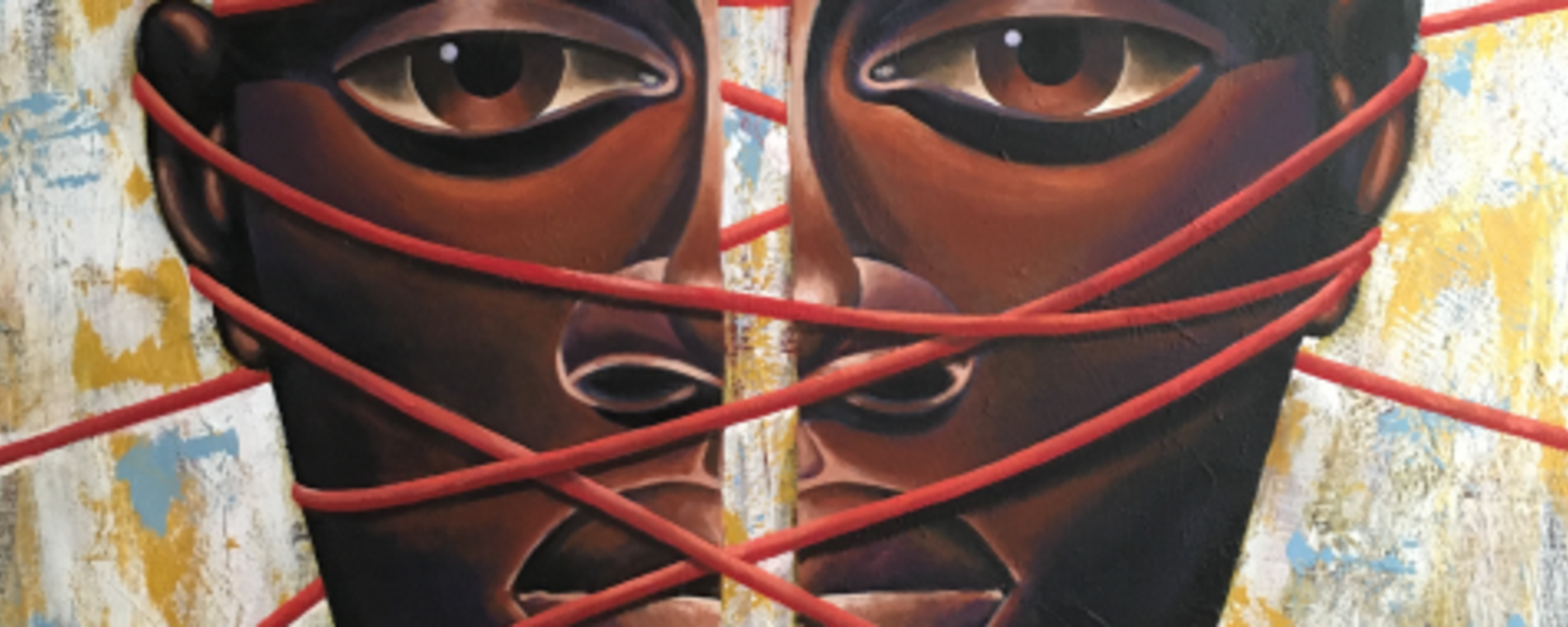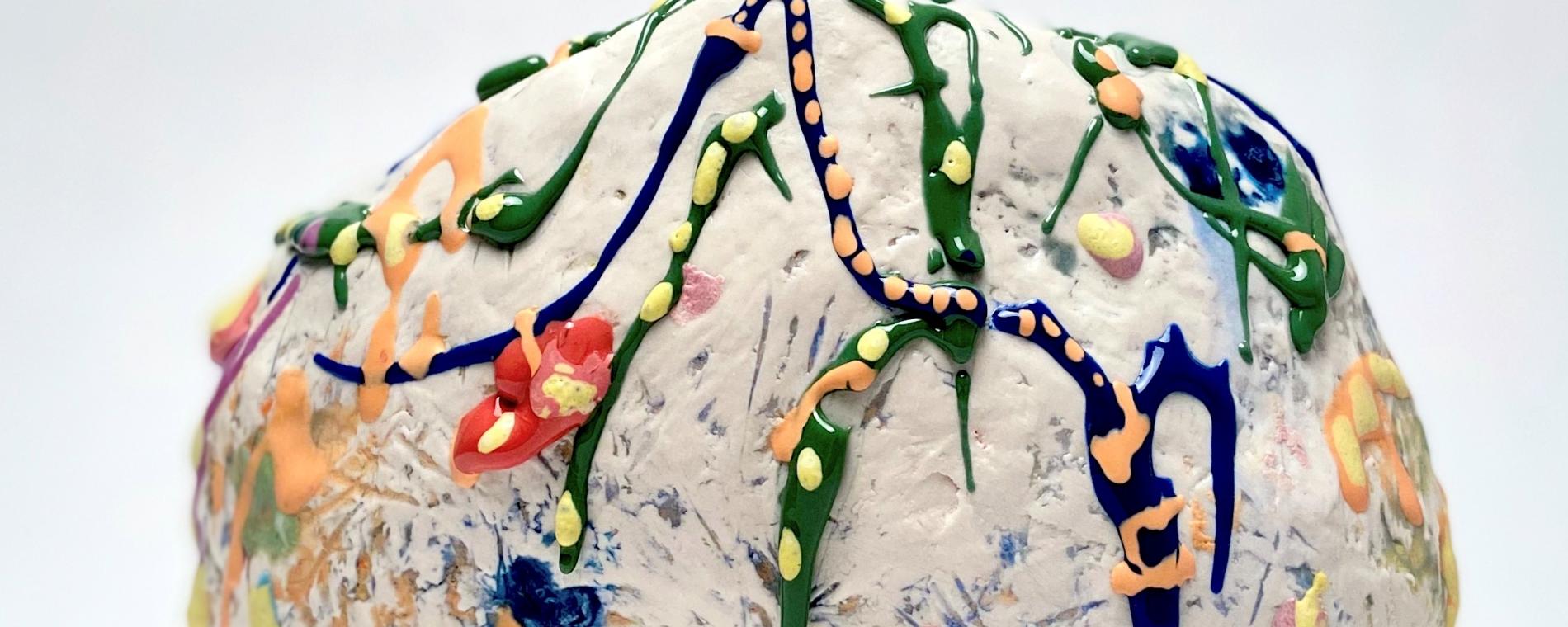 Back to Previous
The Space Between - Mark Arts Exhibition
Regular Gallery Hours, April 14, 2021 | Mark Arts
With intention and a good jolt of curious energy, Armando Minjarez has curated a Mark Arts exhibition featuring a group of artists from the Heartland, all of whom explore the space between self and space itself, perception and memory, vestige and vanguard. The Space Between, on view April 9 through May 22, will exhibit more than 25 works from 11 artists.

Among the exhibiting artists:
Maria Alarcon Aldrete Wolf approaches her colorful, inviting and sugarcoated ceramics as inquiries and research dealing with the exploration of the word, "Alien." Her artwork investigates the wide spectrum of meanings, associations, stigmas, or emotions derived from this word. While playful and engaging to the viewer, these objects evoke a greater sense of displacement.

Brandon De Sha is a visual artist working in the medium of traditional photography. On view includes a selection of recent works from the artist's visits to a historically Black cemetery in Saint Louis that has been abandoned, left to receive care from a group of dedicated volunteers.

Kamela Eaton will present three new paintings for The Space Between, including "Black Sheep Black Sheep" that depicts familiar objects and childhood memories that challenges assumptions of what it means to grow up Black in America. A ceramicist and community organizer, Minjarez curated the large-scale public art Horizontes project in Wichita that included creating North America's largest mural on a set of towering grain elevators.

Galleries may be visited by appointment Tuesday through Saturday, 10am-5pm. Call 316-634-ARTS (2787). Admission is free.

Please join Mark Arts for three related events. The events are free, but advance registration is required.
Opening Reception - April 9, 5:30-7:30pm (register)
Zoom Curator Talk with Armando Minjarez - April 15, 6-7pm (register)
Zoom Artist Talk with Brandon De Sha - May 20, 6-7pm (register)
Admission:

Free

Recurrence:

Recurring weekly on Tuesday, Wednesday, Thursday, Friday, Saturday

Days:

April 9, 2021 - May 22, 2021

2021-04-14 2021-05-22 17:00:00 The Space Between - Mark Arts Exhibition <p>With intention and a good jolt of curious energy, Armando Minjarez has curated a Mark Arts exhibition featuring a group of artists from the Heartland, all of whom explore the space between self and space itself, perception and memory, vestige and vanguard. The Space Between, on view April 9 through May 22, will exhibit more than 25 works from 11 artists. <br /><br />Among the exhibiting artists: <br />Maria Alarcon Aldrete Wolf approaches her colorful, inviting and sugarcoated ceramics as inquiries and research dealing with the exploration of the word, "Alien." Her artwork investigates the wide spectrum of meanings, associations, stigmas, or emotions derived from this word. While playful and engaging to the viewer, these objects evoke a greater sense of displacement. <br /><br />Brandon De Sha is a visual artist working in the medium of traditional photography. On view includes a selection of recent works from the artist's visits to a historically Black cemetery in Saint Louis that has been abandoned, left to receive care from a group of dedicated volunteers. <br /><br />Kamela Eaton will present three new paintings for The Space Between, including "Black Sheep Black Sheep" that depicts familiar objects and childhood memories that challenges assumptions of what it means to grow up Black in America. A ceramicist and community organizer, Minjarez curated the large-scale public art Horizontes project in Wichita that included creating North America's largest mural on a set of towering grain elevators. <br /><br />Galleries may be visited by appointment Tuesday through Saturday, 10am-5pm. Call 316-634-ARTS (2787). Admission is free.<br /><br />Please join Mark Arts for three related events. The events are free, but advance registration is required.</p> <p>Opening Reception - April 9, 5:30-7:30pm (<a title="Opening Reception Registration" href="https://12602.blackbaudhosting.com/12602/The-Space-Between-Opening-Reception-09Apr2021" rel="nofollow" target="_blank"><strong>register</strong></a>)<br />Zoom Curator Talk with Armando Minjarez - April 15, 6-7pm (<a title="Curator Talk Registration" href="https://12602.blackbaudhosting.com/12602/ZOOM-Curated-Talk-with-Armando-Minjarez" rel="nofollow" target="_blank"><strong>register</strong></a>)<br />Zoom Artist Talk with Brandon De Sha - May 20, 6-7pm (<a title="Artist Talk Registration" href="https://12602.blackbaudhosting.com/12602/ZOOM-The-Space-Between-Artist-Talk-with-Brandon-De-Sha" rel="nofollow" target="_blank"><strong>register</strong></a>)</p> 1307 N. Rock Rd. Wichita, KS America/Chicago
Back To Previous