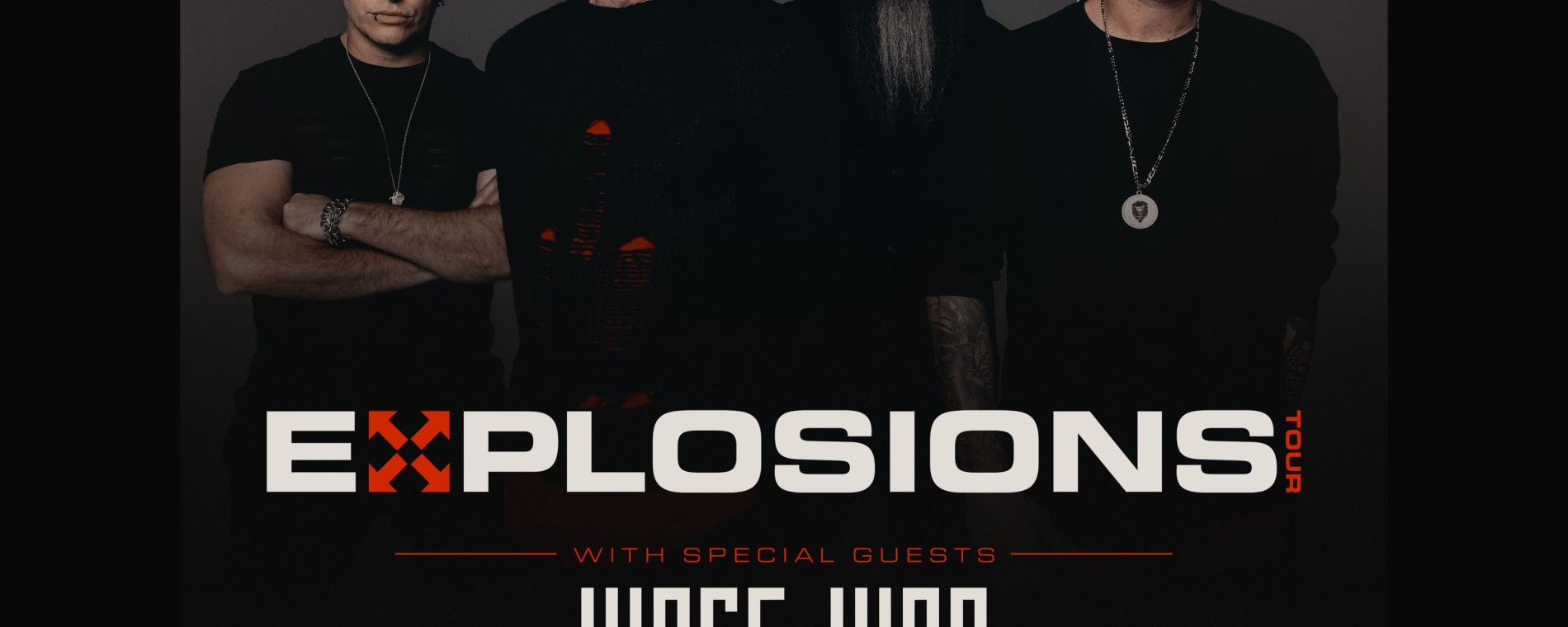 Back to Previous
Three Days Grace w/ Wage War and Zero 9:36
Doors: 6PM Show 7PM Ends: 11:45PM, August 13, 2022 | WAVE
Today, Three Days Grace, the multi-platinum selling Canadian band release their seventh studio album, EXPLOSIONS via RCA Records. With the album, the iHeart Radio and Billboard award-winning Ontario quartet—Matt Walst [lead vocals], Barry Stock [lead guitar], Brad Walst [bass], and Neil Sanderson [drums, percussion, keyboards, programming]—balance moments of extreme emotion on an axis of pummeling hard rock anthems and pensive balladry. Throughout their career, the band have amassed billions of streams and millions of album sales, sold out arenas on multiple continents, and reached unprecedented heights, earning 17 total #1 entries on the "Mediabase Active Rock Chart" and 16 total #1 singles on the "Billboard Mainstream Rock Songs Chart," and with EXPLOSIONS the band have ascend to another level. EXPLOSIONS is available on all formats here.
Three Days Grace recently announced their headlining tour of the US and Canada. The band will perform in cities including Boston, Houston, Atlanta, Vancouver, Edmonton & more (full dates below with more to be announced). The band will be joined by special guests Wage War & Zero 9:36 on select U.S. dates and special guests The Warning & The Standstills on select Canadian dates. Tickets for dates and VIP packages are available here.
The band recently also shared their new music video for "Lifetime." The music video was filmed in the town of Mayfield, KY, which was devastated on December 10th, 2021 when an EF4 tornado tore through Western Kentucky. This hit home for the band, as guitarist Barry Stock lives in the area, and band taped the music video for the song in the town to raise awareness and funds to help them rebuild. Three Days Grace has partnered with PLUS1 so that $1 of every ticket sold for their US tour dates will go to support tornado recovery efforts in Mayfield, Kentucky. Proceeds will benefit the Mayfield Tornado Relief Fund and Mayfield Independent School District. Watch the music video, directed by Jon Vulpine who also directed the band's recent "So Called Life" video, here.
Since 2003, the band has staked a spot amongst the hard rock vanguard, breaking records, toppling charts, moving millions of units worldwide In 2015, Human marked the group's second straight #1 slot on the Billboard Top Hard Rock Albums Chart as well as their fourth consecutive debut in Top 20 of the Top 200. It spawned two #1 singles "Painkiller" and "I Am Machine," signaling their 13th overall and 5thconsecutive number ones on the U.S. Active Rock Radio chart. Moreover, the four-piece consistently averaged a staggering 3.9 million monthly listeners on Spotify—remaining one of the most listened to rock bands in the world. In 2012, Transit of Venus soared to the Top 5 of the Top 200 and garnered a nod for "Best Rock Album of the Year" at the Juno Awards. The seminal One-X [2006] notched an RIAA triple-platinum certification as Three Days Grace [2003] was minted platinum and Life Starts Now went gold. To date, their veritable arsenal of number one includes "Chalk Outline," "The High Road," "Misery Loves My Company," "World So Cold," "Good Life," "Break," "Never Too Late," "Animal I Have Become," "Pain," "Just Like You," and "Home."
This show is general admission and balcony only. There is no VIP pit. 


Admission:

$37-$212

Days:

August 13, 2022

2022-08-13 2022-08-13 23:45:00 Three Days Grace w/ Wage War and Zero 9:36 <p>Today, Three Days Grace, the multi-platinum selling Canadian band release their seventh studio album, <a href="https://smarturl.it/3DGExplosions"><em>EXPLOSIONS</em></a> via RCA Records. With the album, the iHeart Radio and Billboard award-winning Ontario quartet—Matt Walst [lead vocals], Barry Stock [lead guitar], Brad Walst [bass], and Neil Sanderson [drums, percussion, keyboards, programming]—balance moments of extreme emotion on an axis of pummeling hard rock anthems and pensive balladry. Throughout their career, the band have amassed billions of streams and millions of album sales, sold out arenas on multiple continents, and reached unprecedented heights, earning 17 total #1 entries on the "Mediabase Active Rock Chart" and 16 total #1 singles on the "Billboard Mainstream Rock Songs Chart," and with <em>EXPLOSIONS </em>the band have ascend to another level. <em>EXPLOSIONS</em> is available on all formats <a href="https://smarturl.it/3DGExplosions">here</a>.</p> <p>Three Days Grace recently announced their headlining tour of the US and Canada. The band will perform in cities including Boston<strong>, </strong>Houston, Atlanta, Vancouver, Edmonton &amp; more (full dates below with more to be announced). The band will be joined by special guests Wage War &amp; Zero 9:36 on select U.S. dates and special guests The Warning &amp; The Standstills on select Canadian dates. Tickets for dates and VIP packages are available <a href="https://threedaysgrace.com/events/">here</a>.</p> <p>The band recently also shared their new music video for "Lifetime." The music video was filmed in the town of Mayfield, KY, which was devastated on December 10th, 2021 when an EF4 tornado tore through Western Kentucky. This hit home for the band, as guitarist Barry Stock lives in the area, and band taped the music video for the song in the town to raise awareness and funds to help them rebuild. Three Days Grace has partnered with PLUS1 so that $1 of every ticket sold for their US tour dates will go to support tornado recovery efforts in Mayfield, Kentucky. Proceeds will benefit the <a href="https://gofund.me/ad834767">Mayfield Tornado Relief Fund</a> and <a href="https://givetomayfield.com/">Mayfield Independent School District</a>. Watch the music video, directed by Jon Vulpine who also directed the band's recent "So Called Life" video, <a href="https://eur01.safelinks.protection.outlook.com/?url=https%3A%2F%2Fsmarturl.it%2F3DGLIFETIME&amp;data=04%7C01%7Ckirsten.mikkelson%40sonymusic.com%7Ceab056c4ce1c44c0bf6908da17e633e6%7Cf0aff3b791a54aaeaf71c63e1dda2049%7C0%7C0%7C637848574719956503%7CUnknown%7CTWFpbGZsb3d8eyJWIjoiMC4wLjAwMDAiLCJQIjoiV2luMzIiLCJBTiI6Ik1haWwiLCJXVCI6Mn0%3D%7C3000&amp;sdata=9TVX421RkU9nbdwMqVxSCyECQGUswqCZWrFMbNbxcMY%3D&amp;reserved=0">here</a>.</p> <p>Since 2003, the band has staked a spot amongst the hard rock vanguard, breaking records, toppling charts, moving millions of units worldwide In 2015, <em>Human</em> marked the group's second straight #1 slot on the <em>Billboard</em> Top Hard Rock Albums Chart as well as their fourth consecutive debut in Top 20 of the Top 200. It spawned two #1 singles "Painkiller" and "I Am Machine," signaling their 13th overall and 5thconsecutive number ones on the U.S. Active Rock Radio chart. Moreover, the four-piece consistently averaged a staggering 3.9 million monthly listeners on Spotify—remaining one of the most listened to rock bands in the world. In 2012, <em>Transit of Venus</em> soared to the Top 5 of the Top 200 and garnered a nod for "Best Rock Album of the Year" at the Juno Awards. The seminal <em>One-X</em> [2006] notched an RIAA triple-platinum certification as <em>Three Days Grace</em> [2003] was minted platinum and <em>Life Starts Now</em> went gold. To date, their veritable arsenal of number one includes "Chalk Outline," "The High Road," "Misery Loves My Company," "World So Cold," "Good Life," "Break," "Never Too Late," "Animal I Have Become," "Pain," "Just Like You," and "Home."</p> <p>This show is general admission and balcony only. There is no VIP pit. <br><br></p> 650 E. 2nd St. N. Wichita, KS America/Chicago
Back To Previous