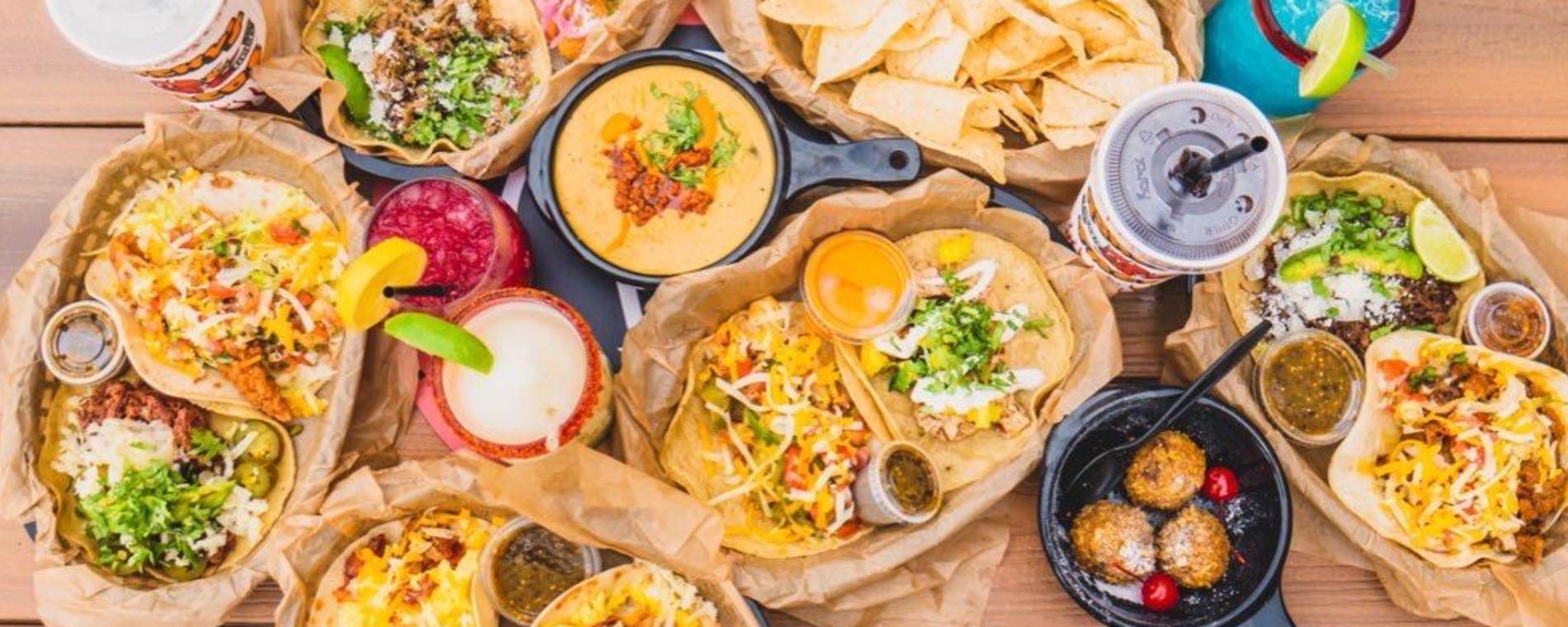 Back to Previous
Torchy's Wichita: Free Taco & Queso Bash
10:00 AM, May 20, 2022 | Torchy's Tacos Wichita
Calling all taco junkies! Torchy's Tacos is celebrating the Wichita community and sharing our appreciation the best way we know how: free tacos and queso!

From May 19 – 22, both of Torchy's Wichita, KS locations are offering one free taco and one order of Green Chile Queso to every guest that stops by, no purchase necessary.* Fans will be able to enjoy Torchy's world famous queso, along with any taco on the menu, including our May Taco of the Month – The Cougar – made with smoked beef brisket, corn relish, guajillo onion strings, BBQ sauce, chipotle sauce and cilantro on a flour tortilla.

Available only at Torchy's Tacos Wichita locations: 2191 N. Rock Road, Wichita, Kansas, 67206 and 2901 North Maize Road, Wichita, Kansas, 67205

*One complimentary taco and half order of queso and chips per person, no purchase necessary. Drinks not included. Available for dine-in and in-store takeout only. Drive-thru excluded.
Admission:

One free taco and half order of queso and chips per person, no purchase necessary. Drinks not included. Available for dine-in and in-store takeout only. Drive-thru excluded.

Recurrence:

Recurring daily

Days:

May 19, 2022 - May 22, 2022

2022-05-20 2022-05-22 21:00:00 Torchy's Wichita: Free Taco & Queso Bash <p>Calling all taco junkies! Torchy's Tacos is celebrating the Wichita community and sharing our appreciation the best way we know how: free tacos and queso!<br /><br />From May 19 &#8211; 22, both of Torchy's Wichita, KS locations are offering one free taco and one order of Green Chile Queso to every guest that stops by, no purchase necessary.* Fans will be able to enjoy Torchy's world famous queso, along with any taco on the menu, including our May Taco of the Month &#8211; The Cougar &#8211; made with smoked beef brisket, corn relish, guajillo onion strings, BBQ sauce, chipotle sauce and cilantro on a flour tortilla.<br /><br />Available only at Torchy's Tacos Wichita locations: 2191 N. Rock Road, Wichita, Kansas, 67206 and 2901 North Maize Road, Wichita, Kansas, 67205<br /><br />*One complimentary taco and half order of queso and chips per person, no purchase necessary. Drinks not included. Available for dine-in and in-store takeout only. Drive-thru excluded.</p> 2191 N. Rock Road Wichita, KS America/Chicago
Back To Previous