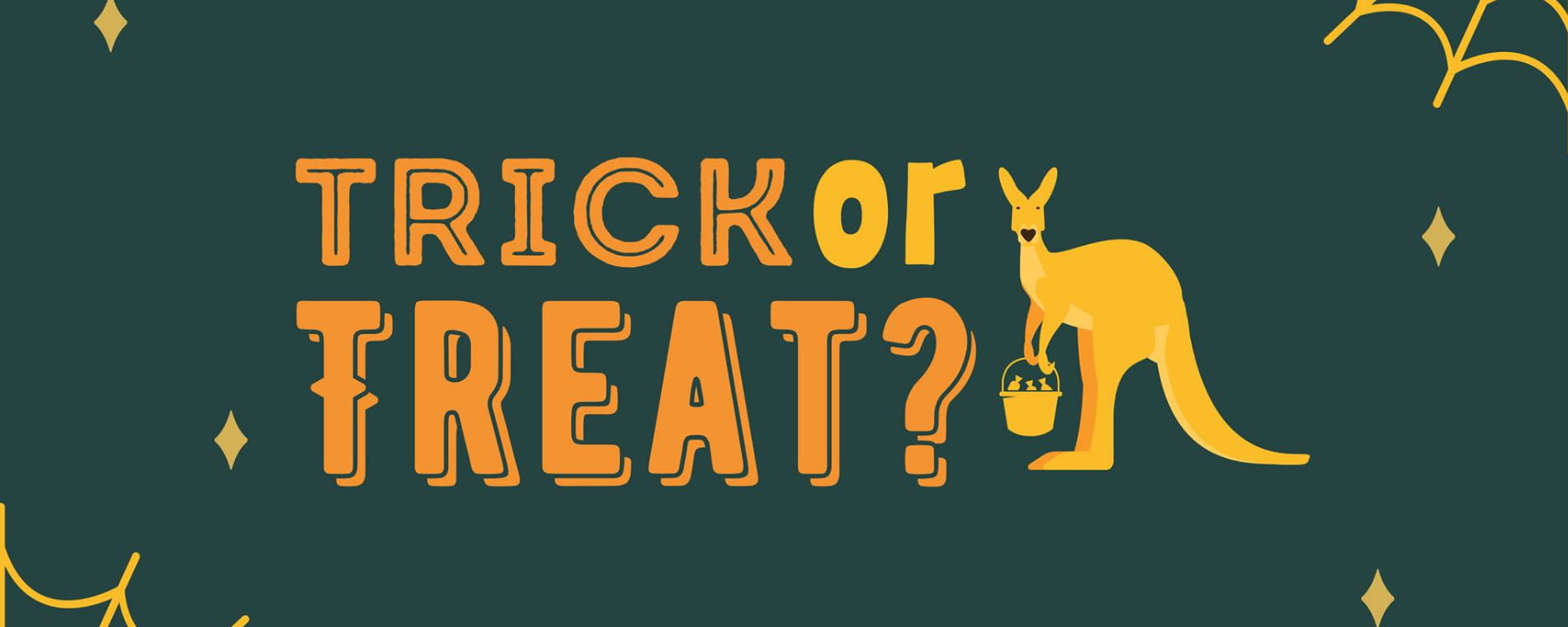 Back to Previous
Trick or Treat Days at Tanganyika
10am-6pm October 30, 2020 | Tanganyika Wildlife Park
Trick-or-Treat? Zombies-or-Zebras? Witches-or-Warthogs? Mummies-or-Monkeys? Vampires-or-Vultures? How about all the above? Join us for Trick-or-Treat Days at Tanganyika over Halloween weekend. The Park will be scattered with Halloween activities including trick-or-treat candy stations, games, a mini pumpkin patch, take-home craft kits, spooky decorations, and photo ops, and of course—animals!
We're putting a new spin on trick-or-treating. Instead of walking through the streets of the city, you'll be trekking through the trails of Tanganyika. Rather than knocking on the door of a stranger, you'll be greeted by your favorite animals nearby each candy station.
Halloween is going to look different this year. Although we know that Trick-or-Treat Days at Tanganyika may not match the caliber of the prestigious Pumpkins at the Park, we still wanted to provide a safe and fun environment for Halloween activities and trick-or-treating for our community.
There are no separate charges for this event—it is included in admission for season pass holders and non-season pass holders. All you need to do is make your admission reservation. Your family will not want to miss out on this one-of-a-kind Halloween event, so come on for a growling good time!
We will continue to implement COVID safety measures including staggered entry times, staff and volunteer mask use, gloves and trick or treat bags, spacing out low contact activities, and frequent sanitization.
Admission:

Regular Museum Admission ($20-25)

Days:

October 30, 2020 - November 1, 2020

2020-10-30 2020-11-01 18:00:00 Trick or Treat Days at Tanganyika <p>Trick-or-Treat? Zombies-or-Zebras? Witches-or-Warthogs? Mummies-or-Monkeys? Vampires-or-Vultures? How about all the above? Join us for Trick-or-Treat Days at Tanganyika over Halloween weekend. The Park will be scattered with Halloween activities including trick-or-treat candy stations, games, a mini pumpkin patch, take-home craft kits, spooky decorations, and photo ops, and of course—animals!</p> <p>We're putting a new spin on trick-or-treating. Instead of walking through the streets of the city, you'll be trekking through the trails of Tanganyika. Rather than knocking on the door of a stranger, you'll be greeted by your favorite animals nearby each candy station.</p> <p>Halloween is going to look different this year. Although we know that Trick-or-Treat Days at Tanganyika may not match the caliber of the prestigious Pumpkins at the Park, we still wanted to provide a safe and fun environment for Halloween activities and trick-or-treating for our community.</p> <p>There are no separate charges for this event—it is included in admission for season pass holders and non-season pass holders. All you need to do is make your <a title="Get Tickets" href="https://twpark.com/buy-tickets/" rel="nofollow" target="_blank"><strong>admission reservation</strong></a>. Your family will not want to miss out on this one-of-a-kind Halloween event, so come on for a growling good time!</p> <p>We will continue to implement COVID safety measures including staggered entry times, staff and volunteer mask use, gloves and trick or treat bags, spacing out low contact activities, and frequent sanitization.</p> 1000 S. Hawkins Lane Goddard, KS America/Chicago
Back To Previous