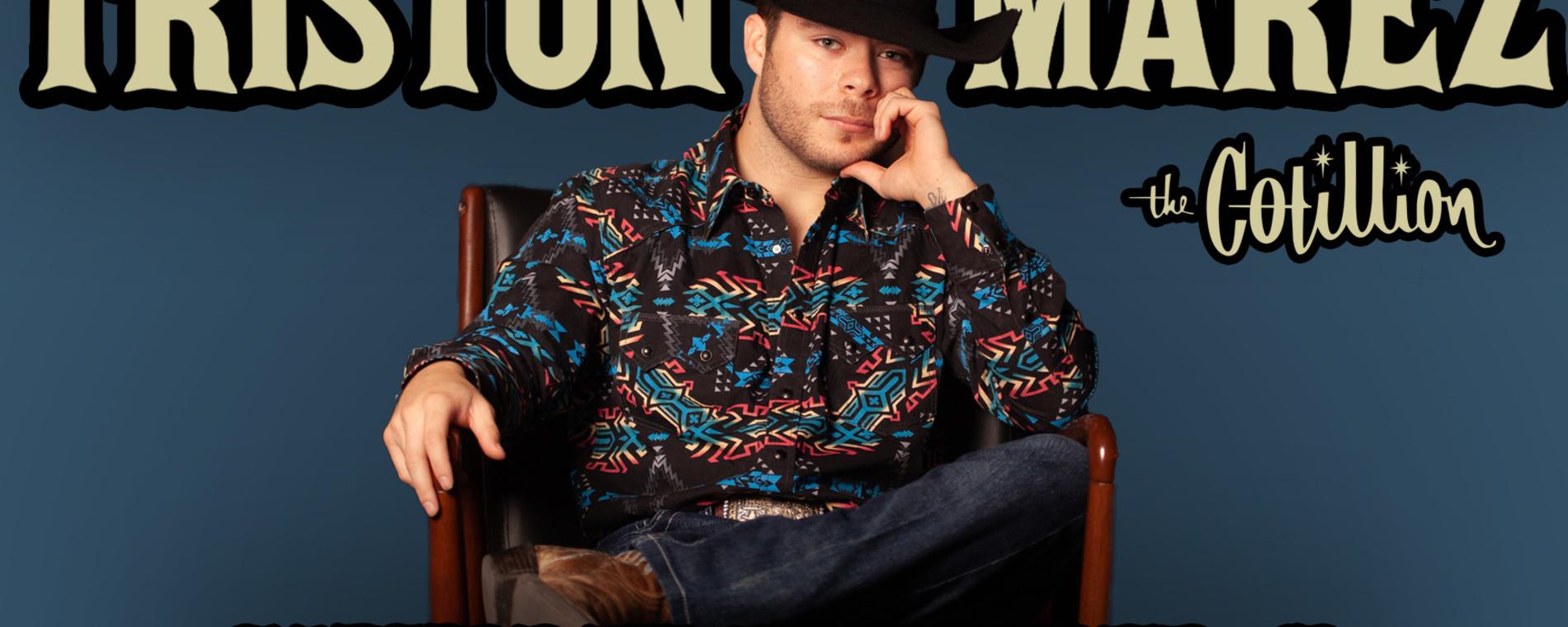 Back to Previous
Triston Marez at The Cotillion
From: 08:00 PM to 11:00 PM, November 12, 2022 | The Cotillion
Country singer Triston Marez's sound isn't just centered around the crying steel or prominent fiddles that often go hand in hand with the rolling plains or legendary dancehalls that come to mind when thinking about country music -- they're part of a way of life for the 25-year-old. Marez's debut EP, That Was All Me, set to release Jan. 25, showcases Marez's rich vocals telling tales of long nights, former flames and new love with a relatable honesty. 
On the EP, Marez's influences -- Chris LeDoux, Aaron Watson and Cody Johnson -- weave throughout a collection of pure country music. In the EP's title track, "That Was All Me," a raucous night can be blamed on the jukebox, neons buzzing and one too many whiskeys, but insists any feelings felt were true. "Where Rivers Are Red, Cowboys Are Blue" hearkens back to the heyday of cowboy songs with an ode to a former flame, while "Dizzy" features the other side of the coin and a fledgling love story found on the dancehall floor. "Reservations For Two" is a romantic night set in the great outdoors, and "Here's To The Weekend" offers an appreciation for a few cold beers with good friends while searching for a reprieve from the daily grind. 
A Houston native, Marez's sound isn't just centered around country music, it's weaved through his entire 24 years. As a member of a musical family from Oklahoma known for their bluegrass and fiddle talents, Marez started playing guitar at age six and his first live performance was a Buck Owens song in the first grade talent show. Marez worked as a ranch hand and even rode bulls as a hobby for years to support his music career. He also won the Houston Livestock Show & Rodeo's talent competition in 2014.
All ages are welcome and support acts are subject to change. 

Text COUNTRY to 49798 for concert updates.
Wear your Cotillion merch and jump to the front of the GA line.
Coat check is open during events to check your coats, hats, merch and more. Coat check is located next to merch by the front doors. All sales are final.  No exchanges or refunds unless a show is cancelled or postponed.
COVID-19 Show Policy: There are no restrictions on this show but we encourage face masks when you can not social distance and ask that you stay home if you are feeling sick or have been exposed recently to someone with COVID-19.  
Admission:

GA $15 Advance, $18 Day of Show

Buy Tickets
Days:

November 12, 2022

>

2022-11-12 2022-11-12 23:00:00 Triston Marez at The Cotillion <p>Country singer <strong>Triston Marez's</strong> sound isn't just centered around the crying steel or prominent fiddles that often go hand in hand with the rolling plains or legendary dancehalls that come to mind when thinking about country music -- they're part of a way of life for the 25-year-old. Marez's debut EP, That Was All Me, set to release Jan. 25, showcases Marez's rich vocals telling tales of long nights, former flames and new love with a relatable honesty. </p> <p>On the EP, Marez's influences -- Chris LeDoux, Aaron Watson and Cody Johnson -- weave throughout a collection of pure country music. In the EP's title track, "That Was All Me," a raucous night can be blamed on the jukebox, neons buzzing and one too many whiskeys, but insists any feelings felt were true. "Where Rivers Are Red, Cowboys Are Blue" hearkens back to the heyday of cowboy songs with an ode to a former flame, while "Dizzy" features the other side of the coin and a fledgling love story found on the dancehall floor. "Reservations For Two" is a romantic night set in the great outdoors, and "Here's To The Weekend" offers an appreciation for a few cold beers with good friends while searching for a reprieve from the daily grind. </p> <p>A Houston native, Marez's sound isn't just centered around country music, it's weaved through his entire 24 years. As a member of a musical family from Oklahoma known for their bluegrass and fiddle talents, Marez started playing guitar at age six and his first live performance was a Buck Owens song in the first grade talent show. Marez worked as a ranch hand and even rode bulls as a hobby for years to support his music career. He also won the Houston Livestock Show &amp; Rodeo's talent competition in 2014<strong>.</strong></p> <p>All ages are welcome and support acts are subject to change. <br><br>Text COUNTRY to 49798 for concert updates.</p> <p>Wear your Cotillion merch and jump to the front of the GA line.</p> <p><em>Coat check is open during events to check your coats, hats, merch and more. Coat check is located next to merch by the front doors. </em><em>All sales are final.  No exchanges or refunds unless a show is cancelled or postponed.</em></p> <p><strong><em>COVID-19 Show Policy: There are no restrictions on this show but we encourage face masks when you can not social distance and ask that you stay home if you are feeling sick or have been exposed recently to someone with COVID-19.  </em></strong></p> <p> </p> 11120 W. Kellogg Dr. Wichita, KS America/Chicago
Back To Previous