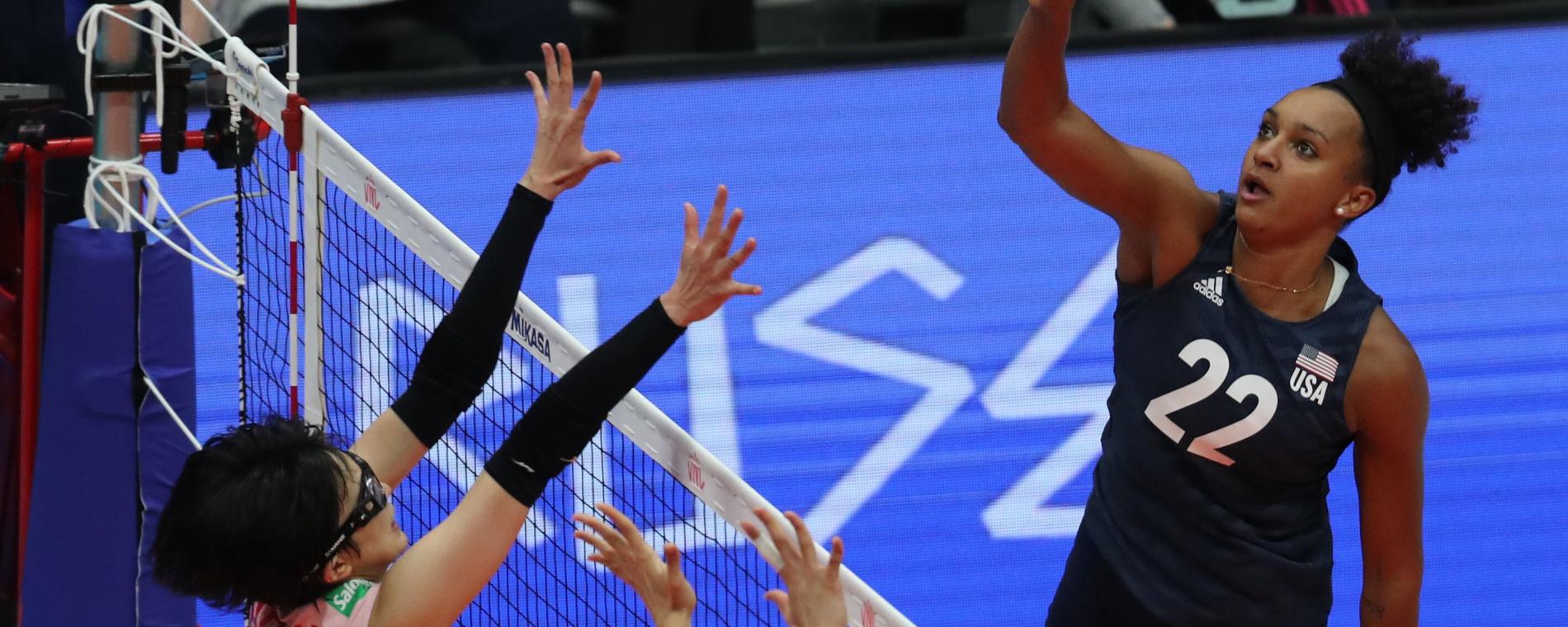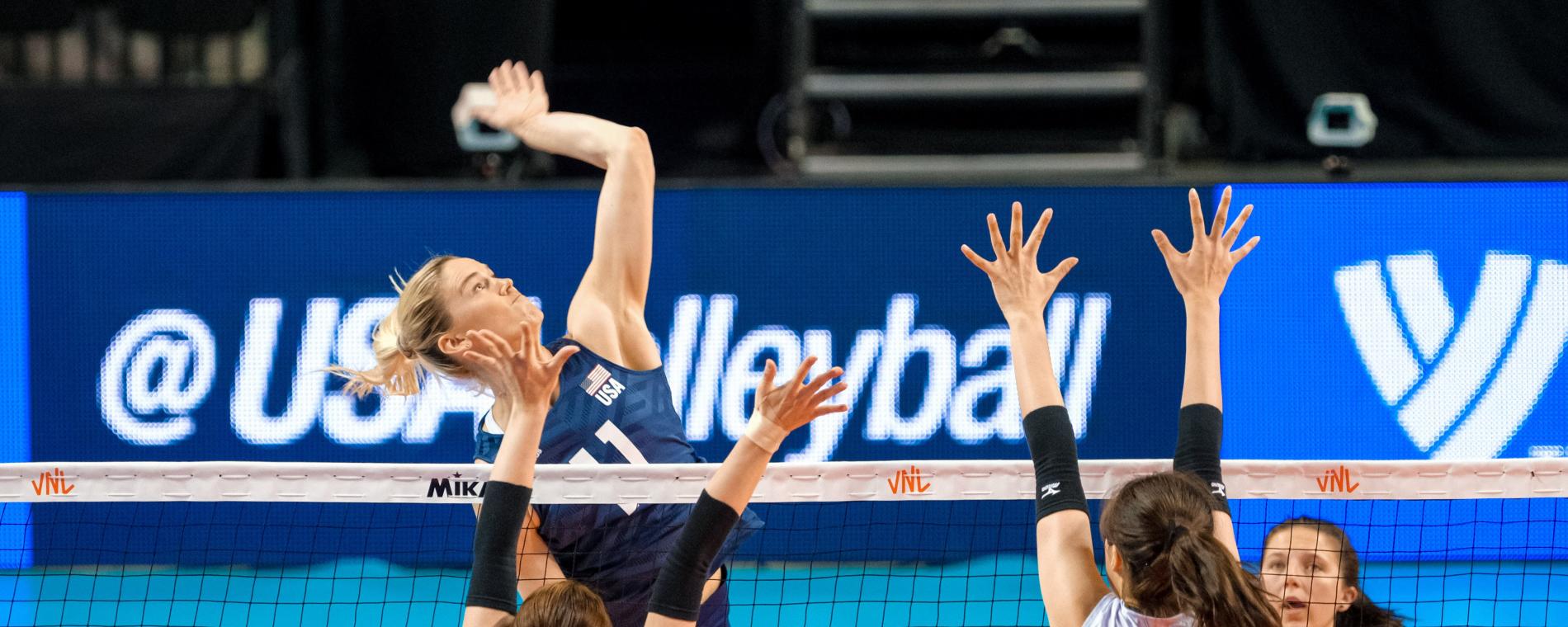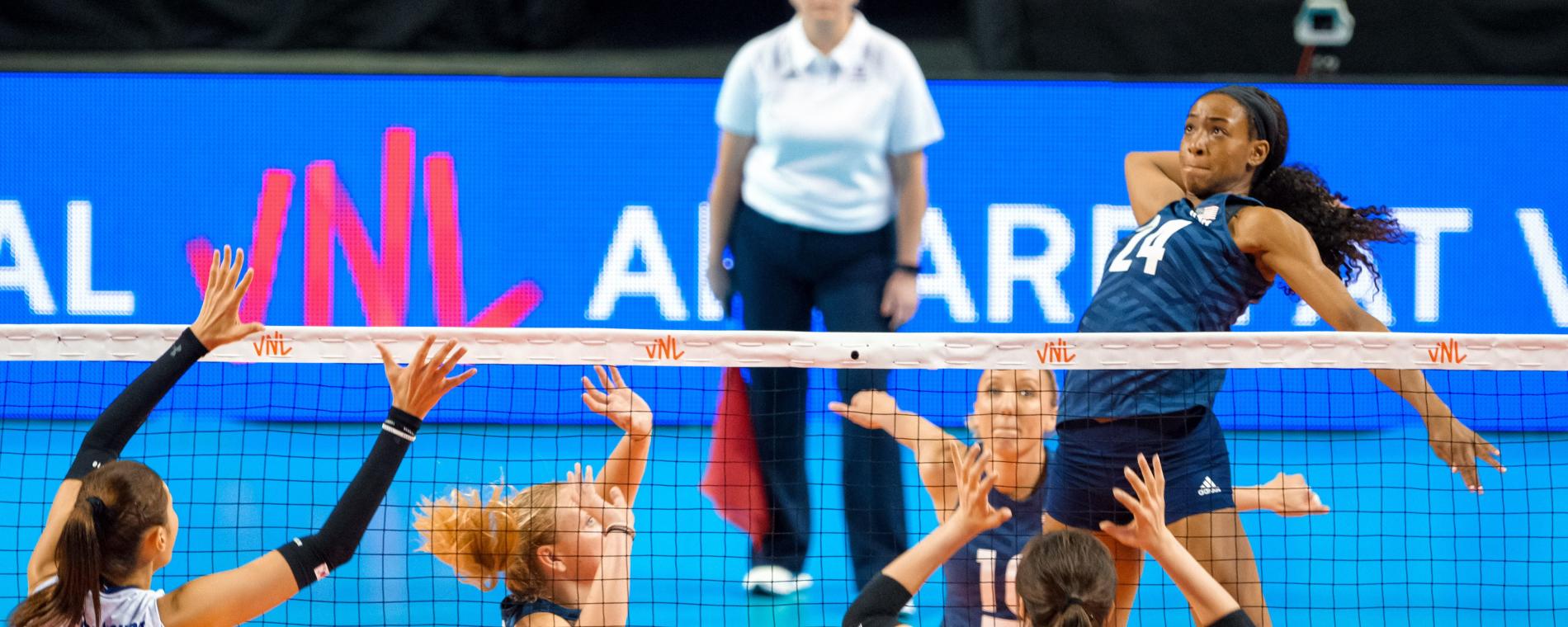 Back to Previous
U.S. Women's Home Volleyball Nations League
4 & 7:30pm, June 1, 2021 | Charles Koch Arena - Wichita State University
The Volleyball Nations League (VNL) 2021 will be held with a secure bubble concept [not in Wichita] to ensure the health of all athletes and stakeholders involved and preserve the original format of the flagship annual event.
The U.S. Women's Volleyball Nations League Matches are coming to the heart of the country! Wichita will be the ONLY location to see the U.S. Women's National Team (ranked #2 globally) play in the United States before they head to the 2021 Olympic Games in Tokyo, Japan. Catch three Olympic teams, as Japan and Turkey have also qualified.
| | | |
| --- | --- | --- |
| Jun. 1 | 4pm | Japan v Turkey |
|   | 7:30pm | USA v Belgium |
| Jun. 2 | 4pm | Turkey v Belgium |
|   | 7:30pm | USA v Japan |
| Jun. 3 | 4pm | Japan v Belgium |
|   | 7:30pm | USA v Turkey |
Reserved tickets will not be allocated until closer to the event on a first come-first served basis to prevent reallocation if there are any Covid-19 related restrictions. Call the Shocker Ticket Office with any questions at 316-978-FANS (3267).
Wichita has hosted several international volleyball events in the past, including the U.S. Men's National Team's FIVB World League matches in 2009 against the Netherlands and in 2010 vs. Russia.
Admission:

$50-$100

Get Tickets
Recurrence:

Recurring daily

Days:

June 1, 2021 - June 3, 2021

2021-06-01 2021-06-03 16:00:00 U.S. Women's Home Volleyball Nations League <p><em>The Volleyball Nations League (VNL) 2021 will be held with a secure bubble concept </em>[not in Wichita]<em> to ensure the health of all athletes and stakeholders involved and preserve the original format of the flagship annual event.</em></p> <p>The U.S. Women's Volleyball Nations League Matches are coming to the heart of the country! Wichita will be the ONLY location to see the U.S. Women's National Team (ranked #2 globally) play in the United States before they head to the 2021 Olympic Games in Tokyo, Japan. Catch three Olympic teams, as Japan and Turkey have also qualified.</p> <table style="width: 345px;" border="0" align="center"> <tbody> <tr> <td>Jun. 1</td> <td>4pm</td> <td>Japan v Turkey</td> </tr> <tr> <td> </td> <td>7:30pm</td> <td>USA v Belgium</td> </tr> <tr> <td>Jun. 2</td> <td>4pm</td> <td>Turkey v Belgium</td> </tr> <tr> <td> </td> <td>7:30pm</td> <td>USA v Japan</td> </tr> <tr> <td>Jun. 3</td> <td>4pm</td> <td>Japan v Belgium</td> </tr> <tr> <td> </td> <td>7:30pm</td> <td>USA v Turkey</td> </tr> </tbody> </table> <p> </p> <center><iframe src="https://www.youtube.com/embed/hL9pM1J7M_o" frameborder="0" width="325"></iframe></center> <p> </p> <p><a title="Get Tickets" href="https://goshockers.evenue.net/cgi-bin/ncommerce3/SEGetEventList?groupCode=USA&amp;linkID=wichita&amp;shopperContext=&amp;caller=&amp;appCode=" rel="nofollow" target="_blank"><strong>Get Tickets</strong></a></p> <p><em>Reserved tickets will not be allocated until closer to the event on a first come-first served basis to prevent reallocation if there are any Covid-19 related restrictions. Call the Shocker Ticket Office with any questions at 316-978-FANS (3267).</em></p> <p>Wichita has hosted several international volleyball events in the past, including the U.S. Men's National Team's FIVB World League matches in 2009 against the Netherlands and in 2010 vs. Russia.</p> <p><em><br /></em></p> 1845 N. Fairmount Wichita, KS America/Chicago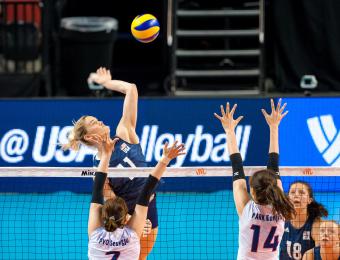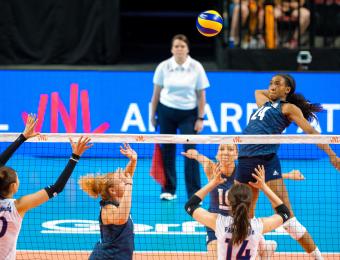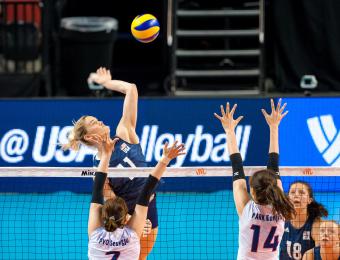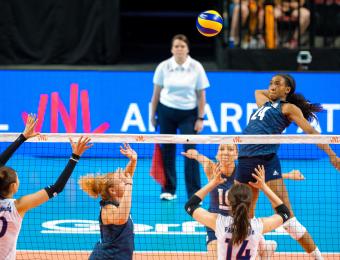 Back To Previous