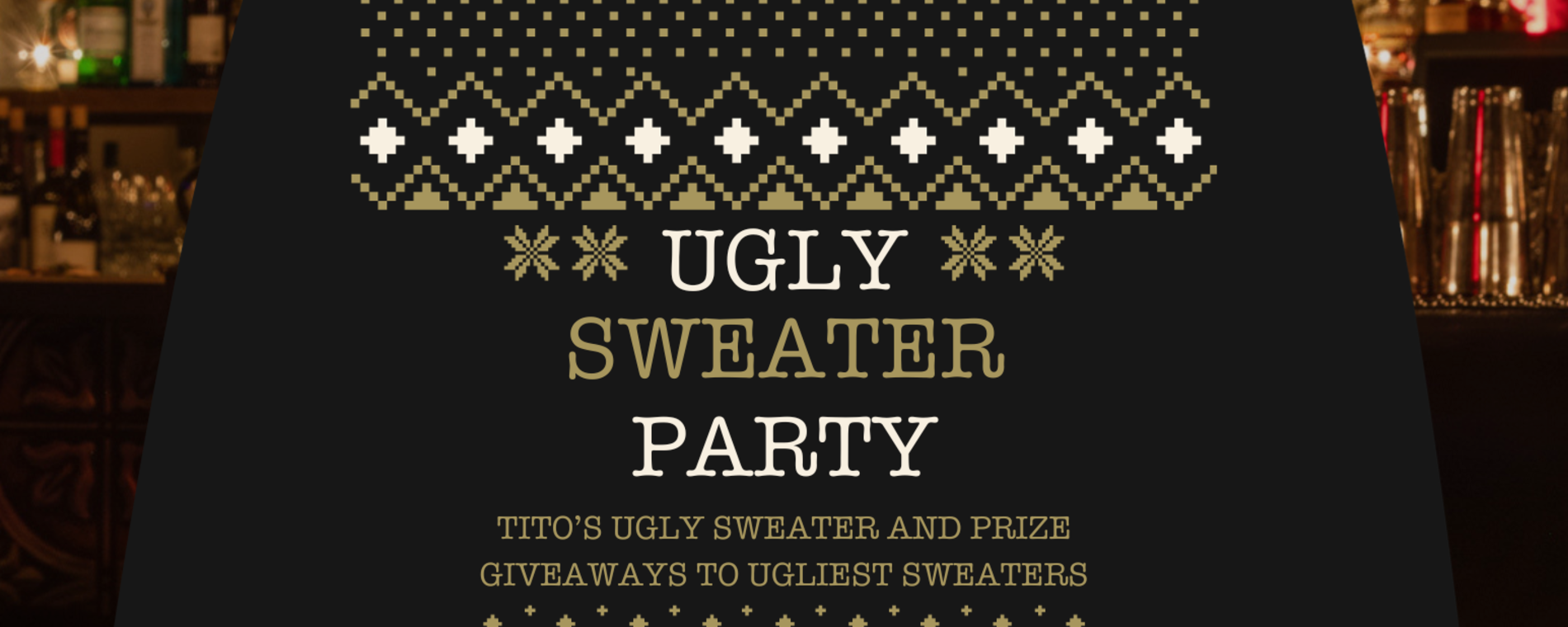 Ugly Sweater Party
06:00 PM, December 8, 2023 | Siena Tuscan Steakhouse Restaurant
Dust off those gaudy gems from your closet because it's time for Tito's Ugly Sweater Party at Dockum! Join us for an unforgettable night of festive cheer, where the spotlight is on your wackiest, tackiest, and most creative holiday sweaters.
Indulge in the spirit of the season with our featured Tito's holiday cocktails expertly crafted to elevate your taste buds. Sip on Yuletide concoctions that will warm your soul and add a dash of merriment to the evening.
And here's the twist - showcase your sweater flair in our Ugly Sweater Contest! The uglier, the better! Tito's is sweetening the deal with fabulous giveaways for the most daring and delightful ugly sweaters, so bring your A-game!
But the fun doesn't stop there – we've got a lineup of exciting prizes, live music and more to keep the festivities flowing all night long.
Join us on Friday, December 8th from 6 p.m - 1 a.m. at Dockum for a night of laughter, libations, and the chance to snag some seriously cool prizes. It's a holiday bash you won't want to miss!
Admission:

N/A

Buy Tickets

Days:

December 8, 2023

>

2023-12-08 2023-12-08 01:00:00 Ugly Sweater Party <p>Dust off those gaudy gems from your closet because it's time for Tito's Ugly Sweater Party at Dockum! Join us for an unforgettable night of festive cheer, where the spotlight is on your wackiest, tackiest, and most creative holiday sweaters.</p> <p>Indulge in the spirit of the season with our featured Tito's holiday cocktails expertly crafted to elevate your taste buds. Sip on Yuletide concoctions that will warm your soul and add a dash of merriment to the evening.</p> <p>And here's the twist - showcase your sweater flair in our Ugly Sweater Contest! The uglier, the better! Tito's is sweetening the deal with fabulous giveaways for the most daring and delightful ugly sweaters, so bring your A-game!</p> <p>But the fun doesn't stop there &#8211; we've got a lineup of exciting prizes, live music and more to keep the festivities flowing all night long.</p> <p>Join us on Friday, December 8th from 6 p.m - 1 a.m. at Dockum for a night of laughter, libations, and the chance to snag some seriously cool prizes. It's a holiday bash you won't want to miss!</p> 104 S. Broadway Wichita, KS America/Chicago
Back To Previous