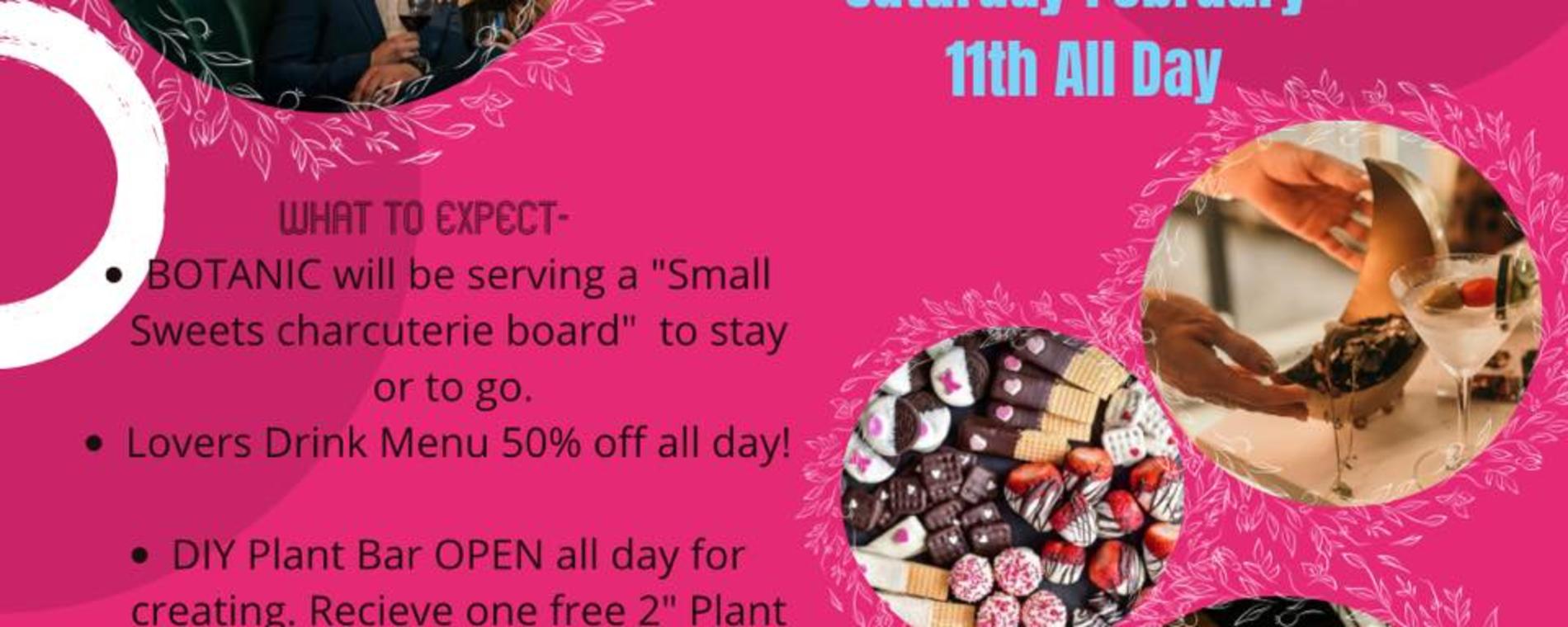 Back to Previous
Valentines at Grow
From: 10:00 AM to 10:00 PM, February 11, 2023 | GROW Giesen Plant Shop/Botanic
Botanic will be serving "Sweets Boards" to stay or to go. Half off our "For The Lovers" Drink menu all day. DIY Plant bar is oepn all day. Bonus: receive a free 2" plant with every terrarium purchase.
Amanda of Honeybee by ABC will be there to do complimentary couples photos from 2 - 4 p.m. You won't want to miss that opportunity!
Live Jazz from 7 - 9 p.m. with Noah Williams on keys & Cole Ashcraft on Saxophone that evening.
GROW is the perfect place to start your date day or end your night with us!
Days:

February 11, 2023

>

2023-02-11 2023-02-11 22:00:00 Valentines at Grow <div class="x11i5rnm xat24cr x1mh8g0r x1vvkbs xtlvy1s">Botanic will be serving "Sweets Boards" to stay or to go. Half off our "For The Lovers" Drink menu all day. DIY Plant bar is oepn all day. Bonus: receive a free 2" plant with every terrarium purchase.</div> <div class="x11i5rnm xat24cr x1mh8g0r x1vvkbs xtlvy1s"> </div> <div class="x11i5rnm xat24cr x1mh8g0r x1vvkbs xtlvy1s">Amanda of Honeybee by ABC will be there to do complimentary couples photos from 2 - 4 p.m. You won't want to miss that opportunity!</div> <div class="x11i5rnm xat24cr x1mh8g0r x1vvkbs xtlvy1s"> </div> <div class="x11i5rnm xat24cr x1mh8g0r x1vvkbs xtlvy1s">Live Jazz from 7 - 9 p.m. with Noah Williams on keys &amp; Cole Ashcraft on Saxophone that evening.</div> <div class="x11i5rnm xat24cr x1mh8g0r x1vvkbs xtlvy1s"> </div> <div class="x11i5rnm xat24cr x1mh8g0r x1vvkbs xtlvy1s">GROW is the perfect place to start your date day or end your night with us!</div> 320 S. Market Wichita, KS America/Chicago
Back To Previous