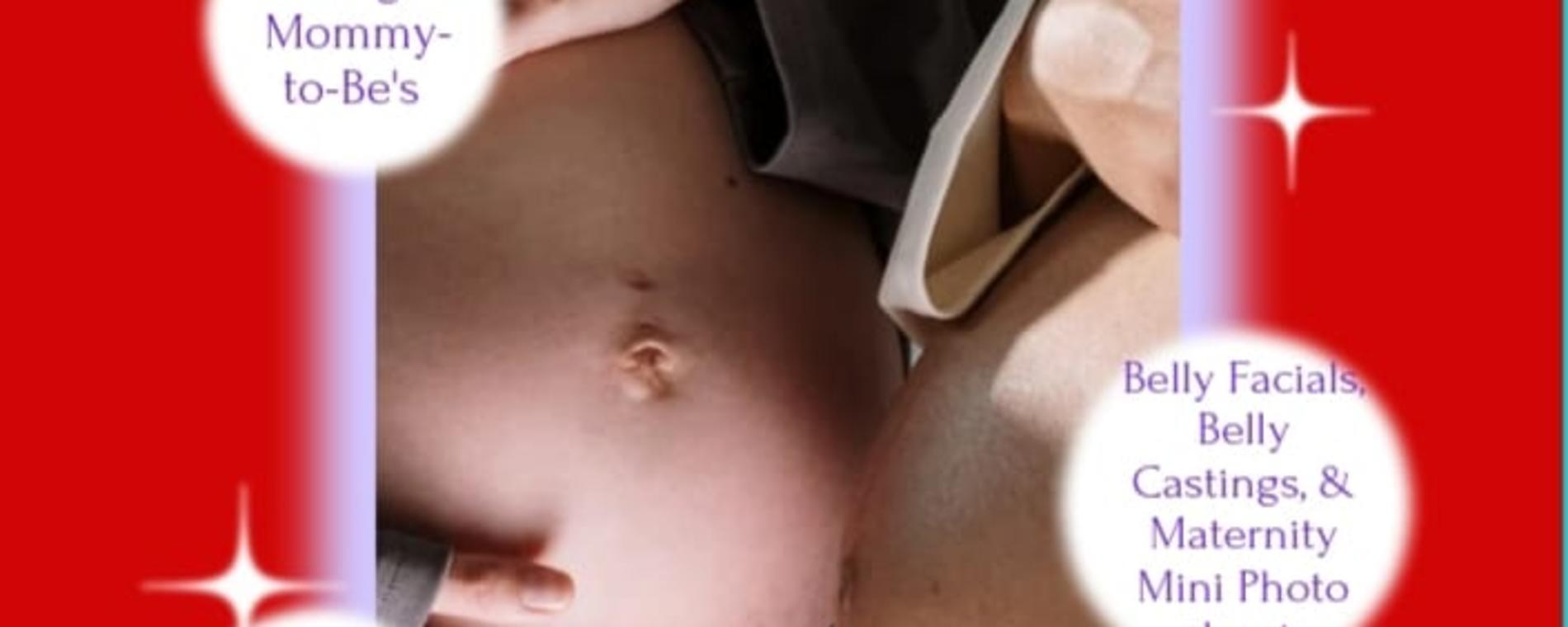 Back to Previous
Valentine's Grow & Glow
11:00 AM, February 5, 2022 | ICT Baby Bump Studio
Pregnant?? Looking for a special way to celebrate your new love?? Look no further than this collaborative event by three local businesses offering their signature services in a one-stop-shop extravaganza to pamper expecting moms and shower their unborn babies with love for Valentine's Day! Don't miss out on this exclusive event to celebrate your little miracle in a big way! Join us for memories, light refreshments and mocktails.
Signature Services (30- minutes):
Select Belly Art by ICT Baby Bump Studio (using temporary body paint) $60
Belly Facials by Sensual Selections Spa (skin care to help rejuvenate & nourish the pregnant belly as well as prevent stretchmarks.) $75
Maternity Mini Photography Session by Ginger Snap Shots $75
Belly Casting by ICT Baby Bump Studio (unpainted belly cast/keepsake) $50
Custom Premier Packages: Save Money $ & Gain Value when you buy 1 signature service from all 3 vendors! ($170-$180)
How it works (3 easy steps!!!):
Grab an eventbrite ticket or direct message organizer to schedule an appointment for the service/package you want to buy. (Appointments are not reserved until deposit(s) have been paid).
The event organizer will email/message you to schedule your appointment and send you an electronic link to pay a non-refundable deposit for each service.
Show up to the pop-up! Balance is due at time of service (card or cash only).
Admission:

$50-$180

Buy Tickets
Days:

February 5, 2022

2022-02-05 2022-02-05 17:00:00 Valentine's Grow & Glow <p>Pregnant?? Looking for a special way to celebrate your new love?? Look no further than this collaborative event by three local businesses offering their signature services in a one-stop-shop extravaganza to pamper expecting moms and shower their unborn babies with love for Valentine's Day! Don't miss out on this exclusive event to celebrate your little miracle in a big way! Join us for memories, light refreshments and mocktails.</p> <p>Signature Services (30- minutes):</p> <ul> <li>Select Belly Art by ICT Baby Bump Studio (using temporary body paint) $60</li> <li>Belly Facials by Sensual Selections Spa (skin care to help rejuvenate &amp; nourish the pregnant belly as well as prevent stretchmarks.) $75</li> <li>Maternity Mini Photography Session by Ginger Snap Shots $75</li> <li>Belly Casting by ICT Baby Bump Studio (unpainted belly cast/keepsake) $50</li> <li>Custom Premier Packages: Save Money $ &amp; Gain Value when you buy 1 signature service from all 3 vendors! ($170-$180)</li> </ul> <p>How it works (3 easy steps!!!):</p> <ul> <li>Grab an eventbrite ticket or direct message organizer to schedule an appointment for the service/package you want to buy. (Appointments are not reserved until deposit(s) have been paid).</li> <li>The event organizer will email/message you to schedule your appointment and send you an electronic link to pay a non-refundable deposit for each service.</li> <li>Show up to the pop-up! Balance is due at time of service (card or cash only).</li> </ul> 5921 E. Central Avenue Wichita, KS America/Chicago
Back To Previous