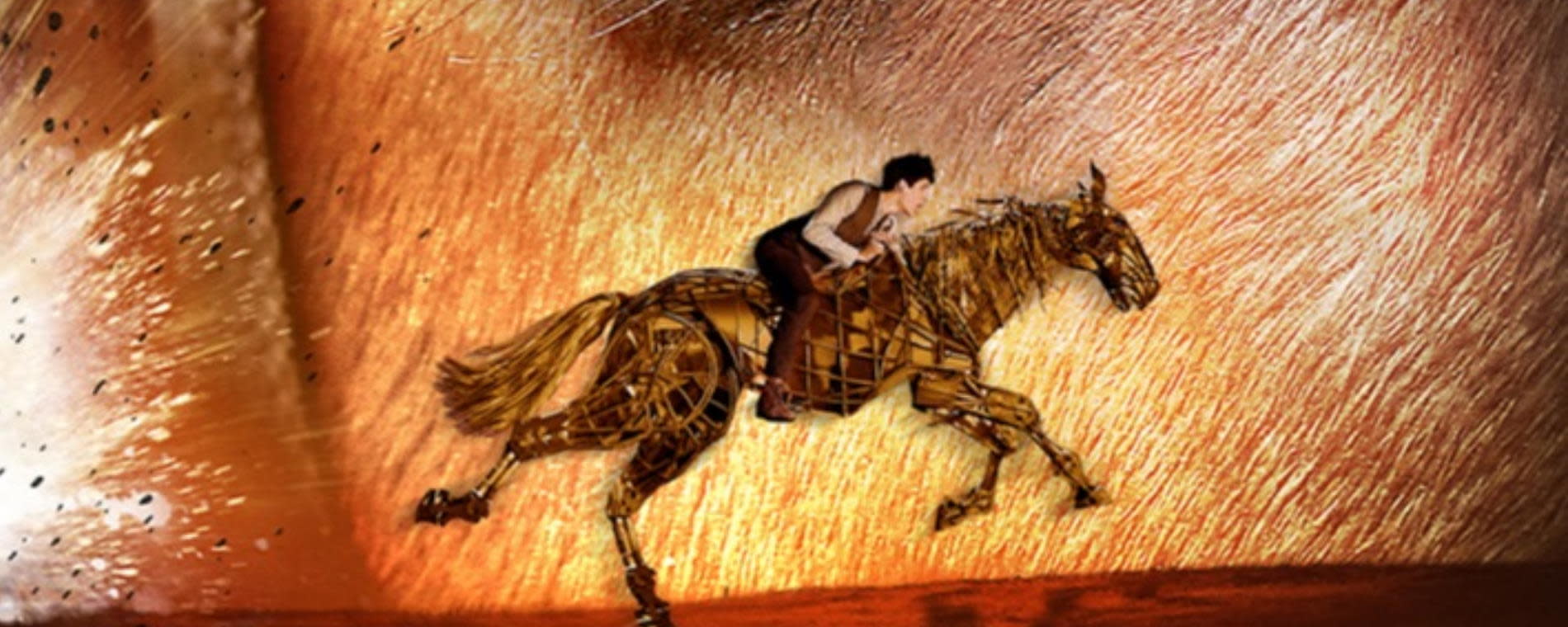 Back to Previous
War Horse - National Theatre Live
Various Times, August 17, 2021 | Roxy's Downtown
Based on the beloved novel by Michael Morpurgo, adapted by Nick Stafford in association with the award-winning Handspring Puppet Company. The critically acclaimed and international smash-hit play War Horse returns to cinemas for the first time here at Roxy's Downtown.
At the outbreak of World War One, Albert's beloved horse, Joey, is sold to the Cavalry and shipped to France. Though still not old enough to enlist he embarks on a treacherous mission to find him and bring him home.
Now seen by more than 8 million people around the world, this powerfully moving and imaginative drama is a show of phenomenal inventiveness. At its heart are astonishing life-size puppets by South Africa's Handspring Puppet Company, who bring breathing, galloping, charging horses to thrilling life on stage. 
August 17 - 7:00pm
August 18 - 2:00pm
Purchase tickets at the link below or call (316) 265-4400.
It all started when Roxy's Downtown was looking for ways to bring live theatre to our audiences during a global pandemic.  We reached out to several different organizations, both nationally and internationally and an alliance was born. We are so happy to be bringing the following performances to you on our state-of-the-art projection system inside Roxy's Downtown.  With state-of-the-art filming techniques, tailored to every play, we bring you each performance as it happens, in all its glory. From close-ups that capture every flicker of emotion, to sweeping wide shots of the stage. There will be thousands of other people all around the world watching along with you. Sharing every gasp, every laugh, every dramatic moment. This is theatre for everyone.
Admission:

$15 GA; $10 Senior/Student/Child

Get Tickets
Recurrence:

Recurring daily

Days:

August 17, 2021 - August 18, 2021

2021-08-17 2021-08-18 War Horse - National Theatre Live <p>Based on the beloved novel by Michael Morpurgo, adapted by Nick Stafford in association with the award-winning Handspring Puppet Company. The critically acclaimed and international smash-hit play War Horse returns to cinemas for the first time here at Roxy's Downtown.</p> <p>At the outbreak of World War One, Albert's beloved horse, Joey, is sold to the Cavalry and shipped to France. Though still not old enough to enlist he embarks on a treacherous mission to find him and bring him home.</p> <p>Now seen by more than 8 million people around the world, this powerfully moving and imaginative drama is a show of phenomenal inventiveness. At its heart are astonishing life-size puppets by South Africa's Handspring Puppet Company, who bring breathing, galloping, charging horses to thrilling life on stage. </p> <p>August 17 - 7:00pm<br />August 18 - 2:00pm</p> <p>Purchase tickets at the link below or call (316) 265-4400.</p> <p>It all started when Roxy's Downtown was looking for ways to bring live theatre to our audiences during a global pandemic.  We reached out to several different organizations, both nationally and internationally and an alliance was born. We are so happy to be bringing the following performances to you on our state-of-the-art projection system inside Roxy's Downtown.  With state-of-the-art filming techniques, tailored to every play, we bring you each performance as it happens, in all its glory. From close-ups that capture every flicker of emotion, to sweeping wide shots of the stage. There will be thousands of other people all around the world watching along with you. Sharing every gasp, every laugh, every dramatic moment. <em><strong>This is theatre for everyone.</strong></em></p> 412 1/2 E. Douglas Wichita, KS America/Chicago
Back To Previous