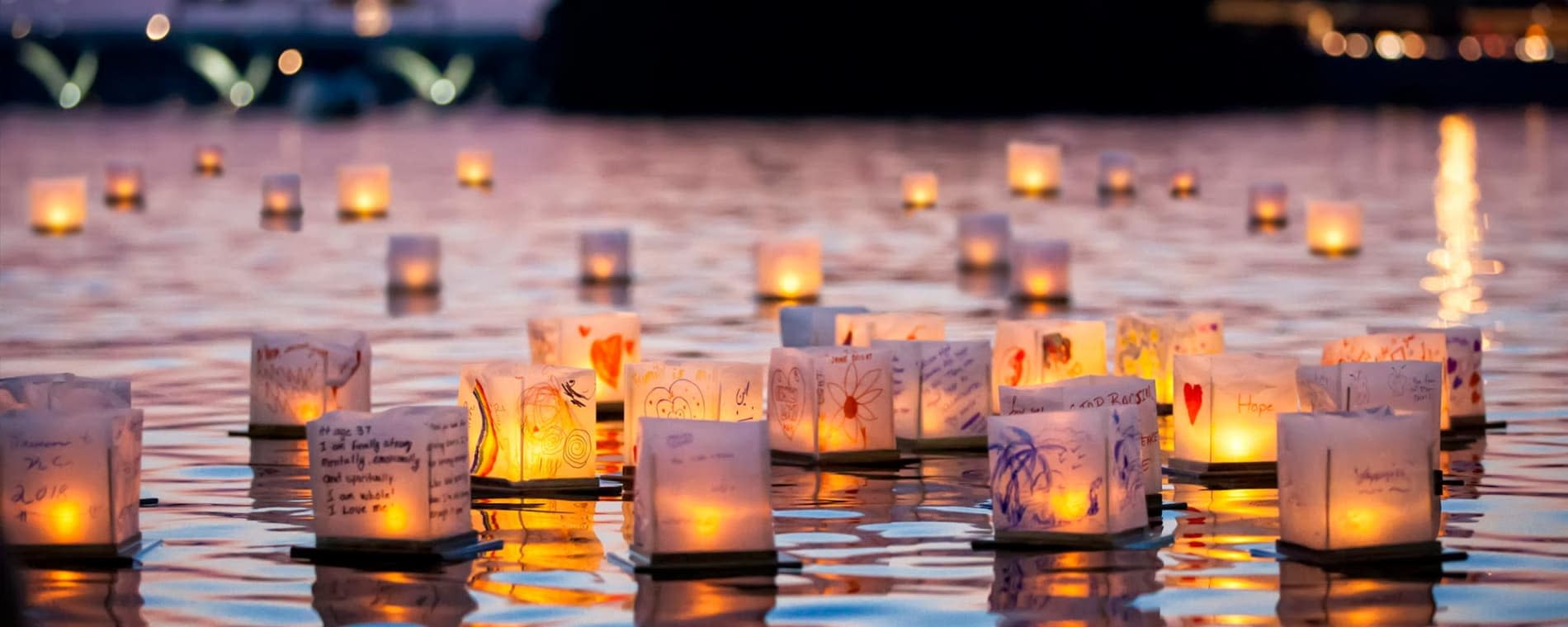 Back to Previous
Water Lantern Festival Wichita
5:00pm, May 8, 2021 | OJ Watson Park
Water Lantern Festival is filled with fun, happiness, hope, and great memories that you'll cherish for a lifetime. This is a family friendly event that can be shared by everyone. Friends, families, neighbors, and lots of people that you haven't met can come together to create a peaceful, memorable experience.
Each adult ticket comes with wristband for entry into the festival area, floating lantern kit, LED candle, commemorative drawstring bag, marker, and lantern retrieval and water clean up.
Schedule

| | |
| --- | --- |
| 5:00 | Gates Open |
| 5:00-9:30 | Enjoy Food Trucks, Music, and Fun |
| 7:00 | Design Your Lantern |
| 8:30-9:30 | Lantern Launch |
| 9:30 | Event Ends |
In addition, the price covers the cost of collecting and removing the lanterns from the water following the event as well as cleaning up any trash that may have been previously been in or around the water.
Admission:

Adults $56 day of event (early bird discounts and youth tickets also available)

Get Tickets
Days:

May 8, 2021

2021-05-08 2021-05-08 21:30:00 Water Lantern Festival Wichita <p>Water Lantern Festival is filled with fun, happiness, hope, and great memories that you'll cherish for a lifetime. This is a family friendly event that can be shared by everyone. Friends, families, neighbors, and lots of people that you haven't met can come together to create a peaceful, memorable experience.</p> <p>Each adult ticket comes with wristband for entry into the festival area, floating lantern kit, LED candle, commemorative drawstring bag, marker, and lantern retrieval and water clean up.</p> <table style="width: 325px;" border="0" cellspacing="0" align="center"><caption>Schedule</caption> <tbody> <tr> <td style="width: 120px;">5:00</td> <td>Gates Open</td> </tr> <tr> <td style="width: 120px;">5:00-9:30</td> <td>Enjoy Food Trucks, Music, and Fun</td> </tr> <tr> <td style="width: 120px;">7:00</td> <td>Design Your Lantern</td> </tr> <tr> <td style="width: 120px;">8:30-9:30</td> <td>Lantern Launch</td> </tr> <tr> <td style="width: 120px;">9:30</td> <td>Event Ends</td> </tr> </tbody> </table> <p><span>In addition, the price covers the cost of collecting and removing the lanterns from the water following the event as well as cleaning up any trash that may have been previously been in or around the water.</span></p> 3022 S. McLean Blvd. Wichita, KS America/Chicago
Back To Previous