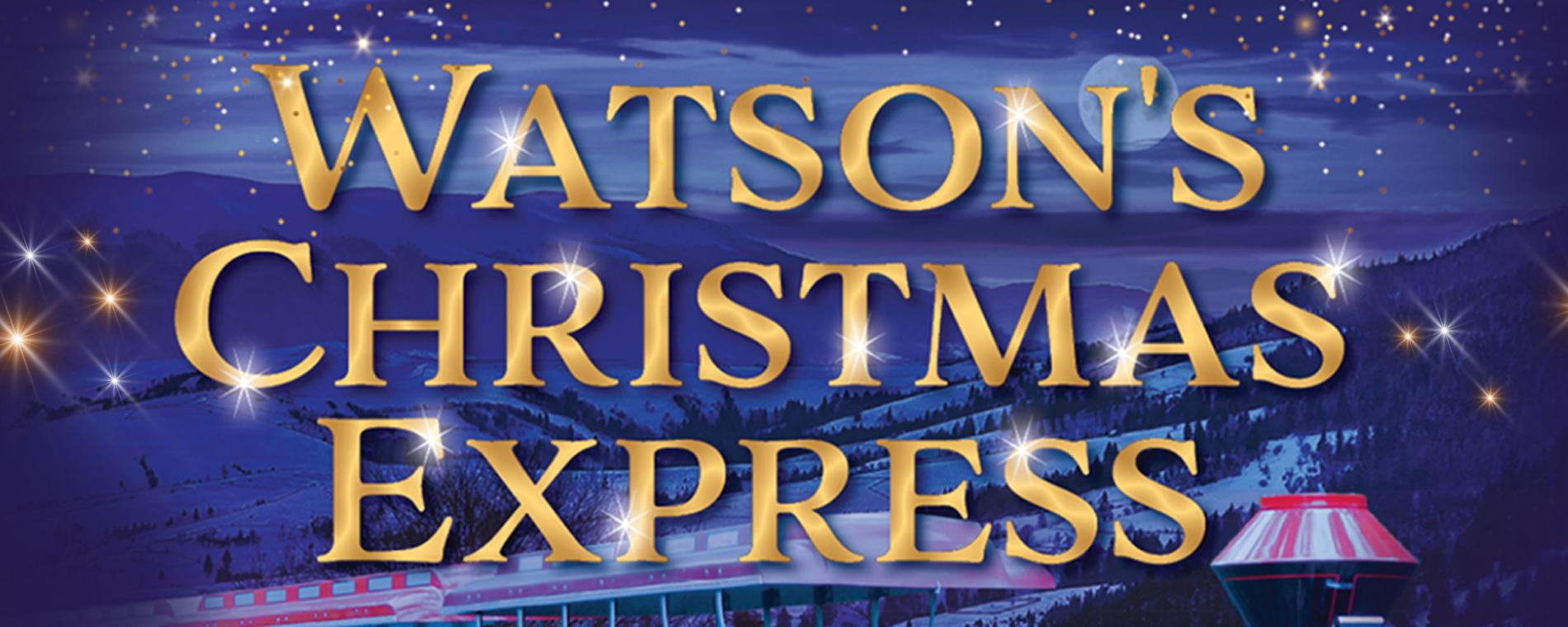 Watson's Christmas Express
GA From: 5:00 PM to 6:30 PM | VIP From: 5:00 PM, December 8, 2023 | OJ Watson Park
We're offering two ways to enjoy the Watson's Christmas Express this year! Register in advance for the VIP Package and partake in everything, or attend during the general admission time frame, no registration required and build your perfect experience. Either way you'll have a wonderful Watson Park time!
VIP Package
Advanced registration allows guests to secure the day/time of their choice and enjoy the full program experience. The fun begins with a reading of Chris Van Allsburg's The Polar Express and is followed by a craft and train ride to visit the North Pole. Enjoy s'mores and hot chocolate at the campfire circle, while singing holiday songs. Kids are encouraged to wear pajamas. An adult must also attend and register. $18 per person.
Available VIP Times:
​5:00 - 6:15 p.m.
5:30 - 6:45 p.m.
6:00 - 7:15 p.m.
6:30 - 7:45 p.m.
7:00 - 8:15 p.m.
General Admission
General Admission is also available, with a la carte activities. Pre-registration is not available; activities are offered on a first come, first served basis.
$12 (Enjoy a train ride to the North Pole to see Santa)
$4 (Enjoy s'mores and ultimate hot chocolate) 
Admission:

$12 per person

Get Tickets

Days:

12/2/2023, 12/8/2023, 12/9/2023, 12/10/2023, 12/15/2023, 12/16/2023, 12/17/2023, 12/22/2023, 12/23/2023

>

2023-12-08 2023-12-23 18:30:00 Watson's Christmas Express <p>We're offering two ways to enjoy the Watson's Christmas Express this year! Register in advance for the VIP Package and partake in everything, or attend during the general admission time frame, no registration required and build your perfect experience. Either way you'll have a wonderful Watson Park time!</p> <h2><strong>VIP Package</strong></h2> <p>Advanced registration allows guests to secure the day/time of their choice and enjoy the full program experience. The fun begins with a reading of Chris Van Allsburg's The Polar Express and is followed by a craft and train ride to visit the North Pole. Enjoy s'mores and hot chocolate at the campfire circle, while singing holiday songs. Kids are encouraged to wear pajamas. An adult must also attend and register. $18 per person.</p> <p><strong>Available VIP Times:</strong></p> <ul> <li>​5:00 - 6:15 p.m.</li> <li>5:30 - 6:45 p.m.</li> <li>6:00 - 7:15 p.m.</li> <li>6:30 - 7:45 p.m.</li> <li>7:00 - 8:15 p.m.</li> </ul> <h2>General Admission</h2> <p>General Admission is also available, with a la carte activities. Pre-registration is not available; activities are offered on a first come, first served basis.</p> <p>$12 (Enjoy a train ride to the North Pole to see Santa)<br>$4 (Enjoy s'mores and ultimate hot chocolate) </p> 3022 S. McLean Blvd. Wichita, KS America/Chicago
Back To Previous