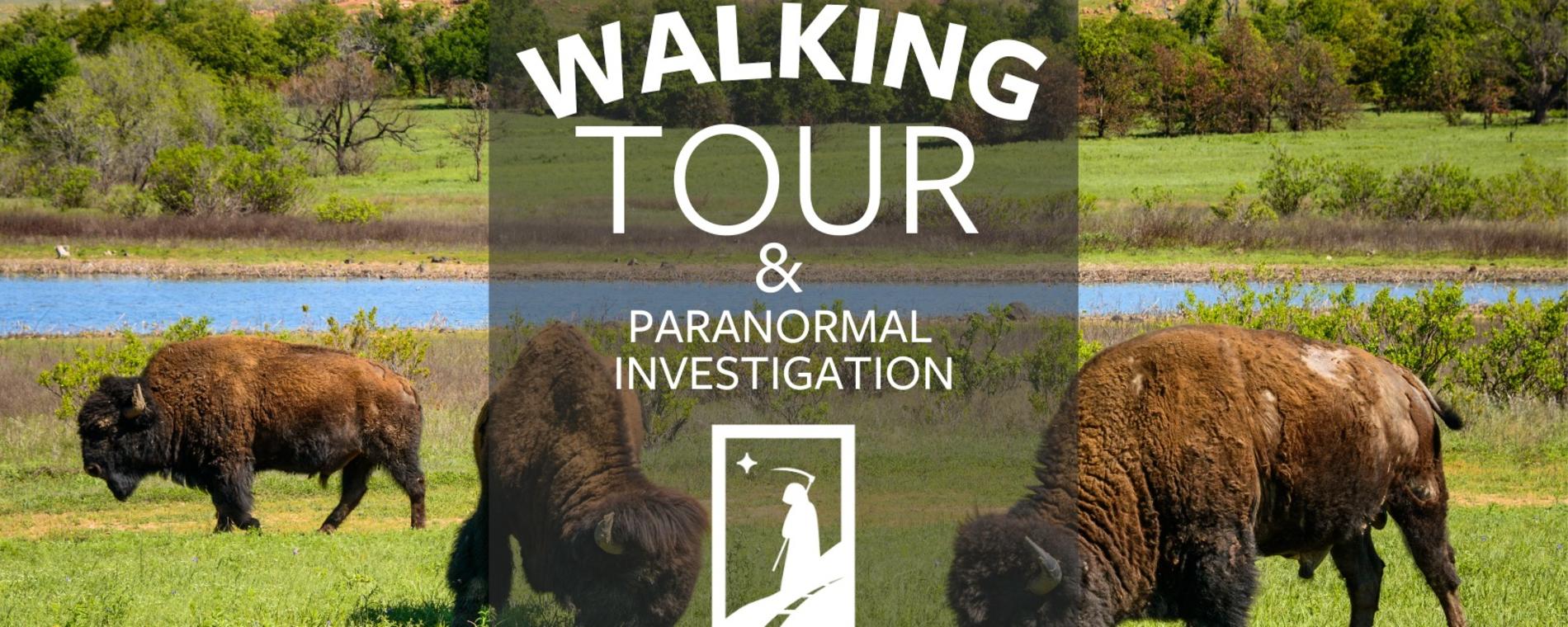 Back to Previous
Wichita Delano District Spooky Walking Tour and Paranormal Investigation
Starting: 8:00 PM, July 8, 2023 | Salon 5thirty5
The oldest section of Wichita is the Delano District. In the late 19th century, it was a hotspot for cowboys who drove cattle on the Chisholm Trail. This area was bustling with saloons, gambling houses, brothels, gunfights, and cattle rustling during the 1870s through 1880s. Today, this stretch of town is known as Delano, and it has transformed into a thriving shopping and dining district in Wichita. However, the area remains one of the most haunted in town, with reports of ghost sightings, including that of Edward T. "Red" Beard, who was notoriously gunned down by his rival saloon owner, "Rowdy" Joe Love, at point-blank range. For those seeking a glimpse into Wichita's past, Delano is a must-visit, where the town's rich history and haunting presence combine to create a unique and unforgettable experience.
We've put together a unique spooky walking tour with an optional paranormal investigation! on the spooky walking tour, we will take you to the most haunted places in the Delano District and tell you what we know about the history and the stories behind these historic locations.
After the walking tour, we will conduct a paranormal investigation of Salon 535. We've investigated this working salon many times and almost always come away with some evidence of paranormal activity inside.
The walking tour will start at 8 p.m. and go until 9 p.m. The paranormal investigation will start at 9:15 PM and go until midnight. Meet at Salon 535 in the parking lot for the walking tour.
For ages 16 and up, minors must be accompanied by an adult (Minimum 1 adult per 3 minors).
Tickets include ticket fees and applicable sales tax.
Admission:

$25-$50

Buy Tickets
Days:

July 8, 2023

>

2023-07-08 2023-07-08 21:00:00 Wichita Delano District Spooky Walking Tour and Paranormal Investigation <div class="xdj266r x11i5rnm xat24cr x1mh8g0r x1vvkbs">The oldest section of Wichita is the Delano District. In the late 19th century, it was a hotspot for cowboys who drove cattle on the Chisholm Trail. This area was bustling with saloons, gambling houses, brothels, gunfights, and cattle rustling during the 1870s through 1880s. Today, this stretch of town is known as Delano, and it has transformed into a thriving shopping and dining district in Wichita. However, the area remains one of the most haunted in town, with reports of ghost sightings, including that of Edward T. "Red" Beard, who was notoriously gunned down by his rival saloon owner, "Rowdy" Joe Love, at point-blank range. For those seeking a glimpse into Wichita's past, Delano is a must-visit, where the town's rich history and haunting presence combine to create a unique and unforgettable experience.</div> <div class="xdj266r x11i5rnm xat24cr x1mh8g0r x1vvkbs"> </div> <div class="x11i5rnm xat24cr x1mh8g0r x1vvkbs xtlvy1s">We've put together a unique spooky walking tour with an optional paranormal investigation! on the spooky walking tour, we will take you to the most haunted places in the Delano District and tell you what we know about the history and the stories behind these historic locations.</div> <div class="x11i5rnm xat24cr x1mh8g0r x1vvkbs xtlvy1s">After the walking tour, we will conduct a paranormal investigation of Salon 535. We've investigated this working salon many times and almost always come away with some evidence of paranormal activity inside.</div> <div class="x11i5rnm xat24cr x1mh8g0r x1vvkbs xtlvy1s"> </div> <div class="x11i5rnm xat24cr x1mh8g0r x1vvkbs xtlvy1s">The walking tour will start at 8 p.m. and go until 9 p.m. The paranormal investigation will start at 9:15 PM and go until midnight. Meet at Salon 535 in the parking lot for the walking tour.</div> <div class="x11i5rnm xat24cr x1mh8g0r x1vvkbs xtlvy1s"> </div> <div class="x11i5rnm xat24cr x1mh8g0r x1vvkbs xtlvy1s">For ages 16 and up, minors must be accompanied by an adult (Minimum 1 adult per 3 minors).</div> <div class="x11i5rnm xat24cr x1mh8g0r x1vvkbs xtlvy1s"> </div> <div class="x11i5rnm xat24cr x1mh8g0r x1vvkbs xtlvy1s">Tickets include ticket fees and applicable sales tax.</div> 535 W. Douglas Ave. #130 Wichita America/Chicago
Back To Previous