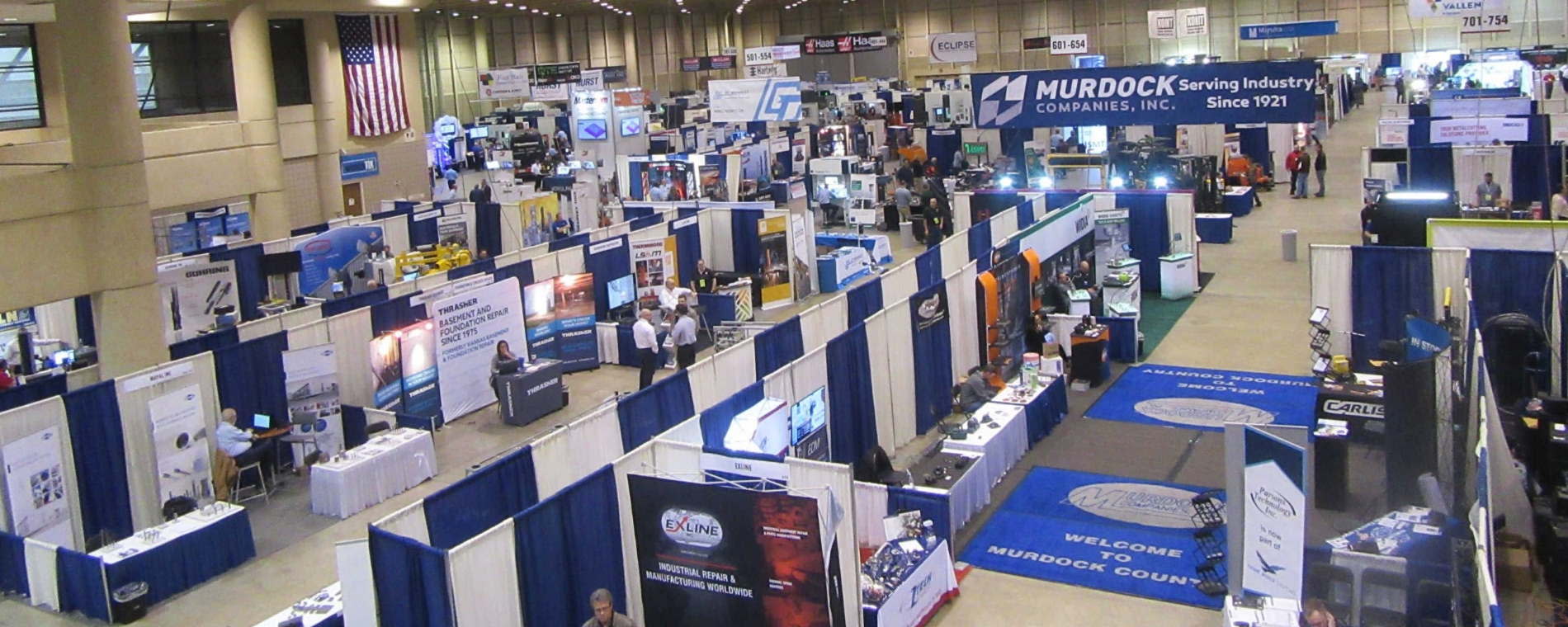 Back to Previous
Wichita Industrial Trade Show 2021
Various Times, October 26, 2021 | Century II Performing Arts & Convention Center
Established in 1974, it has become a significant marketplace in the heartland of Mid-America for buyers, manufacturing sources, industrial material, machinery and equipment. The show offers a dual opportunity for exhibitors from all sectors of our industrial community to present their products and services and for professionals of all levels to view the exhibits and talk to the factory experts. The show is held every other year.
Tuesday - 1-7pm
Wednesday - 9am-6pm
Thursday - 9am-4pm
Admission to the Exhibitor Area and the Seminars are FREE with registration. No one under 14 years of age. Each attendee must have a badge and it must be in a WITS badge holder. When you leave the show please put your badge and badge holder in the buckets by the exit doors so we can use them again at the next show.
Register Online
Registered online and did not bring your printed badge - Go to the pre-registration line and a volunteer will look up your registration and print your badge.
Registered online and printed your badge - In your confirmation email, click Print Your Badge and bring that paper with the 4″ x 6″ printed badge on it. Staff will take your printed badge and put it in a official holder, scan it, and your are ready to enter the show. This is a new feature of registration and it should be the fastest for the registration process.  
Register at the Door
Visit the computers in the registration area at the self serve kiosk to enter your information and print a badge to be scanned for your entry into the show. Volunteers will be available to assist.
If you do not want to use the computer, ask for a manual registration card. Complete the card and give to a volunteer at the registration desk and a badge will be created for you.
Admission:

Free

Register Now
Recurrence:

Recurring daily

Days:

October 26, 2021 - October 28, 2021

2021-10-26 2021-10-28 Wichita Industrial Trade Show 2021 <div class="fusion-text fusion-text-1"> <p>Established in 1974, it has become a significant marketplace in the heartland of Mid-America for buyers, manufacturing sources, industrial material, machinery and equipment. The show offers a dual opportunity for exhibitors from all sectors of our industrial community to present their products and services and for professionals of all levels to view the exhibits and talk to the factory experts. The show is held every other year.</p> <p>Tuesday - 1-7pm<br />Wednesday - 9am-6pm<br />Thursday - 9am-4pm</p> <p>Admission to the Exhibitor Area and the Seminars are FREE with registration. No one under 14 years of age. Each attendee must have a badge and it must be in a WITS badge holder. When you leave the show please put your badge and badge holder in the buckets by the exit doors so we can use them again at the next show.</p> <p><span><span><span style="text-decoration: underline;"><strong>Register Online</strong></span><br />Registered online and did not bring your printed badge - </span></span>Go to the pre-registration line and a volunteer will look up your registration and print your badge.</p> <p><span><span>Registered online and printed your badge - In your confirmation email, click</span></span> <em>Print Your Badge</em> and bring that paper with the 4″ x 6″ printed badge on it. Staff will take your printed badge and put it in a official holder, scan it, and your are ready to enter the show. This is a new feature of registration and it should be the fastest for the registration process.  </p> <p><span style="text-decoration: underline;"><strong>Register at the Door<br /></strong></span>Visit the computers in the registration area at the self serve kiosk to enter your information and print a badge to be scanned for your entry into the show. Volunteers will be available to assist.</p> <p>If you do not want to use the computer, ask for a manual registration card. Complete the card and give to a volunteer at the registration desk and a badge will be created for you.</p> </div> 225 W Douglas Ave Wichita, KS America/Chicago
Back To Previous