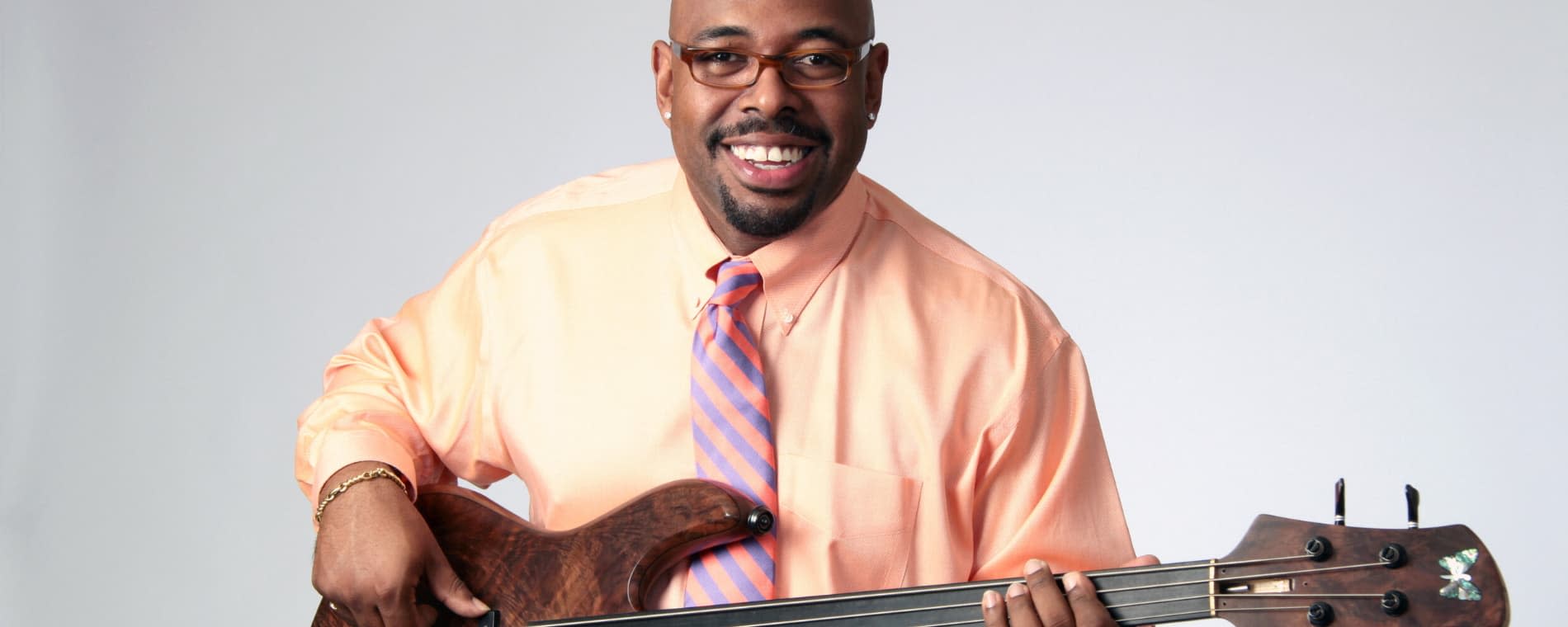 Back to Previous
Wichita Jazz Festival - Christian McBride
This event has been postponed and will be moved to its new date once rescheduled.
The dates for this event have already occurred, please check back again for new dates.
NOTE:
We are working to solidify a plan for postponing our events for April 15-19. Please be on the lookout for updates from the WJF Board of Directors as we navigate a plan for the future of our 2020 festival. - Wichita Jazz Festival
You won't want to miss six-time GRAMMY®-winning jazz bassist Christian McBride as he headlines the 2020 Wichita Jazz Festival. After touring with saxophonist Bobby Watson for several years, McBride formed the Christian McBride Band. Noted as "one of the most intoxicating, least predictable bands on the scene today," McBride and his band have been performing for nearly 20 years. He also performs with a trio, Inside Straight quintet, and with the Christian McBride Big Band.
Alongside his notable ensembles, McBride is heavily involved in the community as an educator and talk show host. Christian McBride works with the nationally recognized community arts organization Jazz House Kids. Additionally, he hosts and produces "The Lowdown: Conversations With Christian" on SiriusXM satellite radio and National Public Radio's "Jazz Night in America," a weekly radio show and multimedia collaboration.
Admission:

$40

Days:

April 18, 2020

Wichita Jazz Festival - Christian McBride <p><strong>NOTE:</strong><br /><em>We are working to solidify a plan for postponing our events for April 15-19. Please be on the lookout for updates from the WJF Board of Directors as we navigate a plan for the future of our 2020 festival.</em> - <a title="Notice" href="http://www.wichitajazzfestival.com/" rel="nofollow" target="_blank"><strong>Wichita Jazz Festival</strong></a></p> <p>You won't want to miss six-time GRAMMY®-winning jazz bassist Christian McBride as he headlines the <strong><a title="2020 Wichita Jazz Festival" href="https://www.visitwichita.com/event/2020-wichita-jazz-festival/30745/">2020 Wichita Jazz Festival</a></strong>. After touring with saxophonist Bobby Watson for several years, McBride formed the Christian McBride Band. Noted as "one of the most intoxicating, least predictable bands on the scene today," McBride and his band have been performing for nearly 20 years. He also performs with a trio, Inside Straight quintet, and with the Christian McBride Big Band.</p> <p>Alongside his notable ensembles, McBride is heavily involved in the community as an educator and talk show host. Christian McBride works with the nationally recognized community arts organization Jazz House Kids. Additionally, he hosts and produces "The Lowdown: Conversations With Christian" on SiriusXM satellite radio and National Public Radio's "Jazz Night in America," a weekly radio show and multimedia collaboration.</p> <p><a title="Get Tickets" href="https://tickets.vendini.com/ticket-software.html?e=c02596a5a65cd0441f79de0421f98e1c&amp;t=tix&amp;vqitq=4ab020b6-8adf-44cd-8dcb-96c12d343c3f&amp;vqitp=25b9d139-9592-40f7-9949-3b9c099b2b57&amp;vqitts=1581008302&amp;vqitc=vendini&amp;vqite=itl&amp;vqitrt=Safetynet&amp;vqith=0b33209340a6c94bc9a088afff0e72e8" rel="nofollow" target="_blank"><strong>Get Tickets</strong></a></p> America/Chicago
Back To Previous