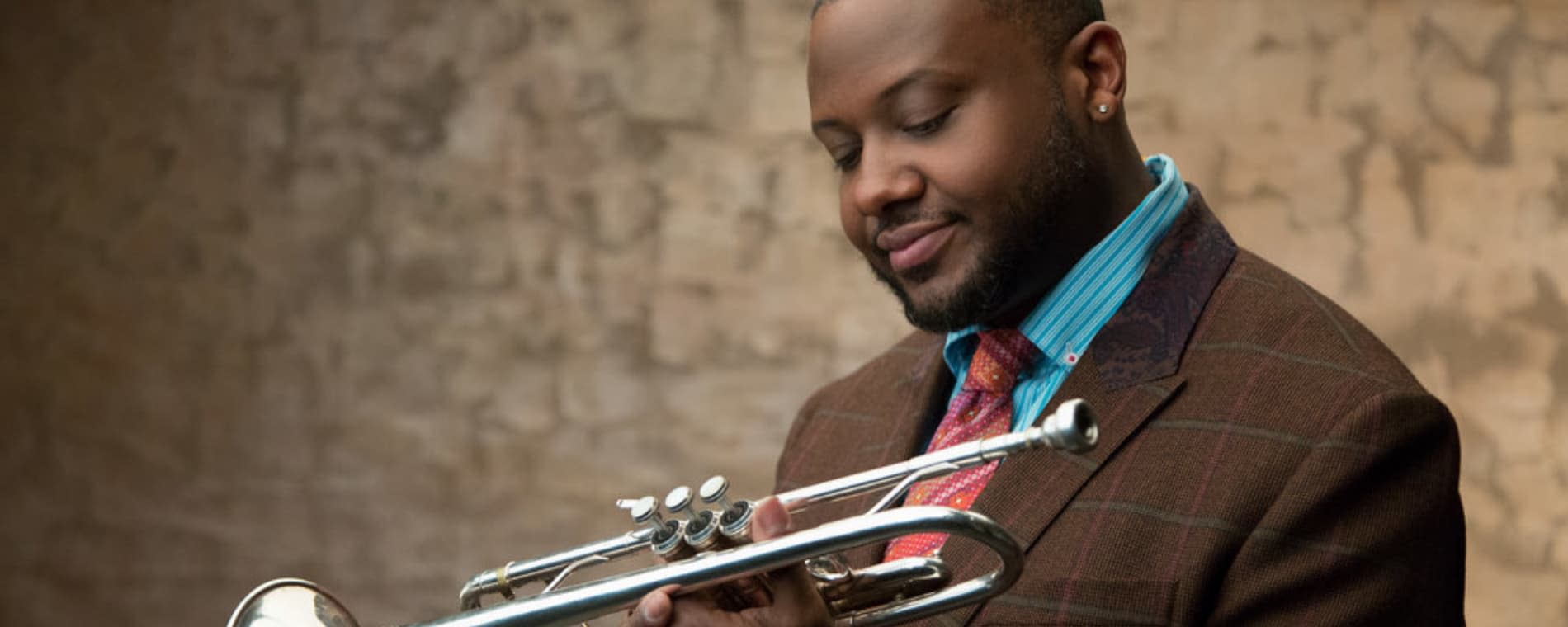 Back to Previous
Wichita Jazz Festival - Sean Jones with WSU Jazz Arts Ensemble 1
This event has been postponed and will be moved to its new date once rescheduled.
The dates for this event have already occurred, please check back again for new dates.
NOTE:
We are working to solidify a plan for postponing our events for April 15-19. Please be on the lookout for updates from the WJF Board of Directors as we navigate a plan for the future of our 2020 festival. - Wichita Jazz Festival
Noted as a musical chameleon, Sean Jones will bring his talent as a trumpeter, band leader, composer, and educator to Wichita, Kansas for the 2020 Wichita Jazz Festival. Join us for an evening of big-band jazz as Delano Jazz Orchestra will perform and Sean Jones will entertain as a soloist with the Wichita State University Jazz Arts 1 ensemble.
Sean Jones held the position as lead trumpeter for Wynton Marsalis from 2004 to 2010. From 2015-2018 Jones was a member of the SFJAZZ Collective where he managed to form groups of jazz musicians to produce and release eight recordings on Mack Avenue Records, including his most recent release Sean Jones: Live from the Jazz Bistro. Sean has been featured in recordings and performances with several prominent artists such as Illinois Jacket, Frank Foster, Dianne Reeves, Gerald Wilson and Marcus Miller.
Admission:

$20

Days:

April 17, 2020

Wichita Jazz Festival - Sean Jones with WSU Jazz Arts Ensemble 1 <p><strong>NOTE:</strong><br /><em>We are working to solidify a plan for postponing our events for April 15-19. Please be on the lookout for updates from the WJF Board of Directors as we navigate a plan for the future of our 2020 festival.</em> - <a title="Notice" href="http://www.wichitajazzfestival.com/" rel="nofollow" target="_blank"><strong>Wichita Jazz Festival</strong></a></p> <p>Noted as a musical chameleon, Sean Jones will bring his talent as a trumpeter, band leader, composer, and educator to Wichita, Kansas for the <strong><a title="2020 Wichita Jazz Festival" href="https://www.visitwichita.com/event/2020-wichita-jazz-festival/30745/">2020 Wichita Jazz Festival</a></strong>. Join us for an evening of big-band jazz as Delano Jazz Orchestra will perform and Sean Jones will entertain as a soloist with the Wichita State University Jazz Arts 1 ensemble.</p> <p>Sean Jones held the position as lead trumpeter for Wynton Marsalis from 2004 to 2010. From 2015-2018 Jones was a member of the SFJAZZ Collective where he managed to form groups of jazz musicians to produce and release eight recordings on Mack Avenue Records, including his most recent release Sean Jones: Live from the Jazz Bistro. Sean has been featured in recordings and performances with several prominent artists such as Illinois Jacket, Frank Foster, Dianne Reeves, Gerald Wilson and Marcus Miller.</p> <p><a title="Get Tickets" href="https://tickets.vendini.com/ticket-software.html?e=c42f8e5ab5c61350aef4b260f526a563&amp;t=tix&amp;vqitq=32945c3d-6b1e-4a80-a8df-beeec7dc019c&amp;vqitp=bfc98279-959d-40a8-a968-459e7496d562&amp;vqitts=1581008639&amp;vqitc=vendini&amp;vqite=itl&amp;vqitrt=Safetynet&amp;vqith=9753e38abc3ebada51fdbb5e90289616" rel="nofollow" target="_blank"><strong>Get Tickets</strong></a></p> America/Chicago
Back To Previous