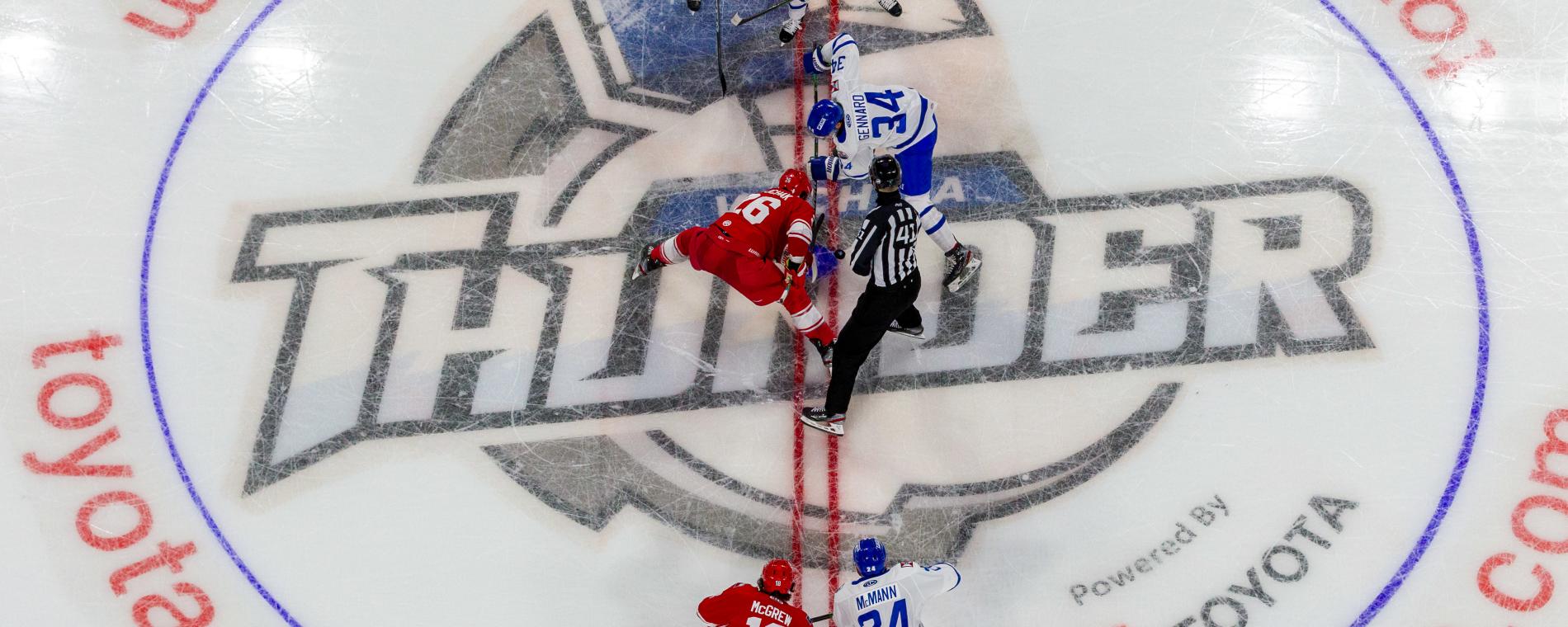 Back to Previous
Wichita Thunder vs Allen Americans
7:05pm, February 6, 2021 | INTRUST Bank Arena
The Wichita Thunder host the Allen Americans - puck drops at 7:05pm! It is WIND THROWBACK NIGHT presented by Case & Associates and Jump Start. Help honor the heritage of hockey in the Air Capital as we wear a retro-Wichita Wind uniform that will be auctioned off online on the DASH App following the game.
PROMOS SUBJECT TO CHANGE
INTRUST Bank Arena COVID-19 Info: Fans are permitted to attend Thunder home games at INTRUST Bank Arena, however capacity is limited. INTRUST Bank Arena has implemented pod seating to help maintain social distancing and have added new health and safety protocols. Face masks and six-foot distancing between groups is required, in addition to a clear bag policy and self-service ticket scanning and concession purchases. Other measures, like plexiglass shields, signage and hygiene and disinfecting procedures are being implemented. See full details.
Admission:

$12-$17

Days:

February 6, 2021

2021-02-06 2021-02-06 19:05:00 Wichita Thunder vs Allen Americans <p>The Wichita Thunder host the Allen Americans - puck drops at 7:05pm! It is WIND THROWBACK NIGHT presented by Case &amp; Associates and Jump Start. Help honor the heritage of hockey in the Air Capital as we wear a retro-Wichita Wind uniform that will be auctioned off online on the DASH App following the game.</p> <p>PROMOS SUBJECT TO CHANGE</p> <p><strong><a title="Get Tickets" href="https://selectaseat.com/210206-thunder" rel="nofollow" target="_blank">Get Tickets</a></strong></p> <p><strong><strong>INTRUST Bank Arena COVID-19 Info:</strong></strong> Fans are permitted to attend Thunder home games at INTRUST Bank Arena, however capacity is limited. INTRUST Bank Arena has implemented pod seating to help maintain social distancing and have added new health and safety protocols. Face masks and six-foot distancing between groups is required, in addition to a <strong><a title="Clear Bag Policy" href="https://www.intrustbankarena.com/plan-your-visit/policies-code-of-conduct" rel="nofollow" target="_blank">clear bag policy</a></strong> and self-service ticket scanning and concession purchases. Other measures, like plexiglass shields, signage and hygiene and disinfecting procedures are being implemented. <strong><strong><a title="COVID Details" href="https://www.intrustbankarena.com/plan-your-visit/covid-19-info" rel="nofollow" target="_blank">See full details</a></strong></strong>.</p> 500 E. Waterman St. Wichita, KS America/Chicago
Back To Previous