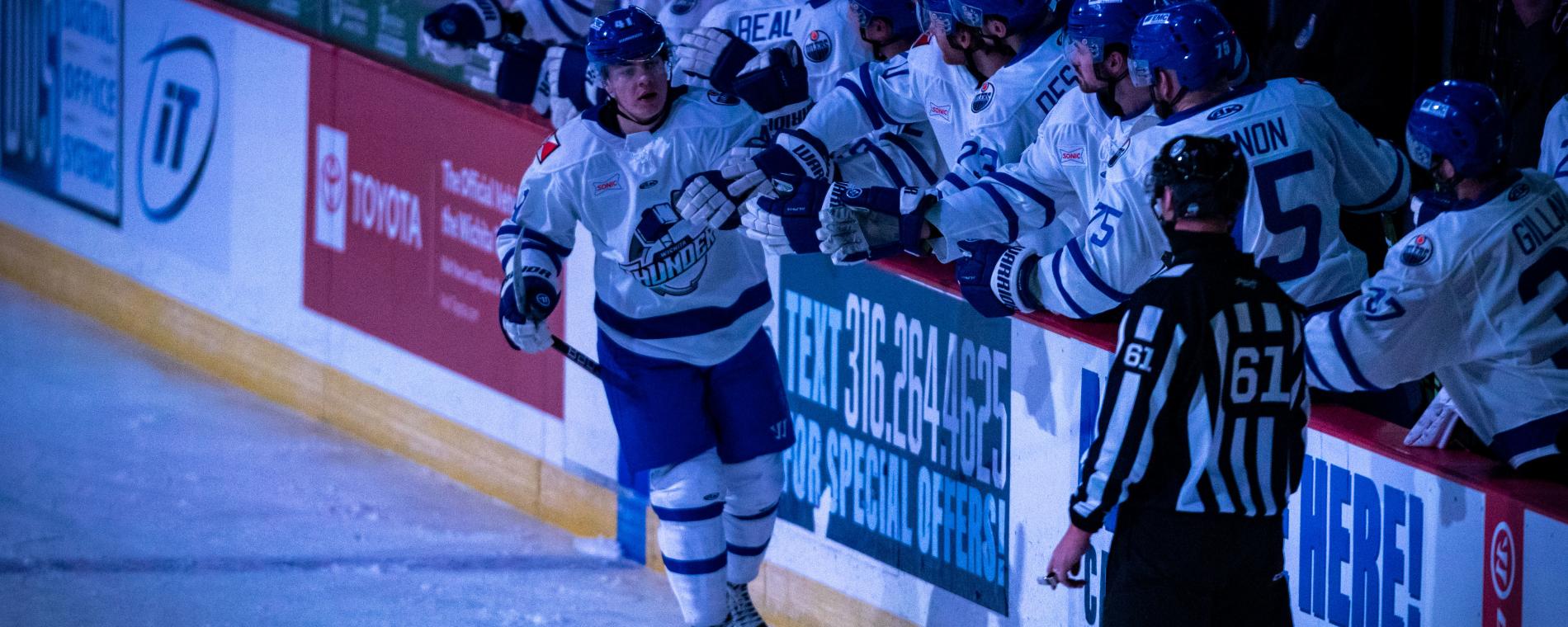 Back to Previous
Wichita Thunder vs Indy Fuel - St. Paddy's with the Thunder
7:05pm, March 17, 2021 | INTRUST Bank Arena
The Wichita Thunder hosts the Indy Fuel at INTRUST Bank Arena! ST. PADDY'S WITH THE THUNDER – There's a pot of gold at the end of the rainbow! Come celebrate your St. Patrick's Day in style with the Thunder! Green details to be announced at a later date.
PROMOS SUBJECT TO CHANGE
INTRUST Bank Arena COVID-19 Info: Fans are permitted to attend Thunder home games at INTRUST Bank Arena, however capacity is limited. INTRUST Bank Arena has implemented pod seating to help maintain social distancing and have added new health and safety protocols. Face masks and six-foot distancing between groups is required, in addition to a clear bag policy and self-service ticket scanning and concession purchases. Other measures, like plexiglass shields, signage and hygiene and disinfecting procedures are being implemented. See full details.
Admission:

$12 - $17

Get Tickets
Days:

March 17, 2021

2021-03-17 2021-03-17 19:05:00 Wichita Thunder vs Indy Fuel - St. Paddy's with the Thunder <p>The Wichita Thunder hosts the Indy Fuel at INTRUST Bank Arena! ST. PADDY'S WITH THE THUNDER &#8211; There's a pot of gold at the end of the rainbow! Come celebrate your St. Patrick's Day in style with the Thunder! Green details to be announced at a later date.</p> <p>PROMOS SUBJECT TO CHANGE</p> <p><strong>INTRUST Bank Arena COVID-19 Info:</strong> Fans are permitted to attend Thunder home games at INTRUST Bank Arena, however capacity is limited. INTRUST Bank Arena has implemented pod seating to help maintain social distancing and have added new health and safety protocols. Face masks and six-foot distancing between groups is required, in addition to a <strong><a title="Clear Bag Policy" href="https://www.intrustbankarena.com/plan-your-visit/policies-code-of-conduct" rel="nofollow" target="_blank">clear bag policy</a></strong> and self-service ticket scanning and concession purchases. Other measures, like plexiglass shields, signage and hygiene and disinfecting procedures are being implemented. <strong><strong><a title="COVID Details" href="https://www.intrustbankarena.com/plan-your-visit/covid-19-info" rel="nofollow" target="_blank">See full details</a></strong></strong>.</p> 500 E. Waterman St. Wichita, KS America/Chicago
Back To Previous