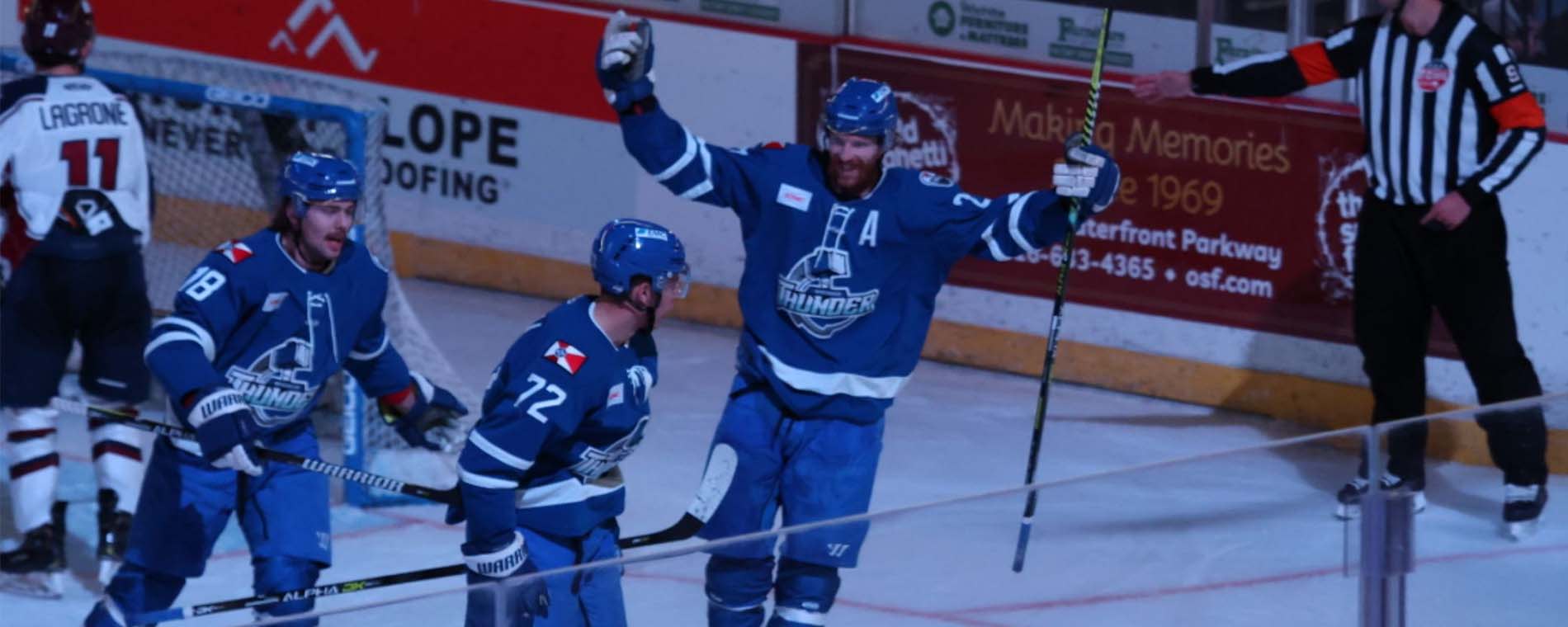 Back to Previous
Wichita Thunder vs. Toledo Walleye (ST. HATTRICK'S DAY/THROWBACK THURSDAY)
From: 07:05 PM to 09:30 PM, March 17, 2022 | Wichita Thunder Hockey
Join us as we host the Toledo Walleye! Puck drops at 7:05 p.m. at INTRUST Bank Arena.
Join us and spend St. Paddy's Day in style at the Thunder game, presented by Wichita Furniture & Mattress and Home Health & Hospice of Kansas!
The Thunder will be wearing specialty green jerseys, which will be auctioned off. Details on jersey auction method will come at a later date.
In honor of the 30th anniversary season, we're throwing it back to the 90s with throwback ticket pricing! Fan Zone tickets are $6 and Goal Zone tickets are $9. Visit the Thunder Team Store at the game for an exclusive throwback item available for purchase.
Buy tickets at https://selectaseat.com/all-events/wichita-thunder-intrust-bank-arena.
Admission:

$5-$50

Days:

March 17, 2022

2022-03-17 2022-03-17 21:30:00 Wichita Thunder vs. Toledo Walleye (ST. HATTRICK'S DAY/THROWBACK THURSDAY) <p>Join us as we host the Toledo Walleye! Puck drops at 7:05 p.m. at INTRUST Bank Arena.</p> <p>Join us and spend St. Paddy's Day in style at the Thunder game, presented by Wichita Furniture &amp; Mattress and Home Health &amp; Hospice of Kansas!</p> <p>The Thunder will be wearing specialty green jerseys, which will be auctioned off. Details on jersey auction method will come at a later date.</p> <p>In honor of the 30th anniversary season, we're throwing it back to the 90s with throwback ticket pricing! Fan Zone tickets are $6 and Goal Zone tickets are $9. Visit the Thunder Team Store at the game for an exclusive throwback item available for purchase.</p> <p>Buy tickets at <a href="https://selectaseat.com/all-events/wichita-thunder-intrust-bank-arena">https://selectaseat.com/all-events/wichita-thunder-intrust-bank-arena</a>.</p> 500 E Waterman St Wichita, KS America/Chicago
Back To Previous