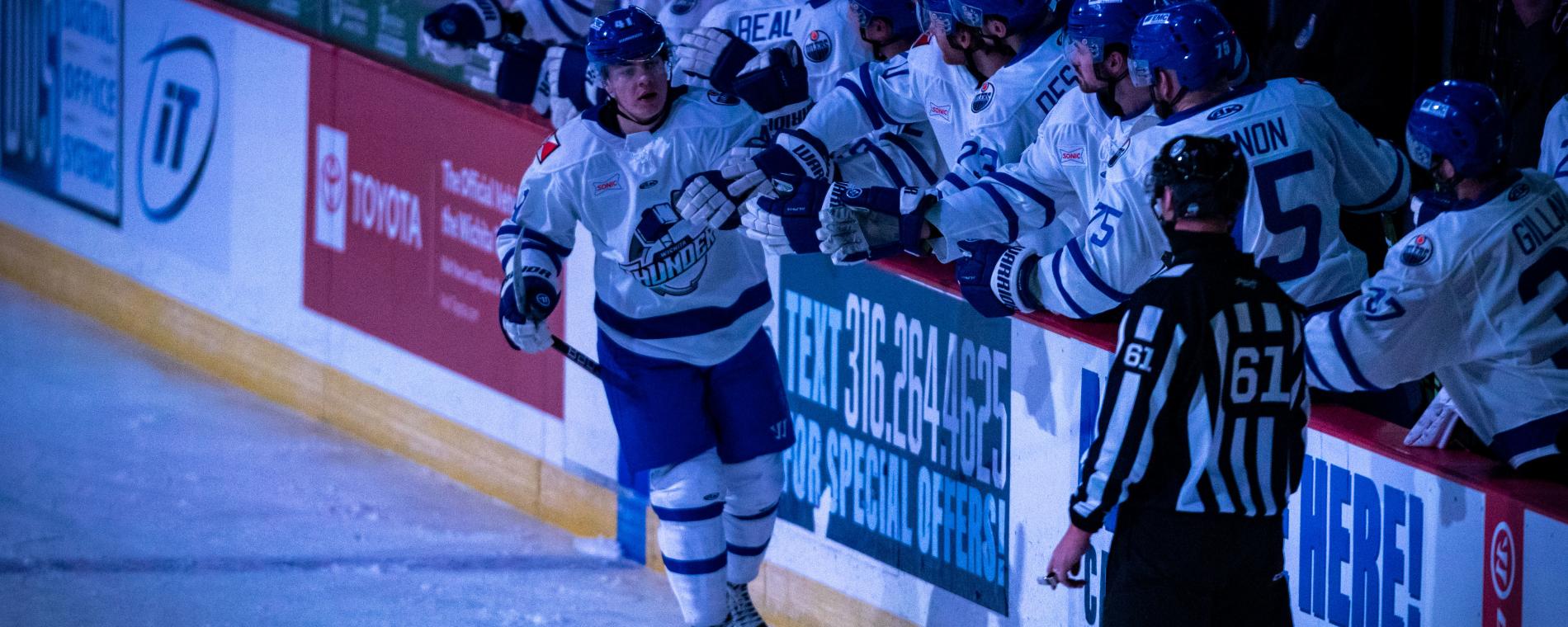 Back to Previous
Wichita Thunder vs Tulsa Oilers - I Love Wichita Night
7:05pm, April 17, 2021 | INTRUST Bank Arena
The Wichita Thunder hosts the Tulsa Oilers at INTRUST Bank Arena! It is #ILOVEWICHITA Night presented by Davis-Moore, Hajoca, Bonavia, US Mortgage and Home Health & Hospice of Kansas. The team will be wearing a Wichita flag-themed jersey that will be auctioned off - more details coming soon. The first 500 fans in the door will receive a special #ILOVEWICHITA themed car flag.
PROMOS SUBJECT TO CHANGE
INTRUST Bank Arena COVID-19 Info: Fans are permitted to attend Thunder home games at INTRUST Bank Arena, however capacity is limited. INTRUST Bank Arena has implemented pod seating to help maintain social distancing and have added new health and safety protocols. Face masks and six-foot distancing between groups is required, in addition to a clear bag policy and self-service ticket scanning and concession purchases. Other measures, like plexiglass shields, signage and hygiene and disinfecting procedures are being implemented. See full details.
Admission:

$12-$30

Get Tickets
Days:

April 17, 2021

2021-04-17 2021-04-17 21:35:00 Wichita Thunder vs Tulsa Oilers - I Love Wichita Night <p>The Wichita Thunder hosts the Tulsa Oilers at INTRUST Bank Arena! It is #ILOVEWICHITA Night presented by Davis-Moore, Hajoca, Bonavia, US Mortgage and Home Health &amp; Hospice of Kansas. The team will be wearing a Wichita flag-themed jersey that will be auctioned off - more details coming soon. The first 500 fans in the door will receive a special #ILOVEWICHITA themed car flag.</p> <p>PROMOS SUBJECT TO CHANGE</p> <p><strong>INTRUST Bank Arena COVID-19 Info:</strong> Fans are permitted to attend Thunder home games at INTRUST Bank Arena, however capacity is limited. INTRUST Bank Arena has implemented pod seating to help maintain social distancing and have added new health and safety protocols. Face masks and six-foot distancing between groups is required, in addition to a <strong><a title="Clear Bag Policy" href="https://www.intrustbankarena.com/plan-your-visit/policies-code-of-conduct" rel="nofollow" target="_blank">clear bag policy</a></strong> and self-service ticket scanning and concession purchases. Other measures, like plexiglass shields, signage and hygiene and disinfecting procedures are being implemented. <strong><strong><a title="COVID Info" href="https://www.intrustbankarena.com/plan-your-visit/covid-19-info" rel="nofollow" target="_blank">See full details</a></strong></strong>.</p> 500 E. Waterman St. Wichita, KS America/Chicago
Back To Previous