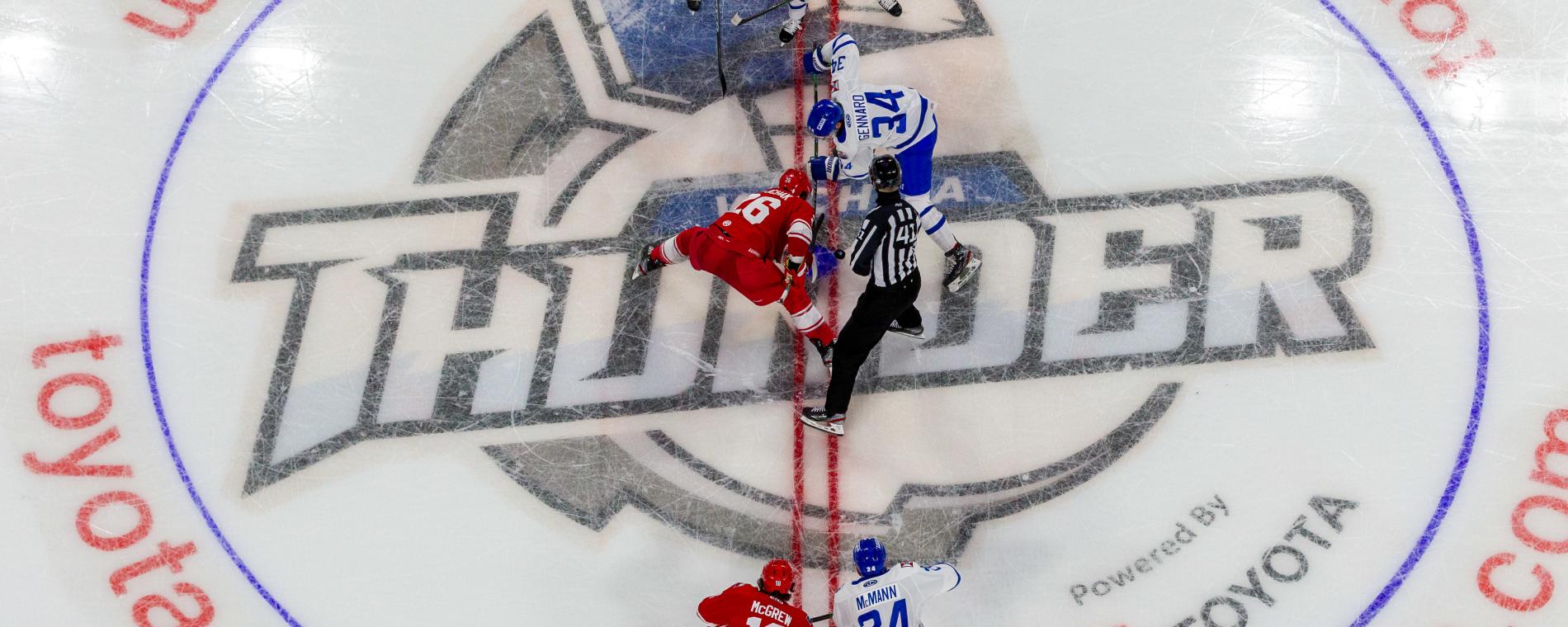 Back to Previous
Wichita Thunder vs. Tulsa Oilers
From: 07:05 PM to 10:05 PM, January 29, 2022 | INTRUST Bank Arena
Join us as we host the Tulsa Oilers! Puck drops at 7:05 p.m. at INTRUST Bank Arena.
Thunderdog will be celebrating his birthday with his mascot buddies from the Wichita area, who you can meet throughout the night at the game. He will battle it out in broomball during the first intermission. Thunderdog's birthday is presented by Sonic Drive-In.
The Thunder will be wearing specialty Wind jerseys which will be auctioned off. Details on jersey auction method will come at a later date.
Join us for the annual Wiener Dog Nationals presented by Petland West Wichita and watch the dogs race on the ice during intermission. To sign up, visit https://echlqiseo.formstack.com/forms/wiener_dog_nationals_copy?fbclid=IwAR1GD1gJOMlHA0LOz8AzTTPTQE_uhIdBr7mA4tx92kY6kjIlVfl37cfk3ro.
Single game tickets are on sale now at bit.ly/Thunder2122. 
Admission:

Tickets range from $5 to $50

Buy Tickets
Days:

January 29, 2022

2022-01-29 2022-01-29 22:05:00 Wichita Thunder vs. Tulsa Oilers <p>Join us as we host the Tulsa Oilers! Puck drops at 7:05 p.m. at INTRUST Bank Arena.</p> <p>Thunderdog will be celebrating his birthday with his mascot buddies from the Wichita area, who you can meet throughout the night at the game. He will battle it out in broomball during the first intermission. Thunderdog's birthday is presented by Sonic Drive-In.</p> <p>The Thunder will be wearing specialty Wind jerseys which will be auctioned off. Details on jersey auction method will come at a later date.</p> <p>Join us for the annual Wiener Dog Nationals presented by Petland West Wichita and watch the dogs race on the ice during intermission. To sign up, visit <a href="https://echlqiseo.formstack.com/forms/wiener_dog_nationals_copy?fbclid=IwAR1GD1gJOMlHA0LOz8AzTTPTQE_uhIdBr7mA4tx92kY6kjIlVfl37cfk3ro">https://echlqiseo.formstack.com/forms/wiener_dog_nationals_copy?fbclid=IwAR1GD1gJOMlHA0LOz8AzTTPTQE_uhIdBr7mA4tx92kY6kjIlVfl37cfk3ro</a>.</p> <p>Single game tickets are on sale now at <a href="https://wichita.simpleviewcrm.com/bit.ly/Thunder2122">bit.ly/Thunder2122</a>. </p> 500 E Waterman St Wichita, KS America/Chicago
Back To Previous