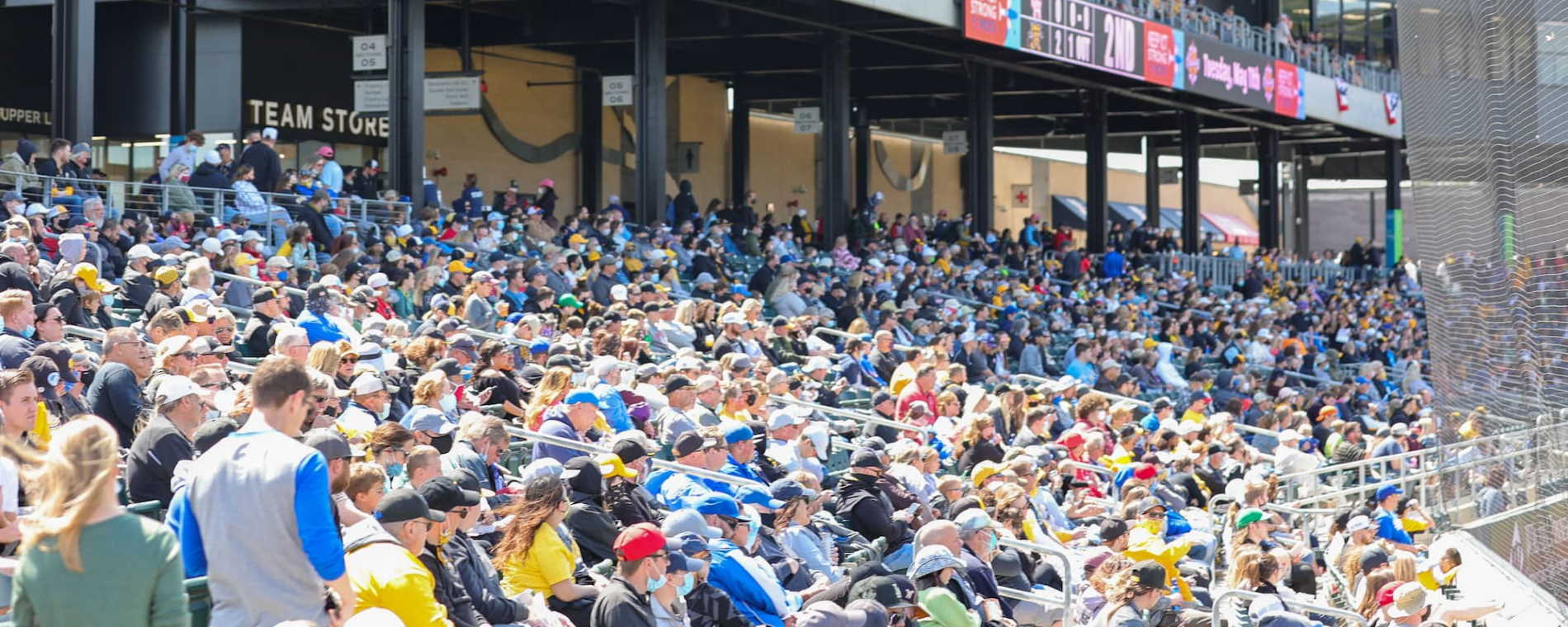 Back to Previous
Wichita Wind Surge vs Midland RockHounds
7:05pm, August 4, 2021 | Riverfront Stadium
Be part of history during the Wichita Wind Surge's inaugural season! The MiLB's newest team takes on the Midland RockHounds (Oakland Athletics affiliate) at the brand new Riverfront Stadium.
Wind Surge Wednesday - Fans receive half price berm tickets to Wednesday's game when they present their Dillons receipt showing a donation to Dillons Zero Hunger Zero Waste program at the Wind Surge Box Office. Presented by Dillons
4 for $28 Food Voucher - Pre-order a Family Food 4-Pack: 4 hotdogs, 4 chips, and 4 regular fountain sodas for only $28! Valid for the date purchased only, and must be purchased 24 hours in advance.
Guide to Riverfront Stadium and the Wichita Wind Surge
Admission:

Starting at $10

Get Tickets
Days:

August 4, 2021

2021-08-04 2021-08-04 19:05:00 Wichita Wind Surge vs Midland RockHounds <p>Be part of history during the Wichita Wind Surge's inaugural season! The MiLB's newest team takes on the Midland RockHounds (Oakland Athletics affiliate) at the brand new Riverfront Stadium.</p> <p>Wind Surge Wednesday - Fans receive half price berm tickets to Wednesday's game when they present their Dillons receipt showing a donation to Dillons Zero Hunger Zero Waste program at the Wind Surge Box Office. Presented by Dillons</p> <p>4 for $28 Food Voucher - Pre-order a Family Food 4-Pack: 4 hotdogs, 4 chips, and 4 regular fountain sodas for only $28! Valid for the date purchased only, and must be purchased 24 hours in advance.</p> <p><a title="Guide to Riverfront Stadium and the Wichita Wind Surge" href="https://www.visitwichita.com/blog/post/your-guide-to-riverfront-stadium-and-the-wichita-wind-surge/"><strong>Guide to Riverfront Stadium and the Wichita Wind Surge</strong></a></p> <p><a title="Things to Do Around Riverfront Stadium" href="https://www.visitwichita.com/blog/post/things-to-do-around-riverfront-stadium-in-wichita/"><strong>Things to Do Around Riverfront Stadium</strong></a></p> 300 S. Sycamore St. Wichita, KS America/Chicago
Back To Previous