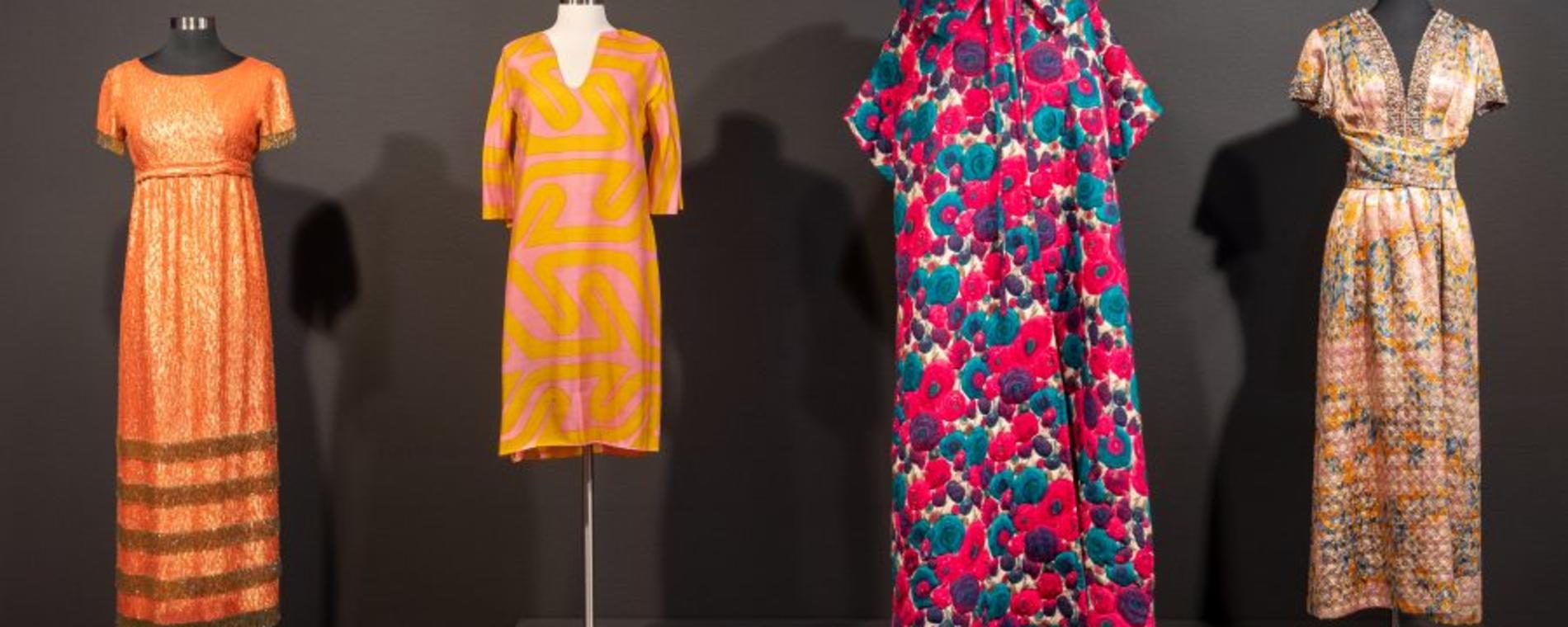 Back to Previous
Wichita Wore What? A Century of Local Fashion
May 28, 2023 | Wichita Art Museum
Wichita Wore What? A Century of Local Fashion spotlights our city's fashionable history. In 1870, Wichita officially boasted about 700 residents. By the turn of the 20th century, however, Wichita had become a major regional center offering a wide variety of shopping spots, places to see and be seen, and residents eager to assert their identities as refined citizens of the world. With nearly a dozen department stores dotting the downtown area alone, Wichitans could admire and purchase the latest styles from the East Coast and beyond. As the city continued to flourish after World War I and World War II–with the success of companies including Coleman, Metholatum, Travel Air, Beech, Stearman, and Cessna–residents continued to embrace the most up-to-date designs.
Wichita Wore What? features clothing and accessories worn in Wichita from 1888-1988, surveying changes in both apparel and lifestyle. The exhibition includes designs by superstars like Sadie Nemser, James Galanos, Geoffrey Beene, Halston, Norman Norell, Oscar de la Renta, and Bill Blass. It also features clothing worn by key figures in Wichita's history including the city's first female mayor, Connie Peters, and civil rights icon Chester I. Lewis.
Wichita Wore What? A Century of Local Fashion is drawn from the collections of the Wichita-Sedgwick County Historical Museum and local collectors. The exhibition is organized in conjunction with Isabelle de Borchgrave: Fashioning Art from Paper. See extraordinary paper reproductions of textiles from around the world in Isabelle de Borchgrave and enjoy an immersion in local fashion in Wichita Wore What?
Admission:

Free admission

Recurrence:

Recurring daily

Days:

January 21, 2023 - June 18, 2023

>

2023-05-28 2023-06-18 Wichita Wore What? A Century of Local Fashion <p><em>Wichita Wore What? A Century of Local Fashion</em> spotlights our city's fashionable history. In 1870, Wichita officially boasted about 700 residents. By the turn of the 20th century, however, Wichita had become a major regional center offering a wide variety of shopping spots, places to see and be seen, and residents eager to assert their identities as refined citizens of the world. With nearly a dozen department stores dotting the downtown area alone, Wichitans could admire and purchase the latest styles from the East Coast and beyond. As the city continued to flourish after World War I and World War II&#8211;with the success of companies including Coleman, Metholatum, Travel Air, Beech, Stearman, and Cessna&#8211;residents continued to embrace the most up-to-date designs.</p> <p><em>Wichita Wore What?</em> features clothing and accessories worn in Wichita from 1888-1988, surveying changes in both apparel and lifestyle. The exhibition includes designs by superstars like Sadie Nemser, James Galanos, Geoffrey Beene, Halston, Norman Norell, Oscar de la Renta, and Bill Blass. It also features clothing worn by key figures in Wichita's history including the city's first female mayor, Connie Peters, and civil rights icon Chester I. Lewis.</p> <p><em>Wichita Wore What? A Century of Local Fashion</em> is drawn from the collections of the <a href="https://www.wichitahistory.org/">Wichita-Sedgwick County Historical Museum</a> and local collectors. The exhibition is organized in conjunction with <em><a href="https://wam.org/whats-on/exhibitions/isabelle-de-borchgrave-fashioning-art-from-paper/">Isabelle de Borchgrave: Fashioning Art from Paper</a>.</em> See extraordinary paper reproductions of textiles from around the world in Isabelle de Borchgrave and enjoy an immersion in local fashion in <em>Wichita Wore What</em>?</p> 1400 W. Museum Blvd. Wichita, KS America/Chicago
Back To Previous