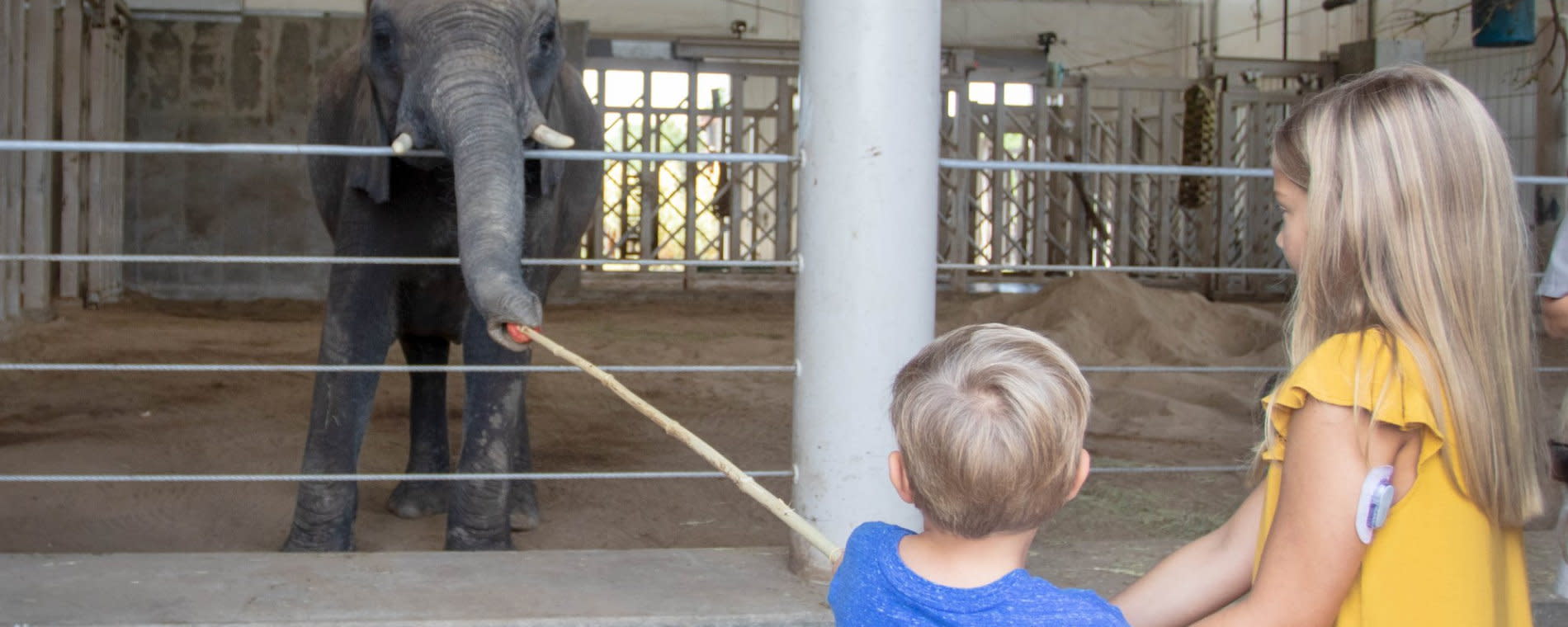 Back to Previous
Wild Encounters at the Sedgwick County Zoo
Various Times, June 8, 2023 | Sedgwick County Zoo
Wild Encounters at the Sedgwick County Zoo give guests a behind-the-scenes experience they'll never forget!
Encounters must be reserved in advance.
Elephant Encounter
Sat-Sun | 1:30pm
Get to know the African Elephant herd at Sedgwick County Zoo! Meet an elephant and a Zookeeper at the Reed Family Elephants of the Zambezi River Valley Elephant Boma (the indoor habitat) to learn about how we care for the African elephants who call the Zoo home – and have a chance to feed one yourself! You'll also learn about African elephant conservation in the wild and what YOU can do to help care for, conserve, and connect with African Elephants. (May-September) Details
Penguin Encounter
Thu-Sun | 3:00pm
Experience the Cessna Penguin Cove from the inside! Go behind the scenes with a penguin keeper to learn what it takes to care for our Humboldt Penguins and what SCZ is doing to help them in the wild. Venture out into the penguin habitat for a wild encounter you'll never forget! Details
Equine Encounter
Thu-Sat | 11:00am
Venture into the equine yards of the American Farm and learn all about the horses, donkeys, and other equine at SCZ. If you've ever wondered what the Poitou's long corded hair feels like, this encounter is for you! Details
Ectotherm Encounter
Thu-Fri, Sun | 1:00pm
Meet everyone slimy, scaly, creepy, and crawly inside the ectotherm room in the Education department, and even have the opportunity to touch a few! (must be 5 or older) Details
Aldabra Tortoise Encounter
Sat-Sun | 2:00pm
Get to know the giant Aldabra tortoises at the Sedgwick County Zoo. Go into the tortoise habitat with a keeper to learn about Aldabras in the wild, meet the 3 who call SCZ their home and feed them a snack. (May-September) Details
Zoo admission or membership ID is required. Admission is not included in the cost of the Encounter ticket. Encounters for children 2 and under are free. Children under 12 must be accompanied by an adult who must also purchase a ticket for the encounter. Maximum capacity for Tortoise Encounters is 5 guests. Groups will not be guaranteed private encounters unless they purchase all 5 spaces.
Please arrive at the entrance of the Amphibians and Reptiles building 10 minutes prior to scheduled encounter. Late arrivals may not be able to be accommodated. Encounters are non-refundable, but may be rescheduled if canceled more than 48 hours in advance. Sedgwick County Zoo reserves the right to cancel and reschedule encounters for any reason such as weather or animal welfare concerns.
Admission:

$20-$60 ($15-$50 for zoo members)

Recurrence:

Recurring weekly on Sunday, Thursday, Friday, Saturday

>

2023-06-08 Wild Encounters at the Sedgwick County Zoo <p>Wild Encounters at the Sedgwick County Zoo give guests a behind-the-scenes experience they'll never forget!</p> <p>Encounters must be reserved in advance.</p> <p><strong>Elephant Encounter</strong><br />Sat-Sun | 1:30pm<br />Get to know the African Elephant herd at Sedgwick County Zoo! Meet an elephant and a Zookeeper at the Reed Family Elephants of the Zambezi River Valley Elephant Boma (the indoor habitat) to learn about how we care for the African elephants who call the Zoo home &#8211; and have a chance to feed one yourself! You'll also learn about African elephant conservation in the wild and what YOU can do to help care for, conserve, and connect with African Elephants. (May-September) <a title="Elephant Encounter" href="https://scz.org/event/elephant-encounter" rel="nofollow" target="_blank"><strong>Details</strong></a></p> <p><strong>Penguin Encounter</strong><br />Thu-Sun | 3:00pm<br />Experience the Cessna Penguin Cove from the inside! Go behind the scenes with a penguin keeper to learn what it takes to care for our Humboldt Penguins and what SCZ is doing to help them in the wild. Venture out into the penguin habitat for a wild encounter you'll never forget! <a title="Penguin Encounter" href="https://scz.org/event/penguin-encounter" rel="nofollow" target="_blank"><strong>Details</strong></a></p> <p><strong>Equine Encounter</strong><br />Thu-Sat | 11:00am<br />Venture into the equine yards of the American Farm and learn all about the horses, donkeys, and other equine at SCZ. If you've ever wondered what the Poitou's long corded hair feels like, this encounter is for you! <a title="Equine Encounter" href="https://scz.org/event/equine-encounter" rel="nofollow" target="_blank"><strong>Details</strong></a></p> <p><strong>Ectotherm Encounter</strong><br />Thu-Fri, Sun | 1:00pm<br />Meet everyone slimy, scaly, creepy, and crawly inside the ectotherm room in the Education department, and even have the opportunity to touch a few! (must be 5 or older) <a title="Ectotherm Encounter" href="https://scz.org/event/ectotherm-encounter" rel="nofollow" target="_blank"><strong>Details</strong></a></p> <p><strong>Aldabra Tortoise Encounter</strong><br />Sat-Sun | 2:00pm<br />Get to know the giant Aldabra tortoises at the Sedgwick County Zoo. Go into the tortoise habitat with a keeper to learn about Aldabras in the wild, meet the 3 who call SCZ their home and feed them a snack. (May-September) <a title="Tortoise Encounter" href="https://scz.org/event/tortoise-encounter" rel="nofollow" target="_blank"><strong>Details</strong></a></p> <p> </p> <p>Zoo admission or membership ID is required. Admission is not included in the cost of the Encounter ticket. Encounters for children 2 and under are free. Children under 12 must be accompanied by an adult who must also purchase a ticket for the encounter. Maximum capacity for Tortoise Encounters is 5 guests. Groups will not be guaranteed private encounters unless they purchase all 5 spaces.</p> <p>Please arrive at the entrance of the Amphibians and Reptiles building 10 minutes prior to scheduled encounter. Late arrivals may not be able to be accommodated. Encounters are non-refundable, but may be rescheduled if canceled more than 48 hours in advance. Sedgwick County Zoo reserves the right to cancel and reschedule encounters for any reason such as weather or animal welfare concerns.</p> 5555 Zoo Blvd. Wichita, KS America/Chicago
Back To Previous