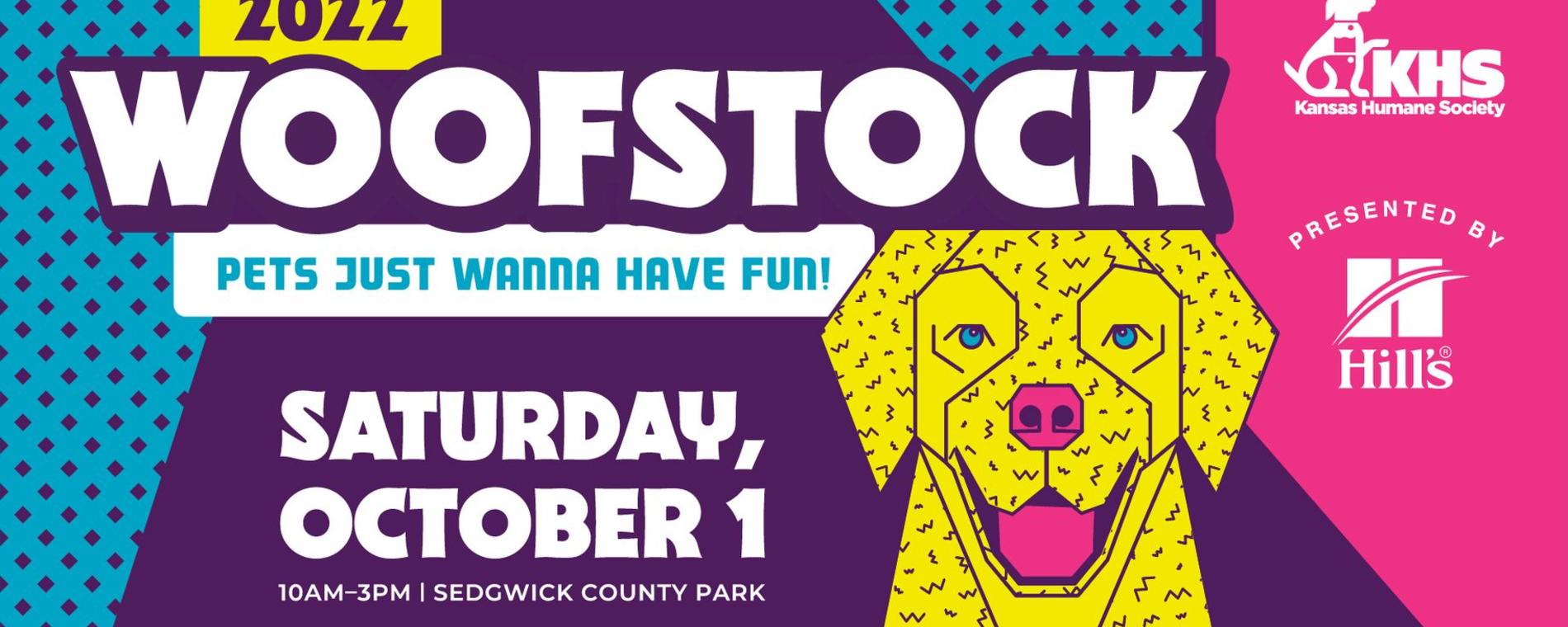 Back to Previous
Woofstock 2022
From: 10:00 AM to 03:00 PM, October 1, 2022 | Sedgwick County Park
Gather with thousands of fellow pet owners and animal enthusiasts for Kansas Humane Society's fundraising event and festival "Woofstock", which has become one of the largest events of its kind in the Midwest. Participate in the Woof Walk & Breakfast, listen to live music from Dangie Music & Tequila Ridge, compete in stage contests, hang out at the beer garden, shop at vendor booths, and chow down at the food trucks. Check out activities like ruff races, doggy agility course, kid's play clinic, photobooth, live demos from the WPD's K-9 Unit, and more!
Woofstock 2022 is presented by Hill's Pet Nutrition.
*Woofstock is a rain or shine event - no refunds will be issued.
Admission:

$10-$40

Buy Tickets
Days:

October 1, 2022

>

2022-10-01 2022-10-01 15:00:00 Woofstock 2022 <div class="m8h3af8h l7ghb35v kjdc1dyq kmwttqpk gh25dzvf">Gather with thousands of fellow pet owners and animal enthusiasts for Kansas Humane Society's fundraising event and festival "Woofstock", which has become one of the largest events of its kind in the Midwest. Participate in the Woof Walk &amp; Breakfast, listen to live music from Dangie Music &amp; Tequila Ridge, compete in stage contests, hang out at the beer garden, shop at vendor booths, and chow down at the food trucks. Check out activities like ruff races, doggy agility course, kid's play clinic, photobooth, live demos from the WPD's K-9 Unit, and more!</div> <div class="l7ghb35v kjdc1dyq kmwttqpk gh25dzvf jikcssrz"> </div> <div class="l7ghb35v kjdc1dyq kmwttqpk gh25dzvf jikcssrz"> <div class="l7ghb35v kjdc1dyq kmwttqpk gh25dzvf jikcssrz">Woofstock 2022 is presented by Hill's Pet Nutrition.</div> <div class="l7ghb35v kjdc1dyq kmwttqpk gh25dzvf jikcssrz"> </div> <div class="l7ghb35v kjdc1dyq kmwttqpk gh25dzvf jikcssrz">*Woofstock is a rain or shine event - no refunds will be issued.</div> </div> 6501 W. 21St St. N. Wichita, KS America/Chicago
Back To Previous