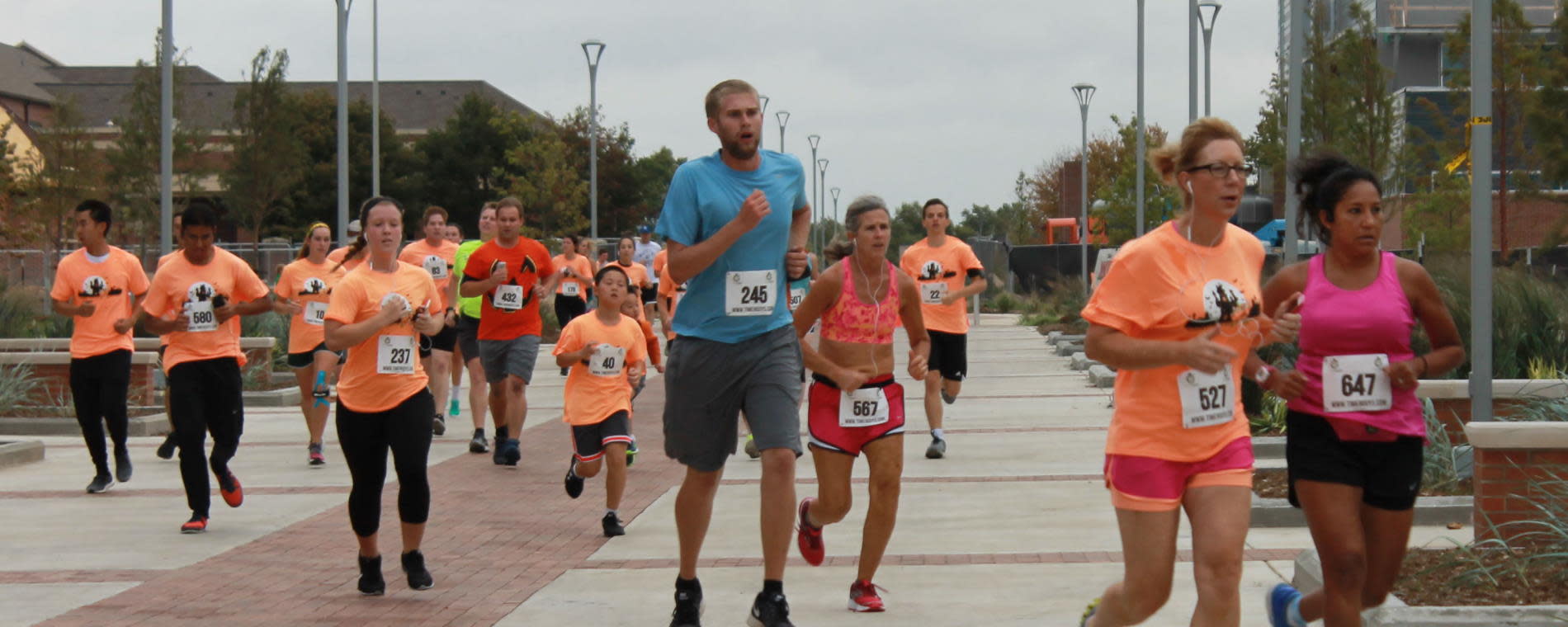 Back to Previous
WSU Virtual Pumpkin Run 5K & Little Pumpkin 1K
Anytime October 21, 2020 | Virtual Race
The race this year is different – we are going virtual! With the hopes to reunite in person next year. What are the positive outcomes of running with us virtually? You pick the day when you feel the best to run! No worrying about parking, weather or if you forgot your headphones. No matter where you are, USA, Europe, Asia, Canada, South America, Australia, you can still participate in our race.
As a Pumpkin Run participant you will receive a customized T-shirt, special edition face mask (pick from three designs) and a finisher medal. Awards will be given to the top age group finishers and overall winners. Times will have to be verified prior to receiving an award.
The 1k Little Pumpkin Fun Run for ages 0-12 has reached its 5th year! We hope that many of our young running enthusiasts will still put their favorite kicks on complete this year's run virtually. 1k runners will get a customized T-shirt, a finisher medal and a surprise.
Register Now
(ends 10/24)
NEW this year: We have launched a referral program. Invite friends to run with you using your personalized link/code. When 5 or more friends have registered with your code, you will get $15 off your registration. That means that your registration is just $10! We will reward you with a fabulous registration price and maybe even something special in your packet.
Charity Information
$1 from each registration will go towards the Shocker Support Locker. As the world struggles and jobs are lost we recognize that lots of Wichita State students will be needing assistance in the upcoming semesters. Help us meet the goal of raising $1,000 to support our students during these tough times with money to be used for food and hygiene products as we partner with the WSU Student Government Association.
Admission:

5K $25-40; 1K $15

Days:

October 10, 2020 - October 24, 2020

2020-10-21 2020-10-24 WSU Virtual Pumpkin Run 5K & Little Pumpkin 1K <p>The race this year is different &#8211; we are going virtual! With the hopes to reunite in person next year. What are the positive outcomes of running with us virtually? You pick the day when you feel the best to run! No worrying about parking, weather or if you forgot your headphones. No matter where you are, USA, Europe, Asia, Canada, South America, Australia, you can still participate in our race.</p> <p>As a Pumpkin Run participant you will receive a customized T-shirt, special edition face mask (pick from three designs) and a finisher medal. Awards will be given to the top age group finishers and overall winners. Times will have to be verified prior to receiving an award.</p> <p>The 1k Little Pumpkin Fun Run for ages 0-12 has reached its 5th year! We hope that many of our young running enthusiasts will still put their favorite kicks on complete this year's run virtually. 1k runners will get a customized T-shirt, a finisher medal and a surprise.</p> <p><strong><a title="Register Now" href="https://runsignup.com/Race/KS/Wichita/WSUPumpkinRun" rel="nofollow" target="_blank">Register Now<br /></a></strong>(ends 10/24)</p> <p>NEW this year: We have launched a referral program. Invite friends to run with you using your personalized link/code. When 5 or more friends have registered with your code, you will get $15 off your registration. That means that your registration is just $10! We will reward you with a fabulous registration price and maybe even something special in your packet.</p> <p><strong>Charity Information</strong><br />$1 from each registration will go towards the Shocker Support Locker. As the world struggles and jobs are lost we recognize that lots of Wichita State students will be needing assistance in the upcoming semesters. Help us meet the goal of raising $1,000 to support our students during these tough times with money to be used for food and hygiene products as we partner with the WSU Student Government Association.</p> Wichita, KS America/Chicago
Back To Previous