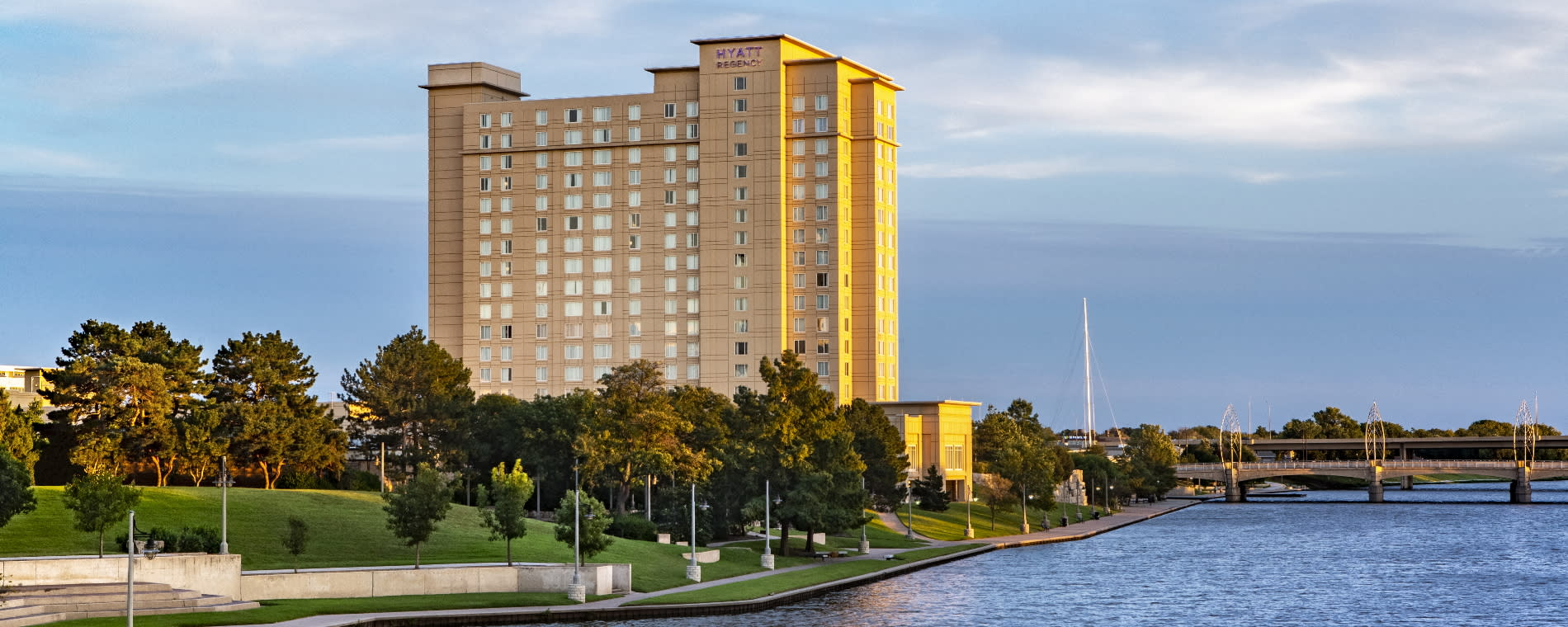 Home / Listings / Hyatt Regency Wichita

Back to Previous
Hyatt Regency Wichita
Experience the finest Hospitality in the Midwest at the Hyatt Regency Wichita. Our warm and cozy rooms, upscale Harvest Kitchen & Bar, and downtown location offer an unparalleled experience in Wichita.
MEETING PLANNERS HOTEL
Meeting Planners make reservations through SMMC Conference office by contacting Janine at jemanuel@grouptravelfamily.com or 800-628-0993. Room and tax are included in your registration fee for October 2 and 3 only. Incidental charges are the responsibility of the individual delegate. Upon check in a major credit card will be requested from the hotel for incidentals.
TRAVEL INDUSTRY HOTEL
Hotel rooms and incidental charges are the responsibility of all travel industry delegates. Make reservations directly with Hyatt Regency Wichita, 400 W. Waterman St., Wichita, KS 67202 – PH: 316-293-1234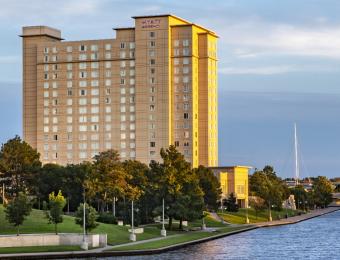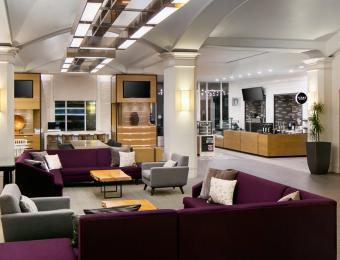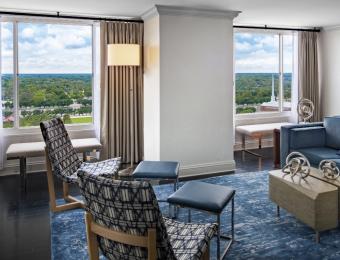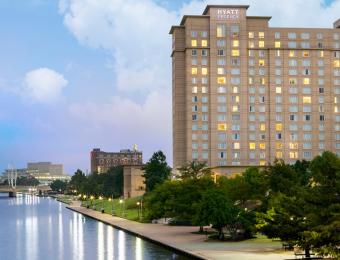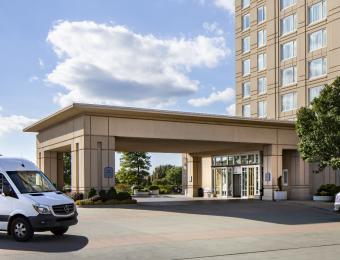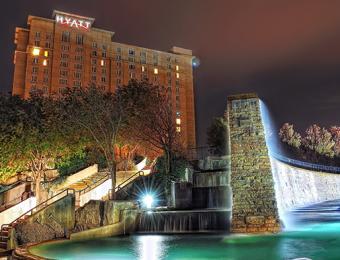 Details
Amenities
Meeting Space
Social Feeds
Details
Amenities
Meeting Space
Social Feeds
Hyatt Regency Wichita
400 W. Waterman St.
Wichita, KS 67202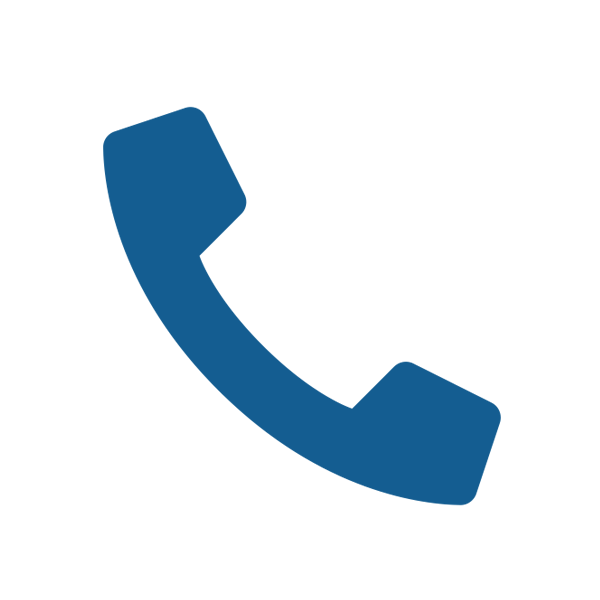 (316) 293-1234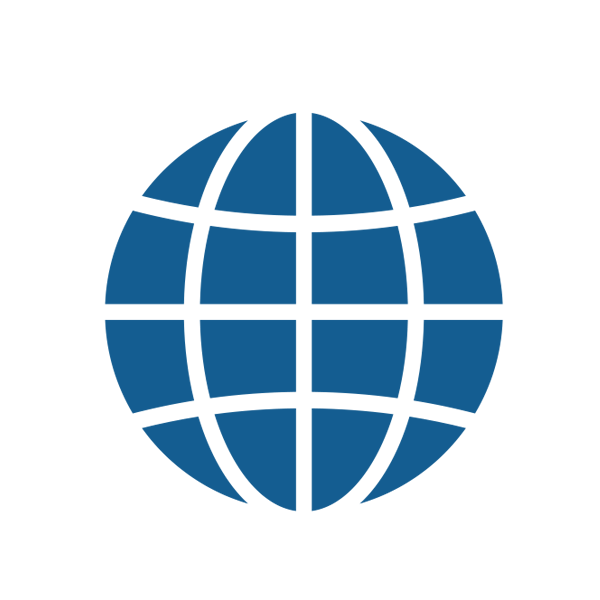 Visit Website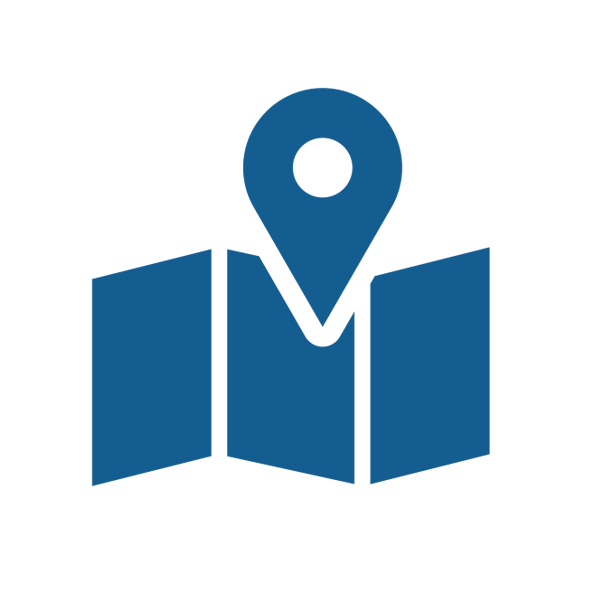 Get Directions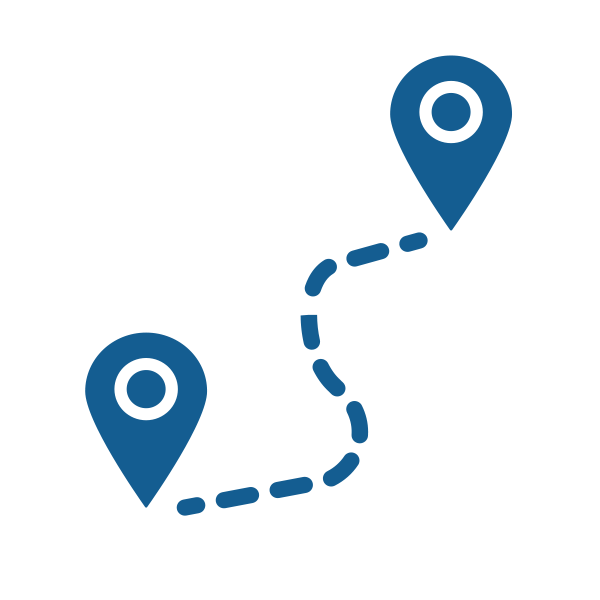 Miles Away
View Map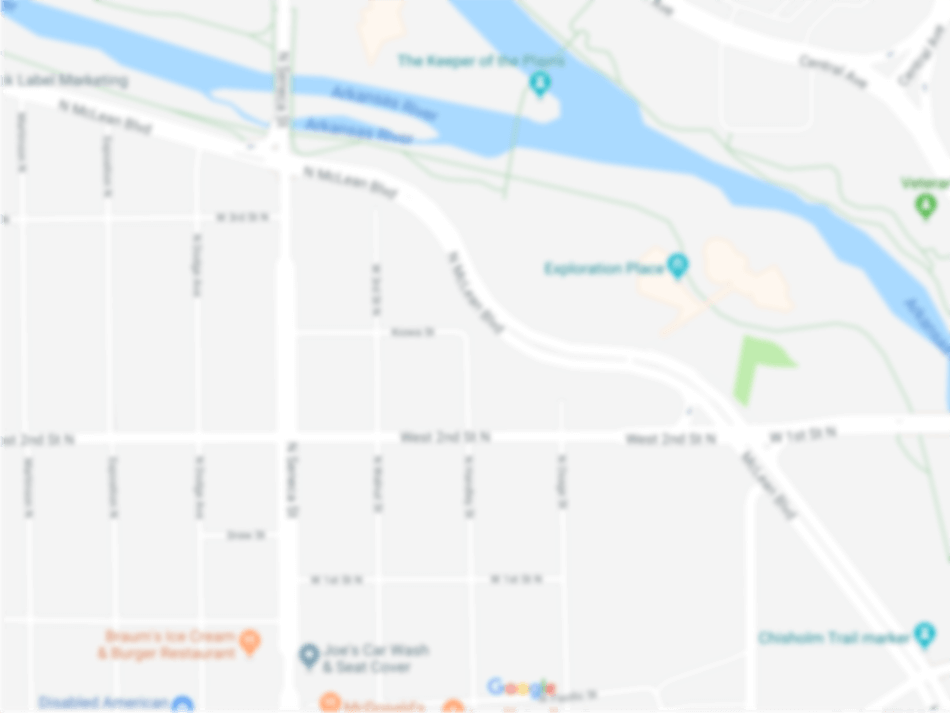 Dining
Credit Cards Accepted:
Child's Menu:
Motorcoach Parking:
Group Menu:
Public Wireless High Speed Internet:
Reservations Accepted:
Private Group Dining:
Bar/Lounge:
Lodging
Total Number of Sleeping Rooms: 303
Number of Suites: 5
Type of Suites: 3 Parlor Suites, 1 Presidential Suite, 1 VP Suite; each with connecting rooms.
Number of King Bed rooms: 95
Number of King Bed rooms with pull-out: 28
Number of Queen/Queen rooms: 163
Number of ADA Rooms (Grab bar): 8
Number of ADA Rooms (Roll ins): 4
Room Rate Range: $89-$199
Senior Rate:
Credit Cards Accepted:
Reservations Required:
Handicap Access:
Handicap Accessible Rooms:
Smoking Rooms:
Non-Smoking Rooms:
Restaurant On-Property:
Full Breakfast:
Wireless High Speed Internet:
Free Wifi:
High Speed Internet (wired):
Bar/Lounge:
Room Service:
Valet:
Meeting Space-If yes, enter data in Meeting Rm tab:
Meeting Banquet:
Airport Transportation:
Business Center:
Exercise Room:
Indoor Pool:
Whirlpool/Sauna:
Motorcoach Parking:
Coffee Maker:
Microwave:
Refrigerator:
Hair Dryer:
Movie Cable TV:
Non-Smoking Restaurant:
Exhibits Space
Description The Hyatt can accommodate small or large meetings and provide catering to suit your group's needs as well as superb audiovisual services to make the presentation first-class. There are 28 meeting rooms, including several separate ballrooms, plus exhibit space in the adjoining Century II Performing Arts and Convention Center. The Grand Eagle Ballroom is the city's largest, state-of-the art hotel ballroom.
Floorplan File Floorplan File
Largest Room 10164
Total Sq. Ft. 40248
Reception Capacity 1100
Theatre Capacity 1500
Banquet Capacity 660
Number of Rooms 29
Large floor Plan PDF Large floor Plan PDF
Suites 5
Classroom Capacity 740
Sleeping Rooms 303
Grand Eagle Ballroom (Ballroom A-H)
Total Sq. Ft.: 10164
Width: 132
Length: 77
Height: 16
Booth Capacity: 62
Theater Capacity: 1500
Classroom Capacity: 740
Banquet Capacity: 660
Reception Capacity: 1100
The Three Trailrooms - Chisholm, Stimson & Santa Fe
Total Sq. Ft.: 1584
Width: 33
Length: 48
Height: 13
Booth Capacity: 9
Theater Capacity: 160
Classroom Capacity: 80
Banquet Capacity: 90
Reception Capacity: 130
Enterprise Board Room
Total Sq. Ft.: 602
Width: 28
Length: 22
Height: 14
Classroom Capacity: 24
Gallery Room
Total Sq. Ft.: 2040
Width: 60
Length: 34
Height: 16
Reception Capacity: 180
Birch 203
Total Sq. Ft.: 1950
Width: 61
Length: 32
Height: 11
Booth Capacity: 16
Theater Capacity: 160
Classroom Capacity: 120
Banquet Capacity: 120
Reception Capacity: 180
Cedar 204
Total Sq. Ft.: 1070
Width: 37
Length: 29
Height: 11
Booth Capacity: 9
Theater Capacity: 96
Classroom Capacity: 66
Banquet Capacity: 60
Reception Capacity: 70
Maple 205
Total Sq. Ft.: 1070
Width: 37
Length: 29
Height: 11
Booth Capacity: 9
Theater Capacity: 96
Classroom Capacity: 66
Banquet Capacity: 60
Reception Capacity: 70
Oak 206
Total Sq. Ft.: 900
Width: 31
Length: 29
Height: 11
Booth Capacity: 7
Theater Capacity: 72
Classroom Capacity: 48
Banquet Capacity: 50
Reception Capacity: 60
Osage 207
Total Sq. Ft.: 900
Width: 31
Length: 29
Height: 11
Booth Capacity: 7
Theater Capacity: 72
Classroom Capacity: 48
Banquet Capacity: 50
Reception Capacity: 60
Walnut 208
Total Sq. Ft.: 1150
Width: 37
Length: 31
Height: 11
Booth Capacity: 10
Theater Capacity: 96
Classroom Capacity: 66
Banquet Capacity: 60
Reception Capacity: 70
Cypress A & B 209
Total Sq. Ft.: 4630
Width: 90
Length: 52
Height: 16
Booth Capacity: 26
Theater Capacity: 520
Classroom Capacity: 300
Banquet Capacity: 320
Reception Capacity: 425
Redbud A, B & C 210
Total Sq. Ft.: 7750
Width: 150
Length: 52
Height: 16
Booth Capacity: 42
Theater Capacity: 800
Classroom Capacity: 500
Banquet Capacity: 500
Reception Capacity: 800
Meade Terrace Area (Outdoor)
Total Sq. Ft.: 2940
Width: 30
Length: 98
Height: 14
Reception Capacity: 300
WaterWall Area (Outdoor)
Riverview Ballroom
Total Sq. Ft.: 3665
Width: 55
Length: 75
Height: 13
Theater Capacity: 200
Classroom Capacity: 160
Banquet Capacity: 200
Reception Capacity: 300
Riverview Terrace
Total Sq. Ft.: 1148
Banquet Capacity: 100
Reception Capacity: 150
Chisholm & Stimson or Stimson & Santa Fe
Total Sq. Ft.: 1056
Width: 33
Length: 32
Height: 13
Booth Capacity: 6
Theater Capacity: 90
Classroom Capacity: 48
Banquet Capacity: 60
Reception Capacity: 70
Chisholm, Stimpson or Sante Fe
Total Sq. Ft.: 528
Width: 33
Length: 16
Height: 13
Booth Capacity: 4
Theater Capacity: 40
Classroom Capacity: 24
Banquet Capacity: 30
Reception Capacity: 30
Ballroom A, C, F or H
Total Sq. Ft.: 726
Width: 33
Length: 22
Height: 16
Booth Capacity: 4
Theater Capacity: 50
Classroom Capacity: 36
Banquet Capacity: 40
Reception Capacity: 40
Ballroom AB, BC, FG, GH
Total Sq. Ft.: 1815
Width: 33
Length: 55
Height: 16
Booth Capacity: 16
Theater Capacity: 180
Classroom Capacity: 120
Banquet Capacity: 120
Reception Capacity: 180
Ballroom A-D, E-H
Total Sq. Ft.: 5082
Width: 66
Length: 77
Height: 16
Booth Capacity: 49
Theater Capacity: 600
Classroom Capacity: 370
Banquet Capacity: 360
Reception Capacity: 600
Ballroom A-C, F-H
Total Sq. Ft.: 2541
Width: 33
Length: 77
Height: 16
Booth Capacity: 22
Theater Capacity: 300
Classroom Capacity: 185
Banquet Capacity: 180
Reception Capacity: 250
Ballroom A-E, D-H
Total Sq. Ft.: 7623
Width: 99
Length: 77
Height: 16
Booth Capacity: 74
Theater Capacity: 900
Classroom Capacity: 540
Banquet Capacity: 540
Reception Capacity: 900
Ballroom B or G
Total Sq. Ft.: 1089
Width: 33
Length: 33
Height: 16
Booth Capacity: 6
Theater Capacity: 120
Classroom Capacity: 48
Banquet Capacity: 80
Reception Capacity: 100
Ballroom D or E
Total Sq. Ft.: 2541
Width: 33
Length: 77
Height: 16
Booth Capacity: 17
Theater Capacity: 300
Classroom Capacity: 160
Banquet Capacity: 180
Reception Capacity: 200
Ballroom Foyer
Total Sq. Ft.: 3726
Width: 162
Length: 23
Height: 16
Booth Capacity: 22
Reception Capacity: 400
Cypress Ballroom A 209
Total Sq. Ft.: 3120
Width: 60
Length: 52
Height: 16
Booth Capacity: 16
Theater Capacity: 380
Classroom Capacity: 200
Banquet Capacity: 220
Reception Capacity: 300
Cypress Ballroom B 209
Total Sq. Ft.: 3120
Width: 30
Length: 52
Height: 16
Booth Capacity: 8
Theater Capacity: 140
Classroom Capacity: 100
Banquet Capacity: 100
Reception Capacity: 125
Redbud Ballrooms A & B 210
Total Sq. Ft.: 4630
Width: 90
Length: 52
Height: 16
Booth Capacity: 26
Theater Capacity: 520
Classroom Capacity: 300
Banquet Capacity: 320
Reception Capacity: 465
Redbud Ballrooms B & C 210
Total Sq. Ft.: 6240
Width: 120
Length: 52
Height: 16
Booth Capacity: 34
Theater Capacity: 660
Classroom Capacity: 380
Banquet Capacity: 440
Reception Capacity: 650
Redbud Ballrooms A
Total Sq. Ft.: 1510
Width: 30
Length: 52
Height: 16
Booth Capacity: 8
Theater Capacity: 140
Classroom Capacity: 100
Banquet Capacity: 100
Reception Capacity: 125
Redbud Ballrooms B
Total Sq. Ft.: 3120
Width: 60
Length: 52
Height: 16
Booth Capacity: 16
Theater Capacity: 380
Classroom Capacity: 200
Banquet Capacity: 220
Reception Capacity: 300
Redbud Ballrooms C
Total Sq. Ft.: 3120
Width: 60
Length: 52
Height: 16
Booth Capacity: 16
Theater Capacity: 380
Classroom Capacity: 200
Banquet Capacity: 220
Reception Capacity: 300
Upper Connecting Lobby
Total Sq. Ft.: 4800
Banquet Capacity: 200
Reception Capacity: 300
Upper Gallery
Total Sq. Ft.: 2550
Width: 30
Length: 85
Height: 16
Reception Capacity: 180
Willow
Total Sq. Ft.: 378
Width: 18
Length: 21
Height: 10
Booth Capacity: 4
Theater Capacity: 24
Classroom Capacity: 18
Banquet Capacity: 20
Reception Capacity: 30
Upcoming Events
see what's happening
Upcoming Events
see what's happening
Back To Previous