In addition to more than 100 activities in and around the Arkansas River included in the cost of the admission button, one of the major draws of Wichita's annual Riverfest is its lineup of nationally recognized musical acts. For an affordable $10 per adult, $5 per child age 6-12, festival-goers have access to nine days of concerts across a variety of genres May 31-June 8.
Live Entertainment
Sponsors and partners help keep the price affordable and the quality of the entertainers high for the event, now in its 48th year. All concerts are general admission – bring your own seating or blankets and find a great spot at one of the two stages. Acura of Wichita Stage is on the north side of Century II in Kennedy Plaza, RedGuard Stage is just southeast across Lewis from the Hyatt Regency Wichita.

A limited number of VIP upgrades are available for some of the top performers coming in this year. For $30 per person (plus cost of a button), you get access to either front-of-house seating, front-of-house standing room section or a balcony view, depending on the act and VIP area available. Each VIP experience includes access to a private cash bar, and those at Kennedy Plaza also include access to private restrooms. Click here to learn more about the VIP options.

Here's a rundown of the can't-miss music on the 2019 Wichita Riverfest schedule: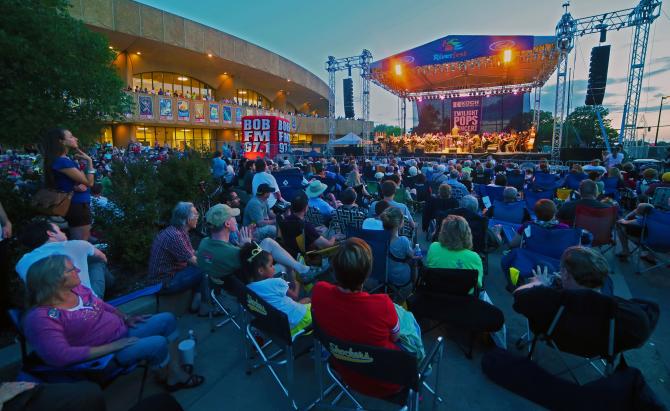 Friday, May 31
Acura of Wichita Stage: Tradition will rule on opening night with the Wichita Symphony Orchestra's Twilight Pops Concert followed by the Textron Aviation opening-night fireworks.

RedGuard Stage: Texas band The Toadies rock out before the fireworks show, along with local openers Team Trimelo and Aether.
Saturday, June 1
Acura of Wichita Stage: Los Angeles powerhouse Los Lobos will bring their diverse rock and roll sound flavored with Tex-Mex, country, zydeco, folk, R&B, blues, brown-eyed soul and traditional music such as cumbia, boleros and norteños. The three-time Grammy Award-winning band's remake of "La Bamba" was a No. 1 single in the U.S. and U.K. in 1987, and they have had 10 songs chart in Billboard's Top 50. Fellow East L.A. band The Delgado Brothers will open with an inspired set of blues, R&B and sweet vocal harmonies. Wichita band Sleepy Truckers also is on the lineup.

RedGuard Stage: Latin-flavored dance party ¡Viva Wichita! will feature La Furia del Bravo with opening acts Lusio Molina y Sus Rivales and AYCCI Norteña.
Sunday, June 2
Acura of Wichita Stage: Texas native Granger Smith will show his singer-songwriter prowess that launched the Texas A&M student into a national recording artist considered the Hottest Artist to Watch in 2016 by Taste of Country. He'll also bring his comedic alter ego Earl Dibbles Jr., known for "The Country Boy Song." Indie/country crossover Becca Mancari will open, along with Wichita bands Morrison Country and Kyle Kilgore Band.

RedGuard Stage: River Blues Renewed offers a down and dirty lineup curated by the Wichita Blues Society and starring St. Louis-based singer-guitarist Marquise Knox. Local blues/jazz band The Macy Brothers opens. 
Monday, June 3
Acura of Wichita Stage: Gospel legend Yolanda Adams will light up the stage for Gospelfest, which will also feature local groups and choir members. The singer, record producer, actress and former host of her own nationally syndicated morning radio gospel show has sold nearly 8 million albums worldwide.

RedGuard Stage: Hostess Marta McKim will unite metalheads for Heavy Metal Karaoke. Wichita rock band Kings of the Fallen will open.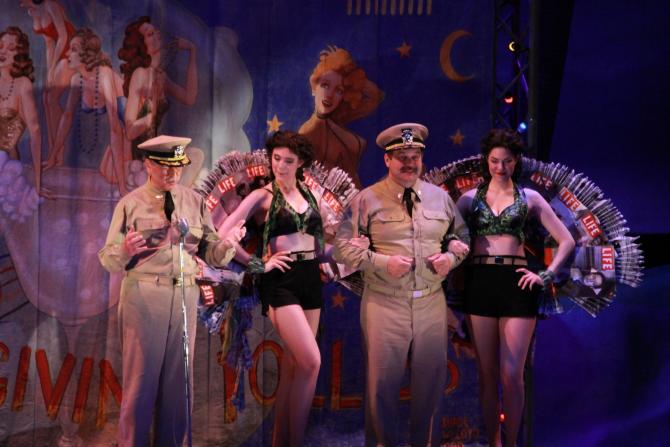 Tuesday, June 4
Acura of Wichita Stage: Get a sampling of Wichita's talented theater community with "Festival of Broadway" featuring Music Theatre Wichita, Roxy's Downtown, Mosley Street Melodrama and Laughing Feet Performers.

RedGuard Stage: The annual Salute to Military features Kansas Army National Guard's 35th Infantry Division Rock Band as well as a Brass Band and Ceremonial Concert Band.
Wednesday, June 5
Acura of Wichita Stage: Brooklyn-based hip hop recording artist, entrepreneur and social activist Talib Kweli will headline the Wet 'n' Wild Dance Party. With a recording and producing career that has spanned two decades, Kweli has performed solo, in Black Star with Mos Def and Reflection Eternal with producer Hi-Tek. Locals DJ Carbon and rapper XV get the party started.

RedGuard Stage: Jerrod Niemann, a Kansas native turned prolific Nashville hit-maker, will command the stage. Known for clever wordplay and attention-grabbing lyrics, the engaging singer-songwriter burst onto the country music scene in 2010 with the No. 1 smash "Lover, Lover" and has since made his mark through major award nominations and headlining and touring with some of Country's hottest acts. Wichita-based performers Mountain Deer Revival and Piper Leigh are opening.
Thursday, June 6
Acura of Wichita Stage: Trombone Shorty & Orleans Avenue will raise a New Orleans-style ruckus on the same night as the Cajun Food Fest. Shorty first performed with Bo Diddley at the age of 4, was a bandleader at 6 and plays the trombone, trumpet, drums, organ and tuba. While best known as a jazz musician, the Grammy nominee has worked with some of the biggest names in rock, pop, jazz, funk and hip hop. New Orleans trumpet player Shamarr Allen of Galaxtic will open, and Wichita's High Society Dixieland Band is the pre-opener.

RedGuard Stage: Wichita-based power pop band Kill Vargas will perform along with guests.
Friday, June 7
Acura of Wichita Stage: Known for their theatrical stage shows, rockers Gogol Bordello will bring their high-energy show spiked with accordion and violin. This New York City-based band's sound is a mixture of dub, punk and traditional gypsy music. San Francisco's March Fourth Marching Band will open, while pre-openers are Carrie Nation & The Speakeasy along with New Imperialism.

RedGuard Stage: Paint cannons, a light show and electronic dance music will take over as local band Nocturnal by Nature hosts Chroma Dance Party.
Saturday, June 8
Acura of Wichita Stage: Sublime with Rome will perform on the closing night with opening acts SOJA, a Grammy-nominated reggae band, and Common Kings, a fun-loving California band with rock, reggae and island influences. Local Ziggowatts will pre-open. A musical collaboration between Eric Wilson, formerly of the American ska punk band Sublime, and singer and guitarist Rome Ramirez, the group chiefly performs songs by the original Sublime, which was fronted by Bradley Nowell until his death in 1996.

RedGuard Stage: Fiesta del Rio, a Mexican music fest, is headlined by La Sonora Tropicana and also includes El Morro y Su Reunion.

In addition to the Kennedy Plaza and RedGuard stages, Ackerman's Backyard will play host to a variety of DJs each night, and the Quantum Credit Union Food Court Stage will feature local and regional acts every day of the festival.

Looking for more information on Riverfest in downtown Wichita? Click here for our 2019 Riverfest guide, which has a daily event schedule, concert schedule, food court favorites and location map.