Q-Line
Wichita's Free Downtown Transportation
Jump on board the Wichita Q-Line, an all-electric, free and convenient way to maneuver around the downtown area. Explore Naftzger Park, downtown districts like Historic Delano and Old Town, or visit one of more than 200 downtown shops and restaurants.
The new zero-emission battery-electric vehicles are complete with a quiet, more comfortable ride, easy boarding with low floors and a ramp, free Wi-Fi, and a bicycle rack for three bikes.
Download the free MyStop Mobile app on Apple or Android to catch the Q near you.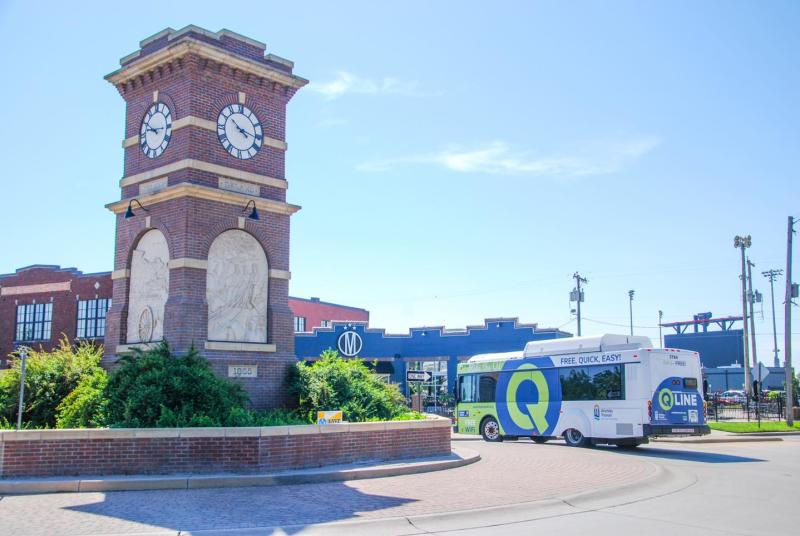 3
Where Does it Go?
The Q-Line allows visitors and locals to explore downtown and enjoy free transportation to many of Wichita's popular districts and businesses in the city's core. The service runs approximately every 15 minutes along Douglas Avenue.
Currently, the Q-Line is offering an extended summer route through Aug. 12. The route will now extend west along Museum Boulevard to access numerous museums and attractions and will operate Monday through Saturday from early morning to late evening.
The museum loop extension will provide direct access to Exploration Place, Mid-America All-Indian Museum, Wichita Art Museum, Old Cowtown and the Advanced Learning Library.
A detailed service schedule and real-time tracking of the Q can be found within the MyStop mobile app, available for both Apple and Android devices.
Schedule
Mornings (Douglas Route)
Monday-Thursday: 6:15 to 9:15 a.m. (45-minute frequency)
Friday: 6:15 to 9:15 a.m. (45-minutes frequency)
Saturday: 6:15 to 8:45 a.m. (hourly frequency)
Friday: 5pm-midnight
Saturday: 11am-midnight
Mid-day (Douglas Route with Museum Loop Extension)
Monday through Thursday – 9 a.m. to 7 p.m. (20-minute frequency)
Friday – 9 a.m. to 7 p.m. (20-minute frequency)
Saturday – 8:45 a.m. to 6:30 p.m. (15-minute frequency)
Evenings (Douglas Route)
Monday through Thursday – 7 to 11 p.m. (40-minute frequency)
Friday – 7 to 11 p.m. (40-minute frequency)
Saturday – 6:30 to 11:45 p.m. (15–45-minute frequency)
How to Ride
Catch your ride where Q signs are posted. Stops are located approximately every other block.
Ride the whole route (takes about 20 minutes) to get an idea of where you want to go or make a pit-stop at a specific location or intersection.
Once on board, you can stop the Q-Line at any time by pulling the cord located near the windows on both sides of the vehicle. Make sure to pull it about a block before your desired stop.