Q-Line
Wichita's Free Downtown Transportation
SERVICE TEMPORARILY SUSPENDED DUE TO COVID-19
Jump on board the Wichita Q-Line, a free and convenient way to maneuver around the downtown area. Explore Naftzger Park and visit the many food trucks among the rotation, or visit one of more than 200 downtown shops and restaurants.
Download the free MyStop Mobile app on Apple or Android to catch the Q near you.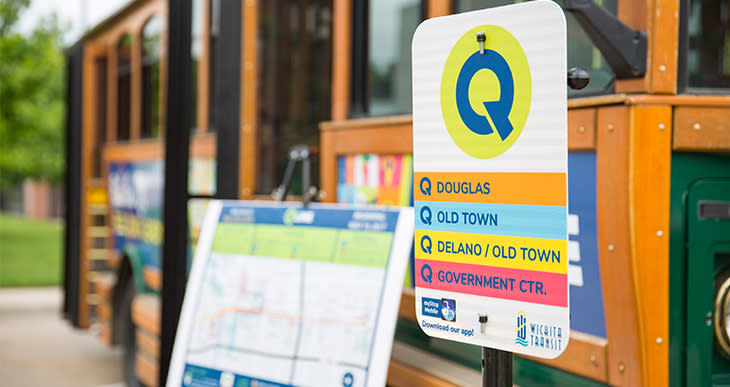 Where Does it Go?
The Q-Line allows visitors and locals to explore downtown and enjoy free transportation to many of Wichita's popular districts and businesses. The service runs approximately every 10-15 minutes.
Schedule (all routes along Douglas Ave.)
LUNCH ROUTE - Monday-Friday 11:30am - 2pm
WEEKNIGHT - Monday-Thursday 5-11pm
FRIDAYS 5pm - 1am
SATURDAY 10am - 1am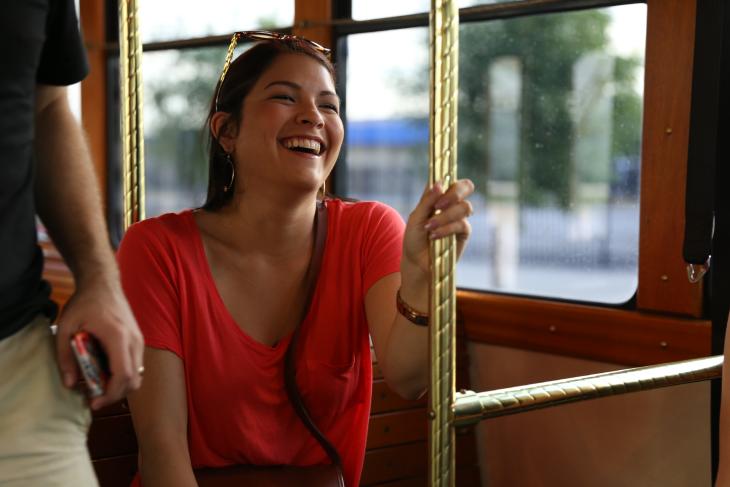 How to Ride
Ride the whole route (takes about 20 minutes) to get an idea of where you want to go or make a pit-stop at a specific location or intersection.
Multiple routes have a Q stop. Make sure the one you visit has the color of the route you'd like to travel.
Once on board, you can stop the Q-Line at any time by pulling the cord located near the windows on both sides of the vehicle. Make sure to pull it about a block before your desired stop.