Wichita Wind Surge
There's a long history of minor league baseball in Wichita. After more than a decade without affiliated baseball in the city, the Wichita Wind Surge, Double-A affiliate of the Minnesota Twins, launched their inaugural season on May 11, 2021 at the brand new Riverfront Stadium.
At the beginning of 2020, the Surge was set to replace the New Orleans Baby Cakes in the Pacific Coast League at the Triple-A level as a Miami Marlins affiliate. The coronavirus pandemic halted their inaugural season in Wichita at the newly-built Riverfront Stadium just weeks before their home opener. Later in 2020, the Minor League Baseball realignment shifted the Wind Surge's affiliation to the Minnesota Twins and placed them in the Texas League at the Double-A level. You'll see top prospects competing at this level, the second-highest of Minor League Baseball.
The 2022 138-game regular-season runs through Sunday, Sept. 18, with the Wind Surge finishing their 69-game regular season home schedule on Sept. 11. The team faces off against several Texas-based teams in the Texas League for the first time in franchise history with home-and-away series in 2022 (Corpus Christi, Frisco and San Antonio).
Upcoming Games
experience the season


Expect more than baseball when you attend a game. Weekly promotions include Thirsty Thursdays and Family Sundays. There's fun for all ages, including a kids play area and a splash pad; creative food and drink concessions with a local flare; as well as suites, club level, group seating and party areas.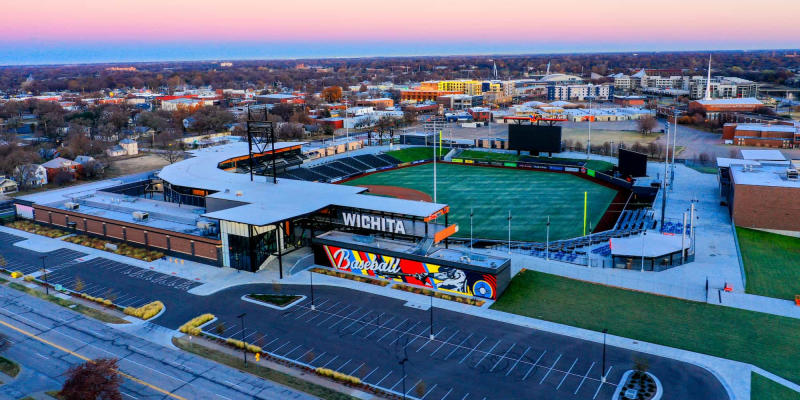 Credit: Drone-tography
Stadium
The team's home field is Riverfront Stadium, a new state-of-the-art facility along the banks of the Arkansas River in downtown Wichita, the same site where Lawrence-Dumont Stadium stood from 1934 to 2018. The $75 million stadium seats 6,500 plus 3,500 more on berms and picnic areas.
Fan comfort is built into the stadium, from drink rails to spacious concourses and wide rows in the seating bowl.
The Surge are planning on hosting additional events each year beyond their regular season games. They've hinted at football games, an outdoor hockey game featuring the Wichita Thunder hockey team, an outdoor skating rink, concerts, festivals and more.

Wichita Baseball History
pastime in the heartland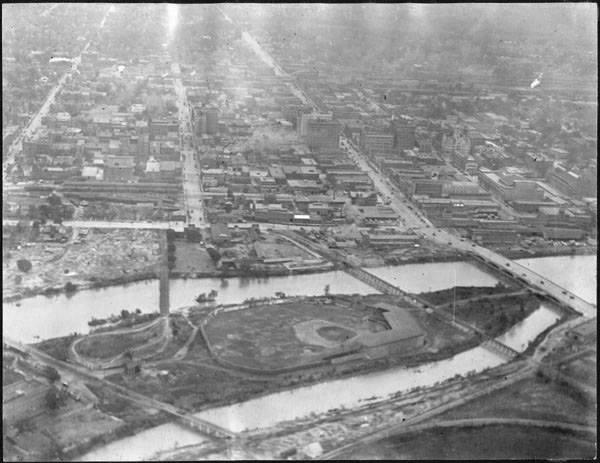 Photo Credit: WSU Libraries, Special Collections and University Archives
From ballfields in Riverside Park in the 1800s to games in the early 1900s at Island Park in the middle of the Arkansas River on what was then Ackerman Island, baseball has been a part of Wichita's history.
Wichita had a minor league team from 1908 through 1933, when the stadium on Ackerman Island burned. The city of Wichita built a new stadium in 1934 to launch a national tournament organized by sporting goods salesman Raymond "Hap" Dumont. Similar tournaments had failed on both coasts, but Dumont secured Satchel Paige – considered the greatest pitcher of the day – who came in and struck out 60 batters while winning four games. That brought national attention to the tournament and Wichita.
The National Baseball Congress World Series remained at the stadium – eventually named Lawrence-Dumont Stadium for the tournament founder and Wichita's mayor when the stadium was built, Charles S. Lawrence – until the stadium was demolished in 2018. The tournament is still played in Wichita and each year brings the top college-age and amateur players to compete for a national championship. More than 800 NBC World Series players have gone on to play Major League Baseball, including league MVPs, Cy Young Award winners and Hall of Famers.
Part of Wichita's baseball history is the prominence of the Wichita State University baseball program, which claims Joe Carter, Mike Pelfrey and Darren Dreifort as notable alumni.
The Shockers made five trips to the College World Series in six years in the late 1980s and early 1990s, bringing home the national championship in 1989. The team is now coached by WSU alum and former MLB skipper Eric Wedge.
Professional baseball team history in Wichita:
Wichita Wingnuts, Wichita's independent league baseball team playing in the American Association of Independent Professional Baseball from 2008-2018
Wichita Wranglers, Wichita's Double-A team playing in the Texas League from 1989 to 2007

affiliated with San Diego Padres (1989-1994), Kansas City Royals (1995-2007)

Wichita Pilots, Wichita's Double-A team playing in the Texas League from 1987 to 1988

affiliated with San Diego Padres (1987-1988)

Wichita Aeros, Wichita's Triple-A team from 1970-1984

affiliated with Cleveland Indians (1970–71), Chicago Cubs (1972–80), Texas Rangers (1981), Montreal Expos (1982–83), Cincinnati Reds (1984)

Wichita Braves, Wichita's Triple-A team from 1956-1958

affiliated with the Milwaukee Braves

Wichita Indians, Wichita's Triple-A team from 1950-1955

affiliated with St. Louis Browns (1950), Cleveland Indians (1951-1952), St. Louis Browns (1953), Baltimore Orioles (1954-1955)

From 1905 through 1933, Wichita's minor league baseball team switched names frequently between the Wichita Jobbers, Wichita Witches, Wichita Izzies , Wichita Larks, Wichita Aviators and Wichita Oilers.