Affordable & Free Things to Do in Wichita
Wichita is known for its affordability, so it's no surprise that the city is full of affordable and free things to do. From the iconic Keeper of the Plains sculpture to unique outdoor art, it's easy to visit the Heart of the Country and stay on budget.

Keeper of the Plains
The centerpiece of Wichita, the Keeper of the Plains, is a striking 44-foot tall steel sculpture created by Blackbear Bosin, which stands at the confluence of the Big and Little Arkansas rivers. At nightfall throughout the year, the Ring of Fire surrounding the Keeper of the Plains is lit for 15 minutes. It's a popular and lively gathering place for locals and visitors of all ages and is completely free. If visiting during the day, step inside the Mid-America All-Indian Museum to learn even more about the history and culture behind this Wichita icon. The Mid-America All-Indian Museum features many pieces of Blackbear Bosin's artwork and much more inside. Admission ranges from $3 to $7.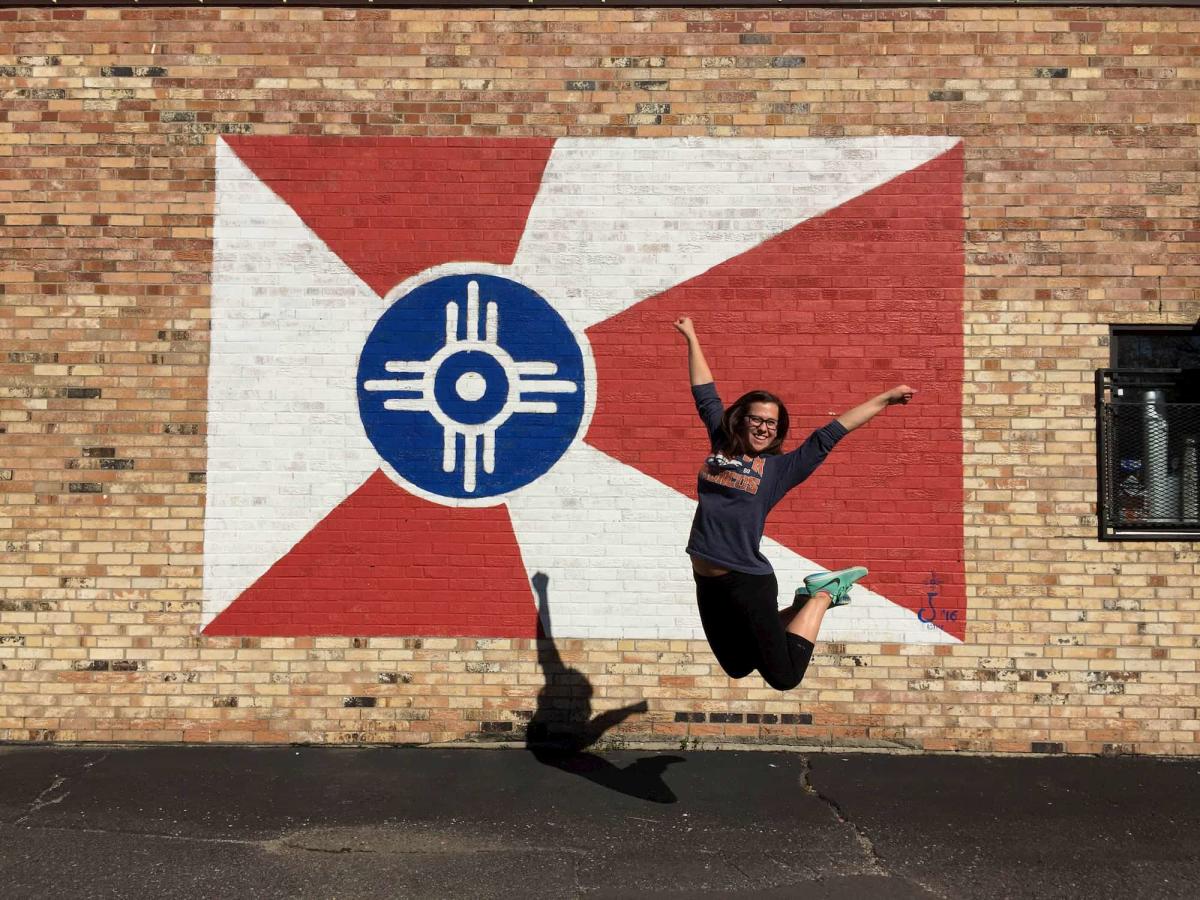 Public art
Wichita is home to dozens of art galleries and urban art experiences, many of which can be found in downtown Wichita, such as Alley Doors, Gallery Alley and Bronze Sculptures. If you want to start downtown and then go on a scavenger hunt throughout the city looking for public art, track down and take photos of the city's Keepers on Parade and Chrome Bumper Sculptures. On the first Friday of each month in downtown Wichita, find a place to park and take the free Q-Line to the many galleries, museums and retail shops that open their doors to visitors to browse collections of art or watch artists at work during First Friday. It's all available at no cost, and some venues will even provide free light refreshments.
The Douglas Design District has a plethora of murals created by local artists, which are perfect backdrops to family photos and selfies. Other popular areas to find vibrant murals are Clifton Square and Wichita's North End Mexican Community, often referred to as NoMar and roughly bordered by I-235 to the north, Broadway to the east, 13th Street to the south and Amidon to the west.
One of Kansas' largest art museums, the Wichita Art Museum, is always free in 2023, and the 8-acre art garden showcases 11 sculptures you can see 24/7. 
Wichita State University's Ulrich Museum of Art is known for its modern and contemporary art collection and is always free. Plus, the school boasts a collection of more than 70 outdoor sculptures on its campus. Some particularly fun sculptures to take posed photos or selfies at include "Millipede" near the 17th Street entrance; and "Man With Cane," "Woman With Umbrella," "Love" and "Three Women Walking," all in the heart of the campus off Hillside Avenue. While you're on campus, you can also check out the free Original Pizza Hut Museum, or walk by to peek at the Corbin Education Center, which was designed by Frank Lloyd Wright.
Just outside of Wichita, you can watch handblown pieces being made at Infinity Art Glass in Benton and Karg Art Glass in Kechi.
Take a walk
Put on some comfortable shoes and walk through downtown Wichita to learn about people and places of the area through the Wichita Public Library's PocketSights app, which allows users to explore Wichita's past with the Wichita History Walk. After you download the app, you can explore the historical sites as you stroll along Douglas Avenue. The app will send alerts to sites that have historic significance, including images and a story with audio narration.
Learn about Kansas habitats at the Great Plains Nature Center. It's free to wander the trails and visit the indoor displays – where you can see a 2,200-gallon aquarium with native fish and grass prairies with preserved native animals in the Koch Natural Habitat. The center offers several free, ongoing, year-round activities, like Wandering Wildflower Walk (last Thursday of every month at 6 p.m.), Naturally Crafty (Tuesdays at 10 a.m.) and Critter Tales (Wednesdays at 10 a.m.).
Wichita's Black history is showcased along the Redbud Trail. Three rest areas tell the story of the people who live in nearby neighborhoods with art and history-filled installations at 9th & Hillside, 13th & Roosevelt and 17th & Oliver. The entire trail spans two counties and is more than 15 miles, providing the perfect opportunity for those who want to mix culture with an outdoor challenge.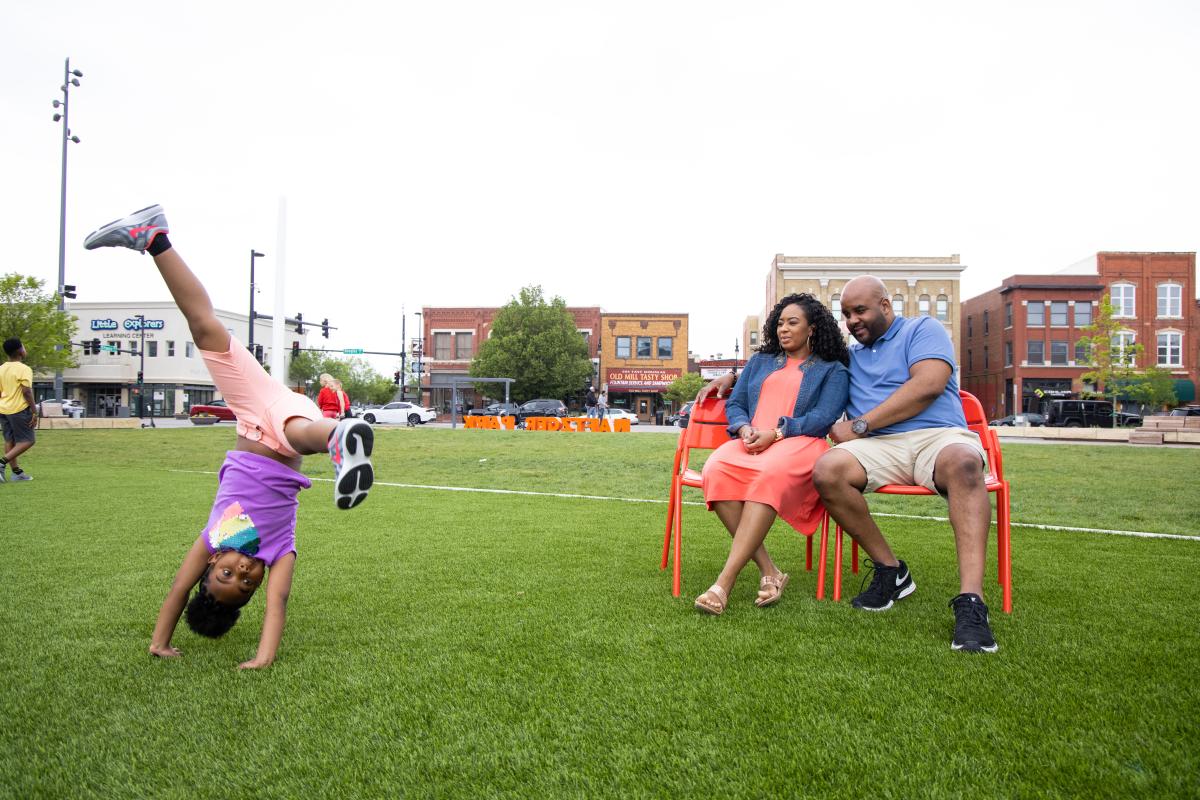 Play at the park
Incredible hiking trails, green spaces and adventures are all around Wichita and surrounding communities that you can enjoy for free. Wichita's more than 140 parks and greenways covering over 5,000 acres makes it easy to enjoy nature. In addition to hiking trails, Wichita has more than 26 miles of bicycle paths following scenic areas such as the banks of the Arkansas River, giving the cyclist a safe, easy and enjoyable ride. Scattered throughout downtown are bicycles belonging to Bike Share ICT. Users can borrow the bicycles through an hourly membership, at a rate of $3 an hour. Visitors can also explore Wichita on electric scooters available for rent downtown. On average, a ride costs around $2-5 ($1 to unlock the scooter and $0.25-$0.39 plus tax per minute).
The Heart of the Country is a vibrant, active, multicultural city, with many new restaurants, shops, breweries and outdoor spaces you can enjoy for free like Naftzger Park. At the approximate center of the city of Wichita, you'll find Riverside Park. Flanked by the Arkansas River on three sides, this park features a children's playground, an interactive fountain and a Kansas Wildlife Exhibit. Families with young children can stay entertained for hours here without paying a cent. Show up at noon on weekdays and see animal feedings for free.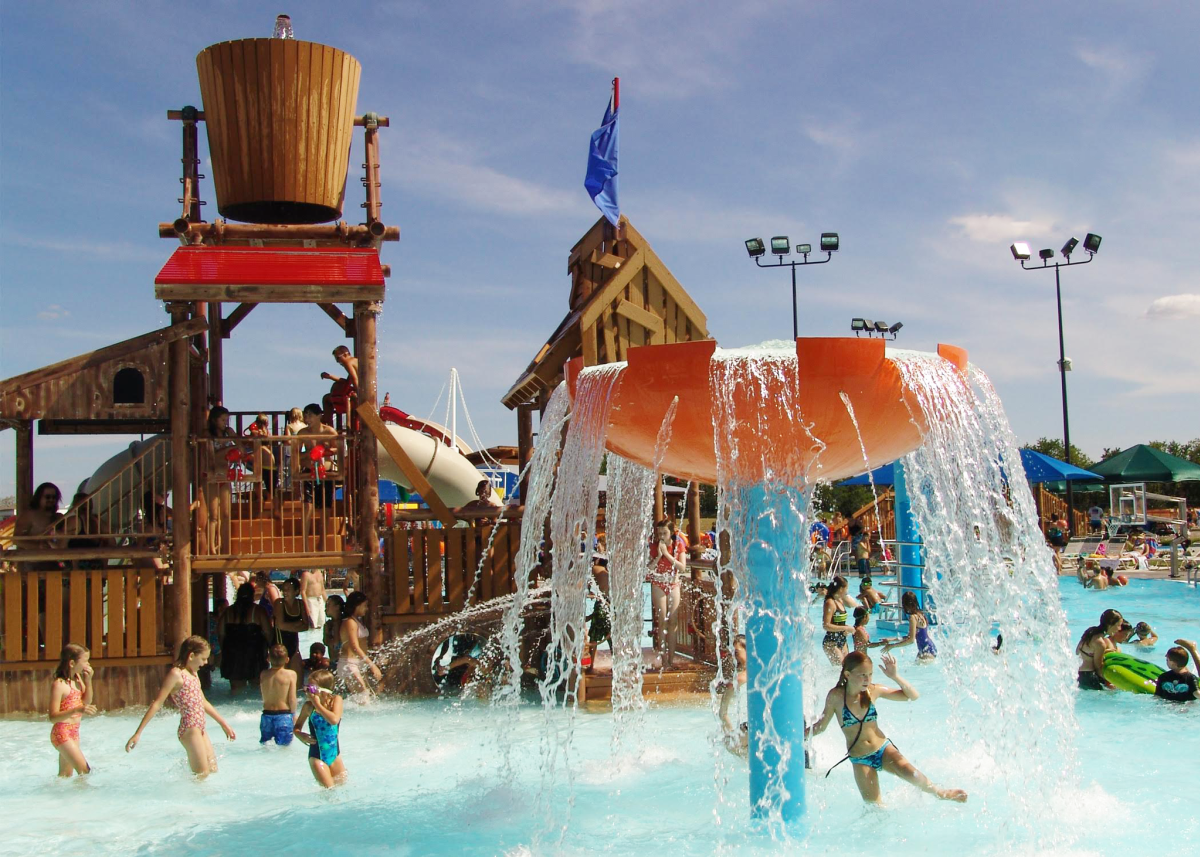 Summertime splash
Water is a welcome cool-down in the hot days of summer in Wichita, and there are nearly a dozen interactive fountains and splash parks. From Memorial Day weekend through the end of September, guests can enjoy the uniqueness of Splash Aqua Park, an inflatable water playground for ages 5 and up. Admission starts at $15/hour.
In nearby Derby, you'll find Rock River Rapids, unique water park featuring a treehouse-themed water play area, six waterslides, a lazy river and much more for under $10 per person and kids 2 and under are free.
Watch the dancing fountains at WaterWalk during summer months (May through October). The fountains' 1,200 nozzles put on a 10- to 15-minute show set to music at noon, 8, 9 and 10 p.m. Thursdays through Sundays. The fountains are at 605 S. Wichita, between the WaterWalk apartments and the Wichita Boathouse. It's free but check the wind before you head out. The show doesn't go on if wind speeds exceed 15 mph.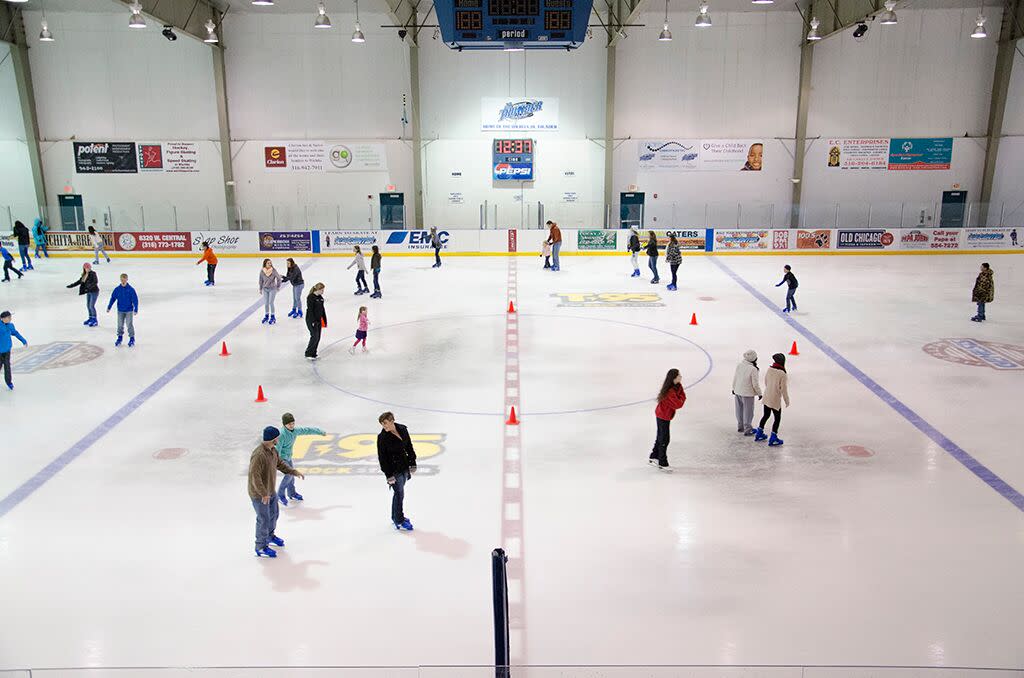 Ice, ice skating
Whether you're into hockey, figure skating, speed skating or just looking to spend time with family, the Wichita Ice Center offers lessons and time on the ice at their indoor facility. They offer public ice skating sessions daily. They rent skates and also operate a concession stand. Cost ranges from $2 to $7, including skate rental, depending on the day of the week.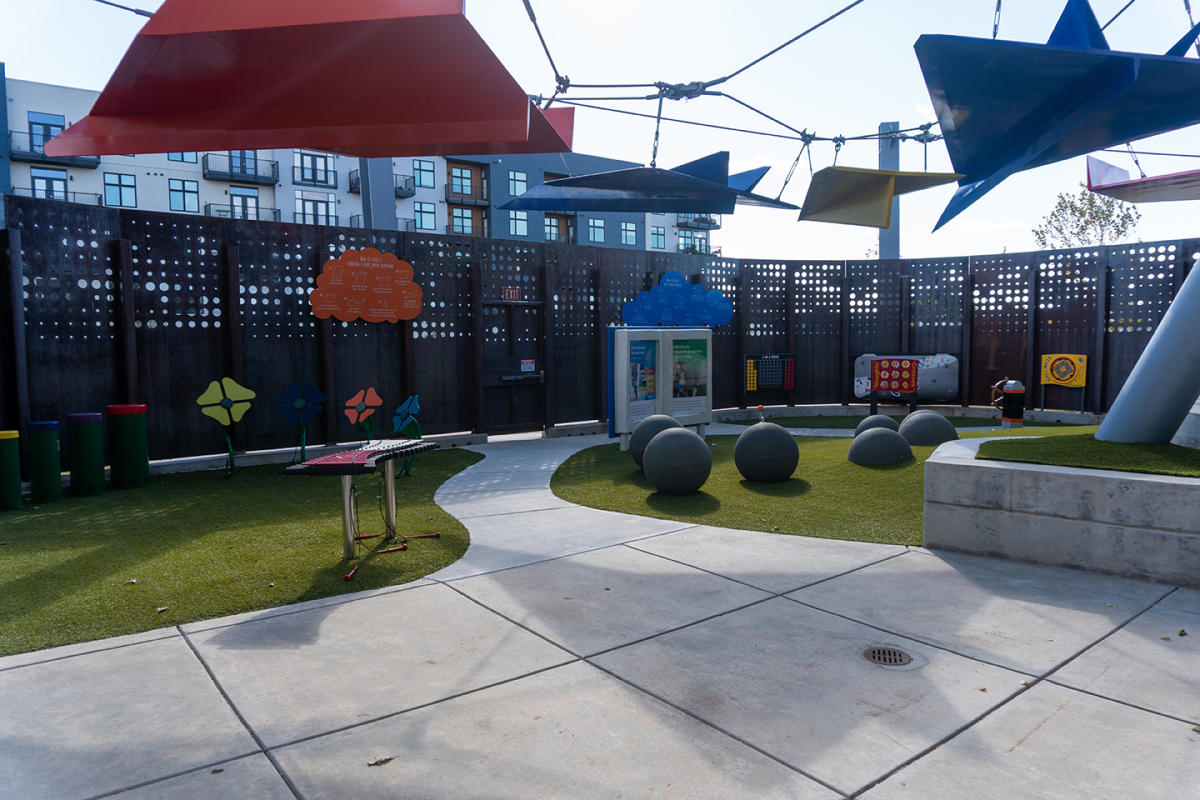 Attractions and museums
Free to visit
The newest public library facility in Wichita, the Advanced Learning Library has a free STEAM Learning Garden. It features interactive play stations that promote learning skills related to science, technology, engineering, art and mathematics.
Other museums and attractions with no general admission fee include CityArts, Envision Arts Gallery and Engagement Center, PBS Kansas' Children's Education & Discovery Center, Mark Arts, The Original Pizza Hut Museum, Ulrich Museum of Art and the Wichita Art Museum. On Sundays, admission is free at the Wichita-Sedgwick Co. Historical Museum and Old Cowtown Museum.
Special discounts
Affordable Admission
Head to Botanica Wichita during summer months and enjoy extended hours on Tuesday and Thursday until 8 p.m. through September. Adult admission is $10 and children 2 and under get in free.
Admission is less than $10 for adults, $8 for children 4-12 and free for children 3 and under at the Museum of World Treasures. 
Another great way to save is by using the Explore Card. Simply stop by the Visit Wichita offices at 515 N. Main, Suite 115 in downtown Wichita or pay full price at the first attraction you visit. Ask for an Explore Card and receive a $2 discount on each ticket purchased at participating attractions.
Looking for more fun in the Heart of the Country? Be sure to check all the things to do in Wichita and view our calendar of events. 
Upcoming Events
see what's happening