Sedgwick County Zoo
Get Wild in Wichita
Wichita is proud to be home to the seventh largest zoo in the country, the Sedgwick County Zoo. Spend your day exploring more than 3,000 animals and nearly 400 species grouped geographically in settings mimicking their natural habitats across the zoo's 250 acres.

Elephants
The Elephants of the Zambezi River Valley is the third-largest elephant habitat in the country, encompassing more than five acres of outdoor space, plus an 18,000-square-foot indoor facility. The exhibit has the world's largest elephant pool, holding 550,000 gallons.

Experiences
Explore the Sedgwick County Zoo in ways you never have before with special experiences like penguin encounters, giraffe feedings and other attractions like the boat or tram tour.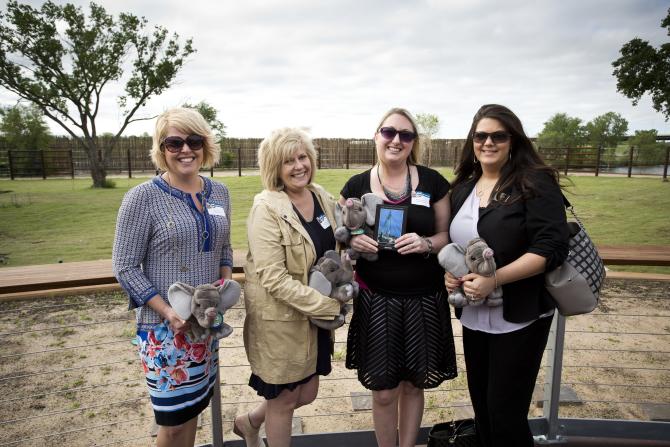 Event Space
Have your next meeting or event next to exotic animals by booking at the Sedgwick County Zoo. With tours available to guests, the zoo is the perfect unique venue for your next gathering. There are eight meeting rooms, the largest of which holds 350 people.
How long does it take to get through Sedgwick County Zoo?
You can zip through quickly in an hour or take the better part of a day, including having a meal at the zoo. To see the zoo unrushed, plan on at least three to four hours.
How much does admission into Sedgwick County Zoo cost?
Admission ranges from $15 for seniors and children older than 2 to $20 for adults, if purchased online. You'll pay an extra $2 per person at the gate. On Wednesdays from November through February, tickets are $3 per person as part of the zoo's Winter Wednesdays promotion. Tickets are also $3 per person on Tuesdays in July when the zoo has extended evening hours and live music for its Twilight Tuesdays series.
Who owns Sedgwick County Zoo?
Sedgwick County Zoo is a not-for-profit organization, accredited by the Association of Zoos and Aquariums (AZA). It is funded through a unique partnership between Sedgwick County government and the Sedgwick County Zoological Society, Inc.
How many acres is Sedgwick County Zoo?
The zoo sits on 215 acres and with 115 acres developed acres, the zoo has an additional 100 acres with which to work.
What's new at Sedgwick County Zoo?
Several developments have been completed recently as part of phase one of the zoo's master plan. There is a new entry complex and visitor center, plus the expanded Slawson Family Asian Big Cat Trek offers a unique habitat for Amur leopards, snow leopards, Amur tigers and red pandas. In 2022, the zoo debuted the Safari Express electric train ride and opened the seasonal Stingray Cove attraction (April to October).
Upcoming Events
see what's happening