Wagonmasters Downtown Chili Cookoff
No matter the weather – hot, mild or even cold – it's chili weather in Wichita every September. That's when the Wagonmaster's Downtown Chili Cookoff brings over 70 teams of chili makers to the streets of downtown Wichita, where they compete to be named the best chili in the city.
Competitors include cooks vying for a spot in the World Championship Chili Cookoff, groups of co-workers or friends cooking for fun, non-profits and restaurants. Chili categories include no beans, chili verde, red chili, chili for restaurants, home-style chili, anything goes and there's also a salsa competition.
You can get in on the action with a $5 tasting kit that can be purchased at the event (tickets on sale at the event starting at 11a). Public tasting starts at noon and you'll be able to sample a wide variety of chili and salsa made by teams from Kansas and surrounding states. Don't worry if your samples get a little spicy - there's plenty of soda and beer available for purchase. The event is complete with several activities and contests, a kids zone, and live music. Get there early! Some booths begin running out of chili after just a couple hours.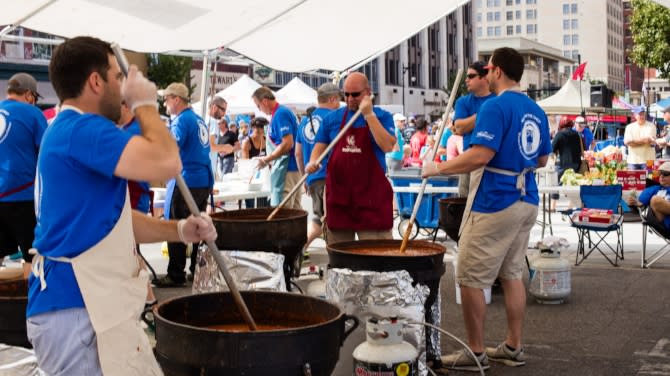 Wichita Wagonmasters are a group of civic-minded business executives with a single purpose: To promote and sell the good life in Wichita.
2023 Event
The 2023 Downtown Chili Cookoff will be held September 30.