Wichita Story Ideas
Wichita offers a unique backdrop from its western heritage to its hip, urban artwork. Below you'll find a list of story ideas and key items that makes Wichita the place to be.
Western Heritage
Old Cowtown Museum offers visitors a living history experience as reenactors stroll among 26 historic buildings depicting life in Wichita in the 1870s. Used for commercials, television shows and movies, the museum injects you into the Wild West by awakening your senses through a frosty-cold sarsaparilla, gunfights in the street and other cowboy adventures.
Air Capital of the World
About 35 percent of the world's (and 48 percent of the United States') general aviation aircraft are produced in Wichita. The Kansas Aviation Museum displays Wichita's aviation history with exhibits like the B-47 and B-52 jet bombers. Fly in or drive in for lunch at Stearman Field Bar & Grill in Benton, and rub elbows with fellow aviation enthusiasts. Stroll through the Wichita-Sedgwick County Historical Museum to learn about the city's many aviation pioneers and leaders.
World-Class Zoo
The Sedgwick County Zoo is Kansas' most popular outdoor attraction and the seventh-largest zoo in the country. Spend hours up-close-and-personal with tigers, gorillas, penguins and more than 3,000 other animals at this truly world-class facility. The remarkable Elephants of the Zambezi River Valley opened in 2016, showcasing the 3rd largest elephant exhibit in the country and the world's largest elephant pool at 550,000 gallons.
Keeper of the Plains
At the confluence of the of the Big and Little Arkansas Rivers – pronounced OUR-Kansas locally – see where Wichita was founded, and visit the iconic Keeper of the Plains. The area represents the circle of life every night between 9-9:15 p.m. (7-7:15 p.m. during fall/winter hours) when this 44-foot-tall monument is illuminated by the Ring of Fire.
A Foodie's Dream
In a town where hummus is as popular as potato salad, Wichita is home to an incredible selection of international restaurants, fine-dining and award-winning food trucks. Spend a weekend trying authentic Mexican cuisine, delicious Mediterranean dishes, fresh Vietnamese pho and locally raised beef. You'll leave blown away by Wichita's more than 1,000 restaurants taking you on a trip around the world without leaving city limits.
What's New in Wichita
Wichita is ever evolving and welcoming new features, businesses and restaurants. Below you'll find a list of the latest gems in the city.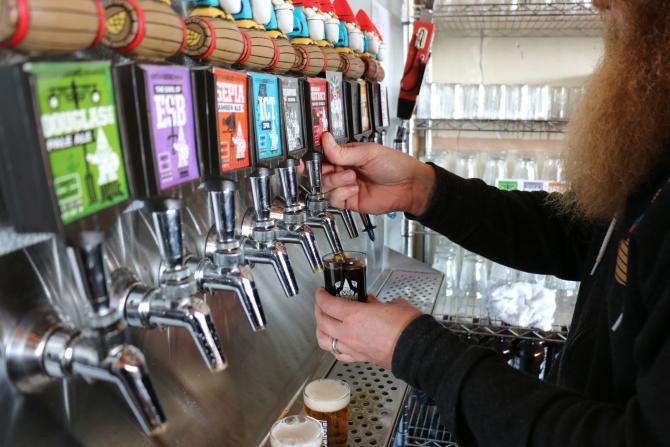 Booming Brewery Scene
In a matter of only a couple of years, the number of Wichita breweries has grown from two to 10, with a high concentration in the city's core. Many breweries serve food and some provide a family-friendly atmosphere. Try the dozens of local flavors and find a new favorite.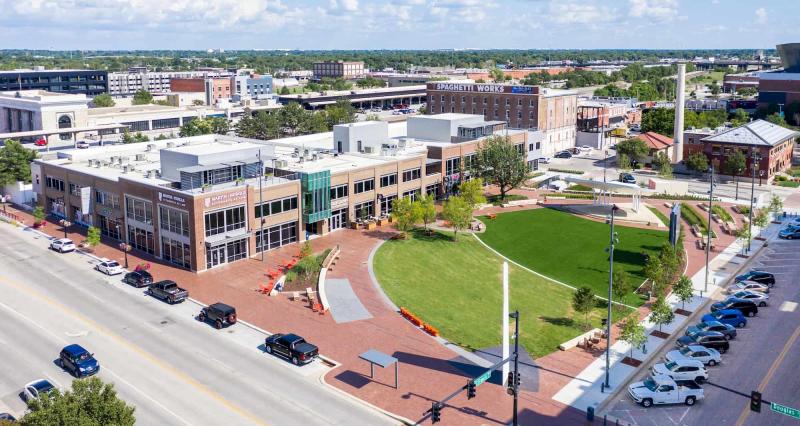 Credit: Hutton Construction
Emerging City
Wichita has evolved into a vibrant, multicultural city with tons of new features and unique experiences like Naftzger Park which is becoming a regular gathering for food trucks, and Gallery Alley, a once under-utilized alley turned into a lively public space. First Fridays are a way to experience the local art scene, which earned Wichita a spot in Expedia's list of "Most Artistic Towns in the United States." Additionally, expansion of the city's free Q-Line and Bike Share ICT program has ignited vibrancy into several of the city's core districts.
New Places
Here's a more detailed look at Wichita's newest restaurants, businesses and features.

Blade and Timber
With more than 21 years of entrepreneurial experience, co-founds Matt Baysinger and Ryan Henrich built Blade & Timber upon their passion for bringing people together. The pair opened Blade & Timber as Kansas City's first and only axe throwing bar in 2017. Propelled by the business' instant popularity, the duo brought Blade & Timber to Wichita's Historic Delano District in fall 2018.

Revolutsia
This unique destination shopping and dining development uses established buildings and additional shipping containers converted to buildings to house retail, restaurants and offices. In the middle lies an outdoor food court and seating area perfect for live music and a fire pit to gather with family and friends. Here are what businesses you'll find in Revolutsia: Boards Charcuterie & Crudités, Little Lion Ice Cream, Prost, Fox & Ash, Salon Memoir, Unicorn Lane Studios, Azteka's Boutique, Calabar Market and Vortex Souvenir.

Nifty Nut House
This Wichita tradition opened its doors in a newly expanded, 10,000-square-foot space in Nov. 2018. The new store is only about 1,500 square feet larger than the previous one, but it feels significantly more spacious. Nifty Nut House customers can find organic nuts, regular nuts, baking supplies and candy topping more than 4,500 items. Additionally, there are now automatic doors, more seating and more restrooms. The previous store will now be used for roasting nuts and packing gift boxes.

WAVE
Bringing tons of live music, entertainment and activity to downtown Wichita, WAVE is an indoor/outdoor social oasis and hybrid event center that can hold crowds of up to 500 to 3,300 for concerts, yard games and everyday hangouts. With amazing concerts, a rotating line-up in the beer garden, in-house barbecue kitchen, Adios Nachoria and fun, hip atmosphere, WAVE brings a one-of-a-kind experience to Wichita's downtown scene.
World Record-Breaking Mural
A mural painted on a north Wichita grain elevator has set a Guinness World Record. The mural has been designated the "Largest Mural Painted by a Single Artist" in the world. Project Horizontes is the program behind the mural, which depicts people of color meant to represent the culture of the North End. Fidelity Bank, Cargill and Spirit AeroSystems sponsor the mural, which is painted on the Beachner Grain Elevator near 21st Street & Broadway Avenue.

Chicken N Pickle
This new restaurant concept is an entertainment complex including a fast casual dining restaurant, 10 pickleball courts (six indoor and four outdoor), two bocce ball courts, four shuffleboard courts, a bar and entertainment space, outdoor lawn games like Jenga and corn hole, and a game room with ping pong and TV screens for you and your friends to catch your favorite game. The 8,000-square-foot complex is located in east Wichita.
Visitor Stories
get inspired


It's one of the best spots in Wichita for candy! The Farris Wheel has chocolates, candies and mixed nuts displayed in cases that surround the store. During the holidays, it transforms into a candy lovers paradise. "There is a lot to see and everybody that comes in is amazed," says co-owner Ed Farha. "Guaranteed, if you try it and are not totally satisfied, we are going to find something that will have you saying this is the best candy I have ever had."