Wichita Wicked Brew Tour
Returning Summer 2021
Hit the streets of Wichita and experience great local flavors as you embark on your Wicked Brew Tour. Unfortunately, the 2020 Tour will not be happening, but the fifth year for this popular event in 2021 is going to be bigger and even better!
Have you been itching to stop by PourHouse by Walnut River Brewing Company or grab a cup of joe at Kookaburra Coffee? You can try these two, along with other favorites when you pick up your 2020 Wicked Brew Tour passport at any participating vendor or the Visit Wichita offices (available before summer).

The Wicked Brew Tour has seen success in not only getting people out to drink local, it has also been a great way to showcase the best beers and coffee flavors in Wichita. Don't forget to tag your pictures with #wickedbrewtour!
How Does it Work?
Pick up a passport at the Visit Wichita office (or any participating locations)
Grab some friends and enjoy a tasty beverage at any (or all) of the breweries and/or coffee shops below
Ask your server to stamp your Wicked Brew Tour passport
Become a Wicked Brewer by hitting at least 8 participating breweries and/or coffee shops
Receive an exclusive 2019 Wicked Brew Tour T-shirt and brag about your new favorite spots in style


T-Shirts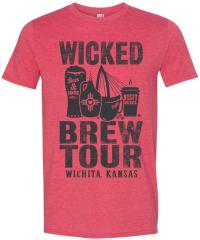 Finish your passport early, as there will only be 1,500 T-Shirts available. Due to high interest in this event, shirts are on a first-come-first-served basis and sizes are not guaranteed. Once they are gone, they are gone so start your tour soon!
Are you from out of town? No problem! Mail us your card and contact information (email address included), and we will mail you your shirt. Wichita-area residents must pick up their shirt at Visit Wichita, 515 S. Main, Ste. 115, Monday through Friday from 8:30 a.m. to 5 p.m.
Rules
Must be 21 to participate in brewery portion of the tour. Visit Wichita is not responsible for the conduct of the passport holder.
Experience a variety of styles and flavors as you embark on a journey through Wichita to collect at least eight stamps (of your choice) to complete the challenge.
Tour Responsibly
Please remember to drink responsibly and enjoy the Wicked Brew Tour safely. Make it a date night and reserve your spot on a Wichita Brew Wagon Tour bus to knock out at least three of your breweries in one evening.