Cultural Getaway in Wichita
Wichita is a cultural mecca sitting in the heart of the country and offering a diverse background for travelers. With a rich aviation, Native American and western heritage, immerse yourself in history, explore modern and contemporary art or enjoy live theater experiences in the Air Capital of the World.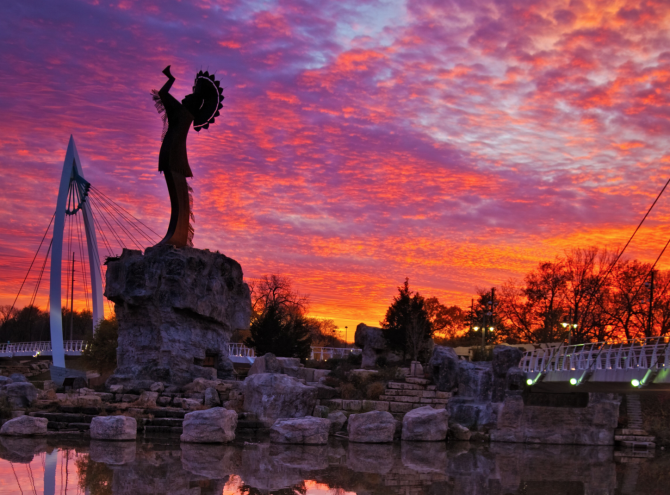 Keeper of the Plains
Wichita is rich in Native American culture and celebrates that legacy with one of the most iconic pieces of art in the city: The Keeper of the Plains. This 44-foot sculpture sits atop a 30-foot pedestal at the confluence of the Big and Little Arkansas Rivers. It was built by Blackbear Bosin in 1974. While visiting this amazing creation, be sure to catch the lighting of the fire pots nightly (7 p.m. Nov. 1-March 7, 9 p.m. March 8-Oct. 31), weather-permitting. The ceremony is sacred to the native people and represents the relationship between earth, wind, water and fire. Be sure to also stop by the Mid-America All-Indian Museum to learn about the history and life of the many plains Indian tribes that call the region home.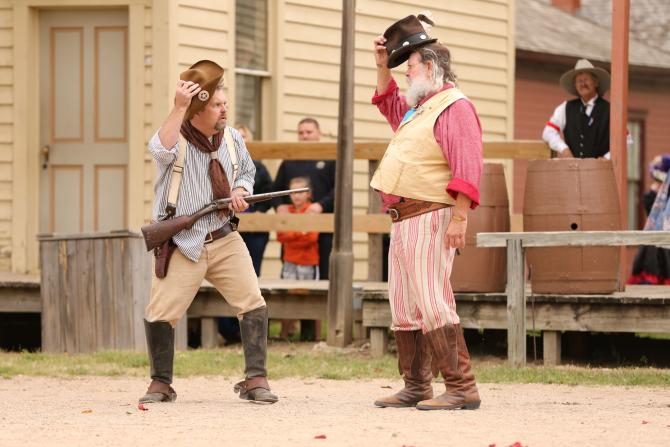 History
Old Cowtown Museum
Transport yourself back to 1870s Wichita as you walk along the dusty streets of Old Cowtown Museum. It was founded in 1952 and remains one of the oldest open-air living history museums in the country. Commemorating Wichita's history with being a cowtown along the original Chisholm Trail, visitors will experience what life was like long ago while enjoying the sights, sounds and smells of the Old West.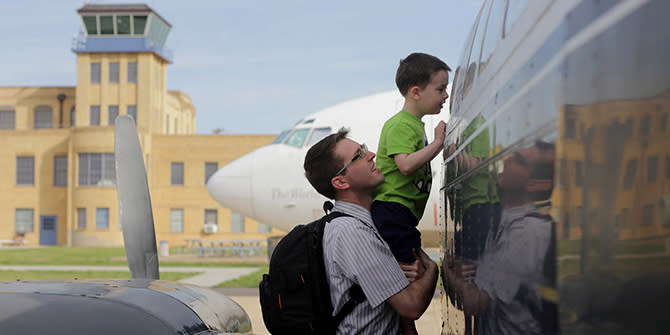 Kansas Aviation Museum
Learn why Wichita is known as the Air Capital of the World by visiting the Kansas Aviation Museum. Housed in the building that used to be the original Wichita airport, this museum keeps Wichita's flight and aviation history alive. Visitors can explore aviation exhibits about industry giants like Beechcraft, Boeing and Cessna, and see real military aircraft or tour the flight tower.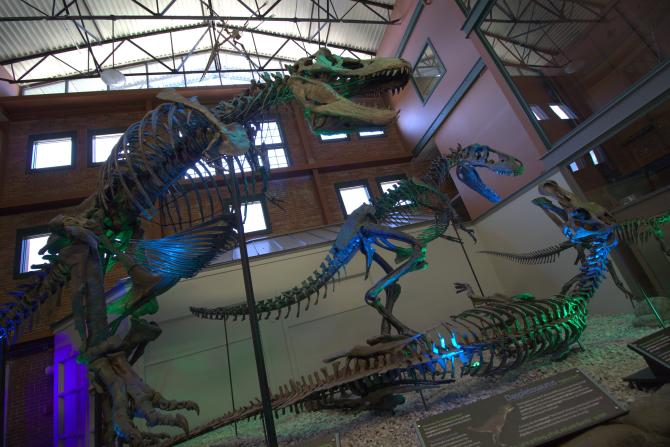 Museum of World Treasures
Explore history from prehistoric times through the modern age at the Museum of World Treasures in Old Town. Take a trip through time where dinosaurs roamed the earth to meet Ivan the T. rex, the sixth-largest Tyrannosaurus rex in the world. Then, make your way through the history of Egypt with shrunken heads and mummies. See a piece of the original Berlin Wall or follow your family ties to see if you're part of European royalty. On the third floor, take some time to let the kids' imagination wander with Ivan's Playhouse, designed especially for young minds.
Modern & Contemporary Art
Wichita Art Museum
Enjoy modern and contemporary art with more than 8,000 unique pieces at the Wichita Art Museum. Founded in 1935 after Mrs. Louise Caldwell Murdock left instructions in her will for a new art project in Wichita, a group of Murdock's friends began to build the collections we see today. The museum also sees national traveling exhibits from places like the Brooklyn Art Museum featuring notable works by people like Henry Matisse, Claude Monet and Georgia O'Keeffe. Admission is free on Saturdays.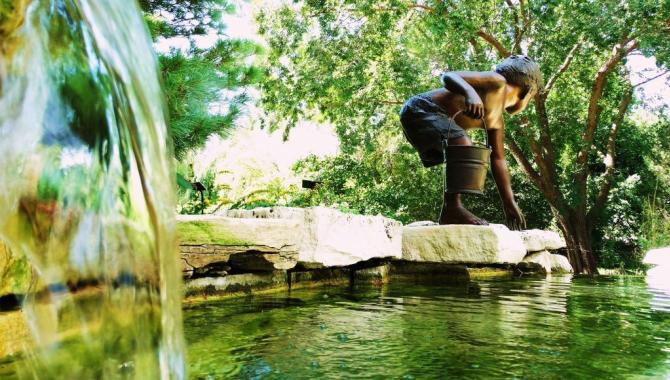 Botanica Wichita
Take a stroll through the beautiful gardens (more than 30 to be exact) and enjoy artwork and gardenscaping featuring more than 4,000 species of plants. From sculptures to waterfalls to fountains, there's a little bit of everything in these beautiful gardens at Botanica Wichita. Enjoy this educational experience with the whole family and stop by the Carousel Gardens (opening Fall 2019) to see the newly restored antique carousel.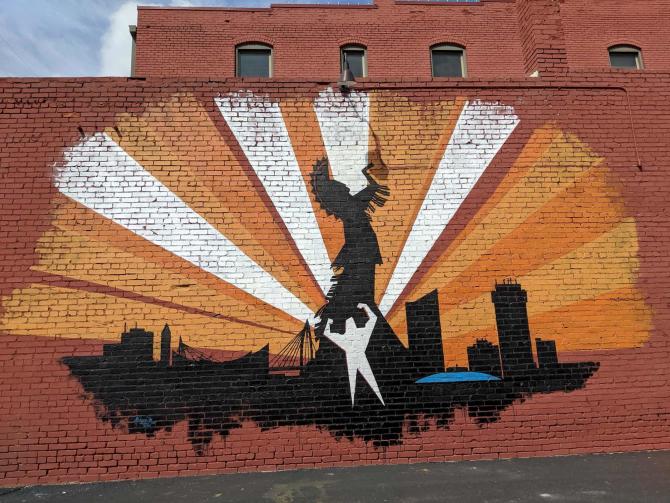 Urban Art
Take a mural tour throughout downtown Wichita or explore some of the awesome urban art displays down Wichita's main strip. With the "Streetscapes" collection, count the numerous bronze statues created by Washington artist Georgia Gerber, one of which commemorates the 1958 Dockum Drug Store Sit-In. Also downtown, you'll find unique pieces made out of old car bumper guards created by artist John Kearney. While you're looking, keep and eye out for the unique collection of Keepers on Parade.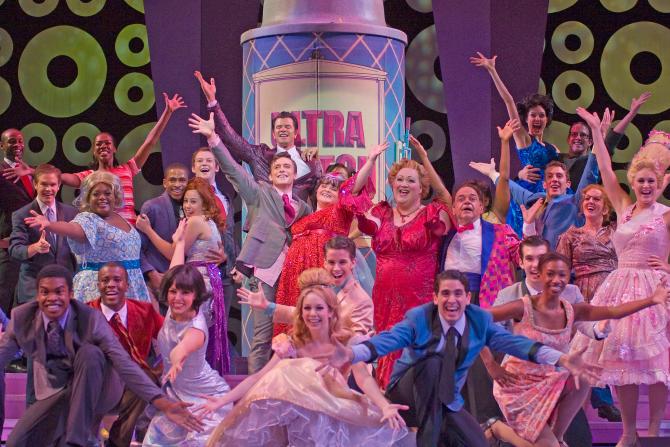 Performing Arts
Music Theatre Wichita
Bringing Broadway to Wichita, Music Theatre Wichita is the largest subscribed not-for-profit arts organization in the region. It was founded in 1972, when it began putting on large summer music theater productions at Century II Performing Arts & Convention Center. The majority of current Broadway shows has MTW alumni, who got experience in Wichita.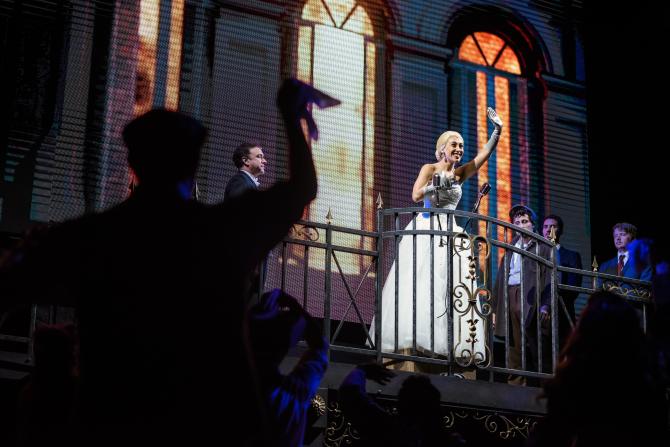 The American Theatre Guild
This civic-performing arts organization is dedicated to providing a Broadway experience in Wichita as well as fostering a passion for theater. Presenting the national tours of popular Broadway Musicals, The American Theatre Guild offers Wichita and the surrounding area a taste of culture unlike any other city in the Midwest.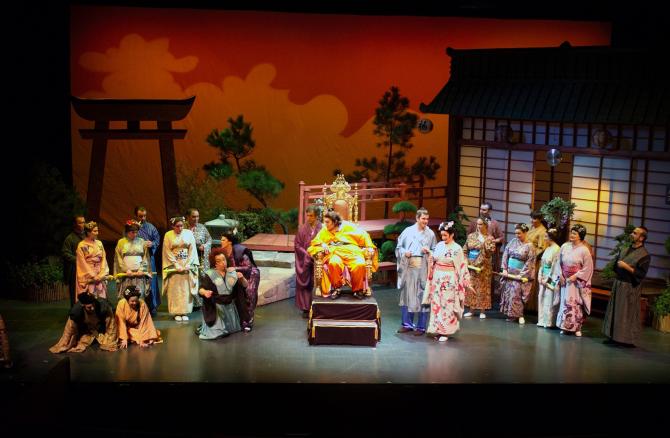 Wichita Grand Opera
There are few places around the United States where a visitor can experience live opera to the magnitude presented by the Wichita Grand Opera. International opera season includes four fully staged performances with stars from around the world. With popular performances available for all ages, these performances happen at Century II Performing Arts & Convention Center throughout the year, excluding summertime.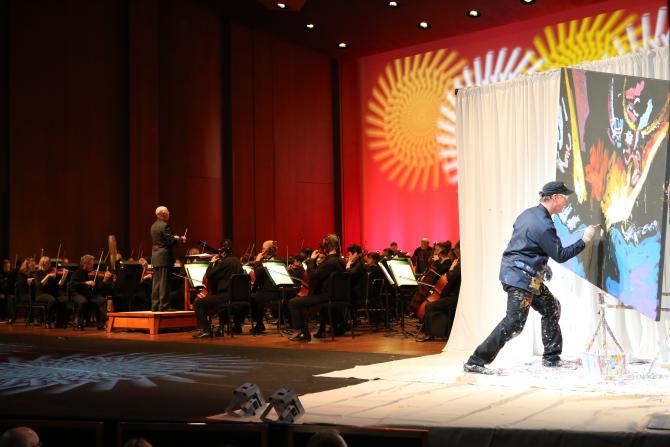 Wichita Symphony Orchestra
Take classical music to a whole new level with live performances from the Wichita Symphony Orchestra. With unique performances, pops favorites, classical renderings and international stars making guest appearances, this cultural experience is second to none. With exciting and innovative programs for all ages, there's a concert for everyone. Wichita Symphony Orchestra was founded in 1944 and remains one of the oldest and most active performing arts organizations in Kansas.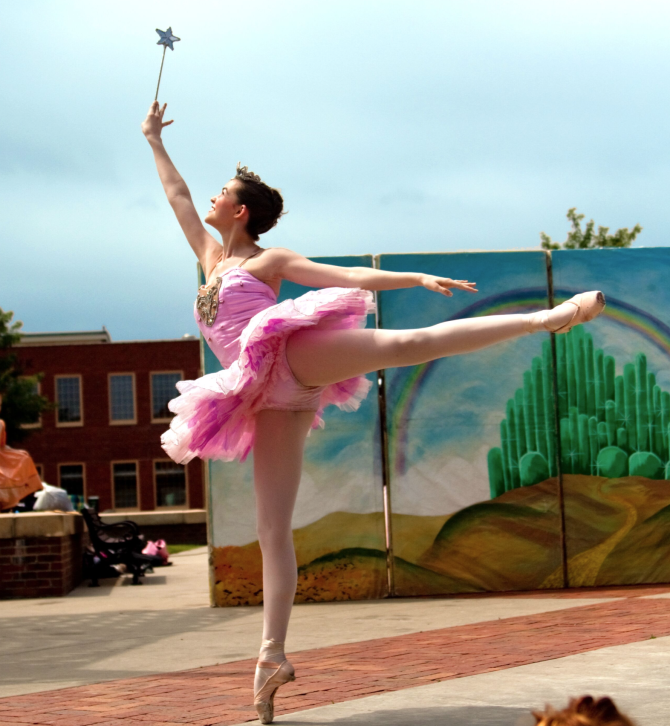 Ballet Wichita
Known best for maintaining a yearly tradition with performances of "The Nutcracker," Ballet Wichita brings an interesting flare to the performing arts collection in Wichita. This pre-professional dance company also creates unique performances for dancers aged 8 through college, and offers free ballets in June called, "Ballet in the Park."