Staycation
If you're a local looking for a getaway without getting far away from home, we've got some great ideas for Staycation itineraries, whether you want to be indoors, outdoors or take a short road trip.
INDOORS
Start your day with an adrenaline boost at Bliss Climbing & Fitness. Bliss offers novice to advanced routes at its full-service indoor rock climbing gym featuring a 38-foot tight-rope and lead climbing walls and 15-foot bouldering walls, as well as a training room, lounge and pro-shop. Keep the excitement going and try out your axe throwing skills at Axe to Grind or Blade and Timber. If team building and family bonding is what you're after, then make your way to the Delano District and see if you can "escape" at The Room.
Keep the high-energy fun going at Urban Air Trampoline and Adventure Park, a 30,000 square foot indoor trampoline park and family-fun center for all ages. Kids love the foam pit, Slam Dunk Zone, and ropes course. More family-friendly adventures await you at Wichita's Dave & Busters, where you can play hundreds of the hottest new arcade games.
Lace up those bowling shoes and hit the lanes at The Alley Indoor Entertainment! This state-of-the-art facility is the home of bowling lanes, indoor electric go-karts, a family arcade, billiard tables, escape rooms and AJ's Sports Grill. Have more time to spare? Watch the lights go down and the pins glow on Friday and Saturday nights at West Acres Bowl for Cosmic Bowling or head to North Rock Lanes to chase pins and see who scores a perfect game.
Family fun has never been so cool at the Wichita Ice Center. The skating facility has options for family-friendly Public Skate or adrenaline-inducing Puck and Stick for hockey enthusiasts. Hockey fans will also love getting rowdy while cheering on the Wichita Thunder at INTRUST Bank Arena! The minor league team brings major energy to INTRUST Bank Arena for fans of all ages.
For live entertainment, take in a lively show at Mosley Street Melodrama or Roxy's Downtown. If you need a good laugh, The Loony Bin features an always-fresh line up of comedic shows. Watch not-so-typical films at mama.film, a microcinema that screens the original works of changemakers in the film industry who express their art through a maternal gaze. The cozy theater can even be rented out for private events.
Take a deep dive in to the history of the area by visiting the Wichita-Sedgwick County Historical Museum. The building, originally constructed in 1890 as City Hall, houses relics from the Wichita Indian tribe as well as items dating back from the dawn of aviation. Also located downtown, the Museum of World Treasures takes visitors through a timeline from pre-historic dinosaurs to today's pop culture. Don't miss a chance to experience The Kansas African American Museum, a space that honors Wichita's vibrant black community and its history.
Keep the good times going as you explore the journey of flight at the Kansas Aviation Museum. Housed in the original Municipal Airport Terminal Building, visitors get a glimpse into an industry that contributed to the city's population boom. Plus, you can see panoramic views of Wichita from the control tower! Wish you were an aviator? Get an up-close glimpse of a Boeing B-29 Superfortress on display at Doc Hangar & Education Center. Visitors have the option of a guided tour inside the historical warbird.
Get inspired while witnessing artists at work or gaze at sculptures at Mark Arts. A hub for art education for all ages, the museum is known for its national exhibitions and events. The Wichita Art Museum has a distinguished collection of American art and rotating exhibitions, which often include pieces on loan from the Smithsonian American Art Museum. Find your way to the Wichita State University campus to visit The Original Pizza Hut Museum or the Ulrich Museum of Art — both considered must-see!
Families love interacting with hands-on exhibits at Exploration Place — the area's premier science and discovery center that sits on the Arkansas River near downtown Wichita. Tomorrow's scientists and engineers can explore learning stations about aviation, Kansas geography, as well as spectacular traveling exhibits.
Let your creativity flow at Paint the Towne or Board and Brush! Each studio provides the supplies and the space to hone one's inner DIY skills while creating a keepsake of the experience. Before the day ends, make sure to treat yourself to a dessert. No matter where you are in the city, you'll be able to find a sweet treat or drink at Cocoa Dolce Chocolates. They have three locations (downtown, east and west); watch chocolates being made on-site at their downtown location.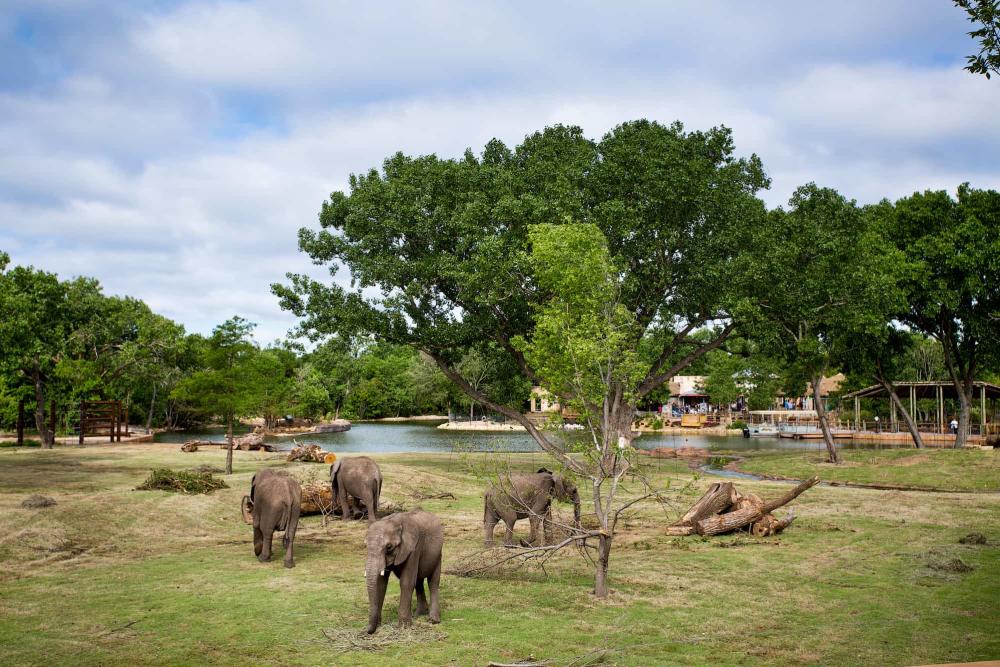 OUTDOORS
Enjoy sun and fun by planning a zoocation right here in Wichita, choosing one stop from among our amazing wildlife options - or visit them all! See eye-to-eye with endangered chimpanzees and orangutans. Get to know the gorillas of The Downing Gorilla Forest. Spend the day with colorful birds, playful penguins, poison dart frogs and more than 3,000 other individual animals of all sizes, shapes and colors at the Sedgwick County Zoo, the seventh-largest zoo in the nation and the state's most-visited outdoor family tourist attraction.
For exotic animals and one of the most interactive animal parks in the country, visit Tanganyika Wildlife Park. The park is home to more than 300 birds, mammals, reptiles, amphibians and animals, some of which you can directly interact with. Check out the pygmy hippo feeding station or the only lemur feeding island in the country. You can even get up close and personal with rhinos, lemurs, kangaroos, giraffes and a sloth!
Head to the Great Plains Nature Center and its Chisholm Creek Park for a chance to see at least 20 species of mammals, 160 species of birds, 21 species of reptiles and amphibians and 13 species of fish. The center's 282 acres has habitats that are representative of the major habitat types in the Great Plains and 2.5 miles of paved trail that cross native and restored prairies, wetlands, ponds and woodlands.
A popular destination for plant-lovers is Botanica! Over 18 acres of must-see gardens dot the landscape. The botanical destination is known for its amazing gardens, restored Herschell carousel, and Children's Garden. Stock up on freshly grown fruits and vegetables at the Old Town Farm and Art Market, a destination for residents and visitors who want to enjoy farm to table food. Find the market in Old Town on Saturday mornings from April through October and on Sunday mornings from November through March.
Don't leave the Museums on the River district without experiencing early 1980s history at Old Cowtown Museum. The early days of Kansas come alive as you view historic buildings and artifacts represents live on the frontier. Don't get surprised if you hear gunfire erupt in the streets while you're enjoying an ice-cold sarsaparilla in the saloon! Eventually locomotives replaced horse and carriage as a mode of transit — the Great Plains Transportation Museum is an example of this progress! The outdoor area of the museum includes a wide assortment of railroad cars and equipment. Ready to sit back and relax after touring trains? Walk only steps west to Naftzger Park — downtown's newest outdoor entertainment space! Keep your eyes peeled for urban artwork in the downtown district. Better yet, take a self-guided tour using our map.
No staycation is complete without viewing the Keepers of the Plains sculpture up close and personal at the confluence of the Big and Little Arkansas rivers. The 44-foot Cor-Ten steel statue, designed by Blackbear Bosin, is the city's most iconic symbol. Onlookers can learn more about the artist and Native culture inside the nearby Mid-American All-Indian Museum.
Bring your glove and watch for fly balls during the spring season at the Riverfront Stadium, home to the Wichita Wind Surge, the city's Double-A baseball team! Look for special events at the stadium throughout the year as well.
Prefer to play games rather than watch them? The outdoor entertainment complex, Chicken N Pickle, is the best place play competitive pickleball, lawn games, bocce ball or shuffleboard. The wholesome fun continues only a few minutes away at All Star Sports! Channel your inner race car driver on the go-kart track or slow down your pace on the mini golf course.
Cool off from a hot day of taking in the city at the Splash Aqua Park when it's open May-September. A fun place for groups, the obstacle course of inflatable is set on water and includes catapults, slides and climbing walls.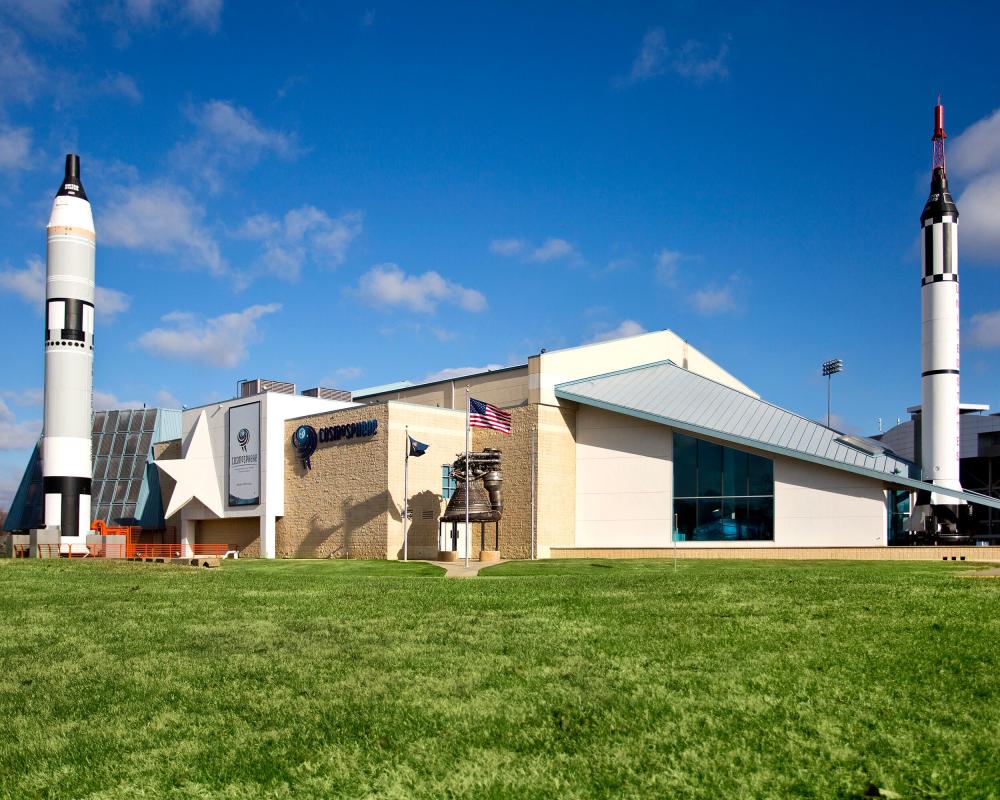 DAY TRIPS
A short drive to Hutchinson opens up a day full of unique attractions.
The Smithsonian-affiliated Kansas Cosmosphere & Space Center features one of the most significant collections of U.S. and Russian space artifacts in the world, second only to the Smithsonian's National Air and Space Museum. Visitors take a journey from Earth to the Moon and beyond through a combination of the Hall of Space Museum, Carey Digital Dome Theater, planetarium and live rocket demonstration shows.
Of 16 salt mines in the U.S., the Hutchinson Salt Company mine is the only one that has a museum that allows the public to go into an active salt mine. Called Strataca, this attraction is one of the 8 Wonders of Kansas and takes visitors 650 feet underground. You'll see artifacts and displays describing the mining industry, short videos showing technology advancements and a display of several original movie costumes being preserved in the climate-controlled mine. There are also two rides that take you deeper into the tunnels.