Whether you prefer mountain biking, gravel grinding or riding your bicycle among the bustle of the city or the solitude of a rail-trail, you'll find a place to bike in Wichita. And now, you can do so with 100 bikes brought to the city through "Bike Share ICT." Pick up yours today at the ICT Urban Pop-Up Park in downtown Wichita.
Here's how it works: download the Zagster app in your phone's app store to buy a membership, find a bike at the station and unlock it. You can ride anywhere you want, but be sure to return the bike to the station for next rider. It will only cost about $3-an-hour and up to $30 a ride. If you purchase an annual membership, any trips under and hour are free, then you pay up to $2-an-hour or $20 a ride.
We asked a few of our local bicycle shop owners to tell us some of their favorite places to ride.
Lee Engler, a member of the Kansas SingleTrack Society and a trail steward, sees all levels of riders in his shop, Lee's Bike Shop at 13303 W. Maple in Wichita.
"If it is a beginner with a family of youngsters I show them the West Side Trail at Lake Cheney State Park," he said. "It is about 9 miles of very flat trail through grasslands and treed areas on the west side of the lake. The trail head is accessed from the 21st Street entrance into the park then going east near the park office."
For mountain biking, "I direct them to Air Capital Memorial Park. This is a KSS trail that was built in conjunction with the city of Wichita on park land just southeast of the intersection of Maize Road and Highway 54. There are 2 miles of trail on 10 acres. It does not seem like much but the quality and variety of experiences of the trail make it feel bigger and encourages the rider to do repeated laps. There are three loops within the park. The North Loop is ½ mile that may challenge some beginners but will prepare them for the more technical 1-mile West Loop. The East Loop has enough features made from the construction debris that was deposited in the park during highway construction that is makes a playful area for the more experienced trail rider. Additional trail is planned within the park and future extension of the Prairie Sunset Trail will bring cyclists and hikers right into the action."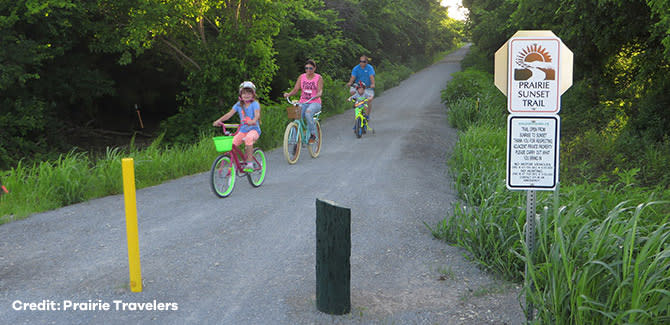 The Prairie Sunset Trail is one of the most-used rail trails in Kansas and is a favorite of local experienced riders but also great for beginners. When completed, the Prairie Sunset Trail will be a 15-mile corridor from Garden Plain to west Wichita.
"The Prairie Sunset Trail, with 12 miles open, 10 bridges, a tunnel and a covered bridge as well as all its flora and fauna, can be breathtaking," said Ruth Holliday, co-owner of Bicycle Pedaler at 330 N. Rock in Wichita.
Riders love it, she said, because it's close to the city, is safe yet gives you the feeling that you're surrounded by nothing but nature when you come across wildlife. Holliday spearheaded successful grant-writing efforts that are funding further development of the Prairie Sunset Trail as well as work on another Wichita-area rail trail, the Redbud Trail in east Wichita.
The Redbud Trail runs from near downtown Wichita at I-135 east 11 miles through the city then toward Augusta. Within Wichita city limits the trail is paved to Woodlawn, with a nice crossing to connect to the Armour Bike Boulevard, one of the city's low-speed, low-volume street bicycle routes. Redbud Trail is still gravel from there to the Sedgwick County line and parts of the trail beyond the county are still undeveloped.
The end goal is to be able to ride on a series of connecting trails nearly 50 miles between Garden Plain and Augusta.
"Both these rails-to-trails in the Greater Wichita area have plenty of tree-lined shaded sections with deer, foxes, turkeys, hawks and native birds in all their splendor," Holliday said.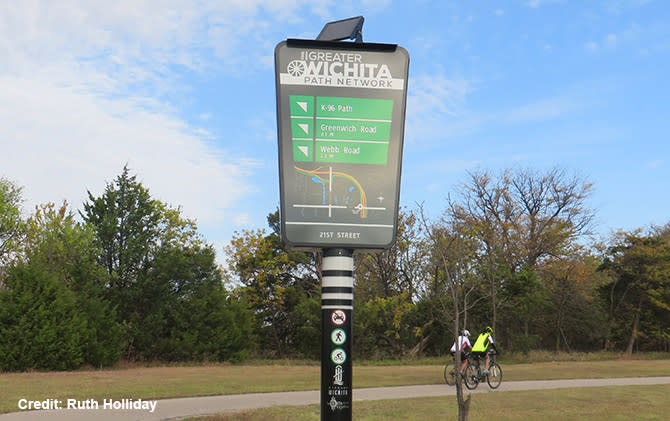 The city of Wichita has more than 26 miles of bicycle paths and development continues.
"The city has done a phenomenal job expanding trails and making them accessible by connecting them," Holliday said.
One favorite path is the Arkansas River path, a 10-mile multi-use path through the heart of the city that provides access to parks and attractions along the river. The path will also take riders northwest to the Sedgwick County Zoo and the adjacent Sedgwick County Park, which offers another 4 miles of paths.
For more information on Wichita-area bicycling trails, visit these resources: