Whether you prefer mountain biking, gravel grinding, the solitude of a rail-trail or riding your bicycle to our attractions along the Arkansas River, you'll find a place to bike in Wichita.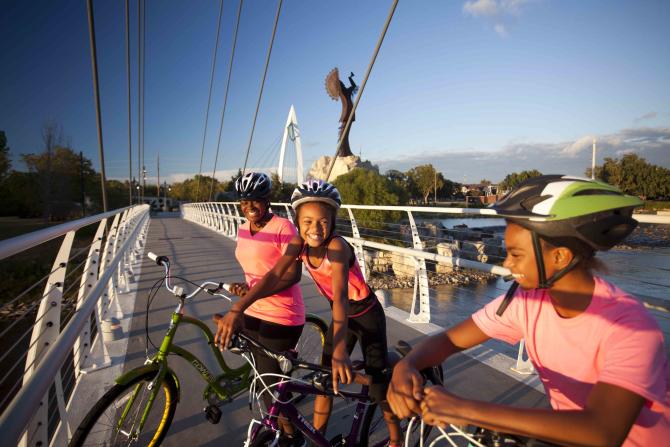 Ride your own bicycle, rent one from Boats & Bikes or borrow one of 200 bicycles at 40 stations around Wichita through our Bike Share ICT program. The venture funded by Blue Cross and Blue Shield of Kansas and the Knight Foundation uses Tandem Mobility and the Movatic app to allow riders to find bicycle stations and cruisers at the touch of a finger. Click here to find out how it works.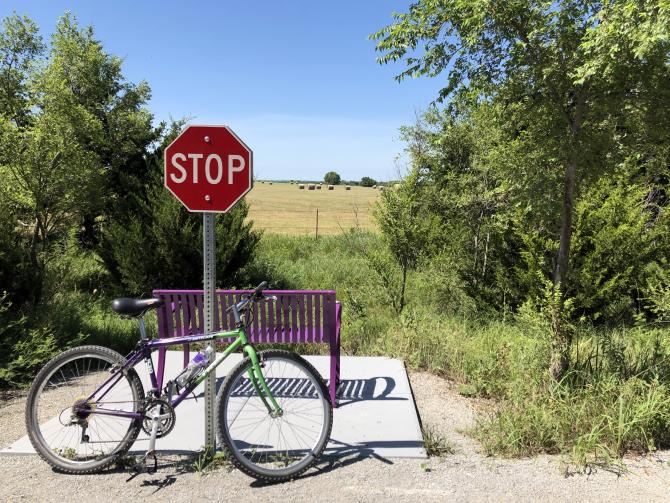 Wondering where you can ride? Here are some ideas:
The city of Wichita maintains more than 100 miles of bicycle paths, lanes and other bicycle facilities, and development is ongoing. The longest and most popular bicycle path among the city's trails is the Arkansas River path. It covers 14 miles along the banks of the Big Arkansas River from 21st Street North to Galena Street on the south and provides access to parks and attractions along the route, including the gathering of Museums on the River.
For a beginner or a family group including youngsters, try the West Side Trail at Cheney State Park. It is about 9 miles of flat trail through grasslands and treed areas on the west side of the lake. The trailhead is accessed from the 21st Street entrance into the park then going east near the park office.
For mountain biking, head to Air Capital Memorial Park. This is a KSS trail that was built in conjunction with the city of Wichita on park land just southeast of the intersection of Maize Road and Highway 54. There are 2 miles of trail on 10 acres, offering quality and variety of experiences among three loops. The North Loop is .5-mile that may challenge some beginners but will prepare them for the more technical 1-mile West Loop. The East Loop has enough features made from the construction debris that was deposited in the park during highway construction that makes a playful area for the more experienced trail rider.
To be surrounded by nature and not worry about vehicle traffic, check out area rail-trails (trails in former railroad beds). You'll ride on improved surfaces – a mix of gravel, crushed limestone and paved paths – to experience the countryside that includes tree-lined shaded sections and possible sightings of deer, foxes, turkeys, hawks and native birds.
Prairie Sunset Trail is one of the most-used rail trails in Kansas and is a favorite of local riders and great for all levels. When completed, the Prairie Sunset Trail will be a 15-mile corridor from Garden Plain to west Wichita. About 12 miles are currently open, including 10 bridges, a tunnel and a covered bridge as you ride through interesting flora and fauna.
In east Wichita, you'll find the Redbud Trail running from near downtown Wichita at I-135 east 11 miles through the city then toward Augusta. Within Wichita city limits the trail is paved to Woodlawn, with a nice crossing to connect to the Armour Bike Boulevard, one of the city's low-speed, low-volume street bicycle routes.
For more information on Wichita-area bicycling trails, visit these resources:
Learn more about Wichita's parks and nature, including more than 140 parks and greenways, here.