Howdy partners, and welcome to the Gunsmoke Trail! This road trip visits four cities in Kansas that had a role in "Gunsmoke," the Emmy Award-winning primetime Western that entertained audiences for 20 years.

Reruns of the show still air on select networks, with iconic characters telling the story of frontier life in the Old West. Several present-day cities in Kansas play a part in the show's storylines, including Wichita, Abilene, Hays City (now Hays), and of course, Dodge City.
Each community has opportunities to look back on the region's Wild West days that are accessible and fun for all ages. For fans who want to experience the cities that inspired the show, we invite you to explore the Gunsmoke Trail.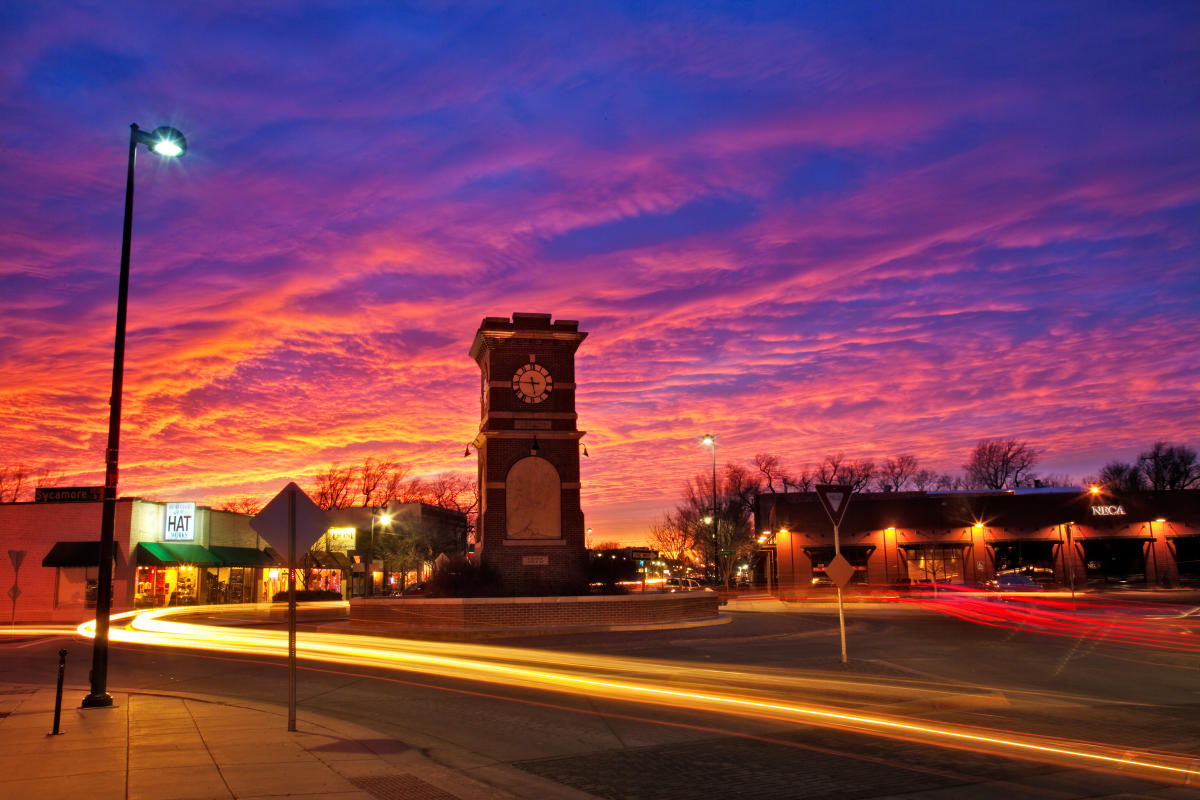 WICHITA
This outdoor living history museum features more than 50 historic buildings from the late 1800s including a saloon, blacksmith shop and sheriff's office.
Address: 1865 W. Museum Blvd., Wichita 
Housed in a beautiful 1890s building, this museum showcases the history of Wichita and Sedgwick County. It includes exhibits about the cattle industry, transportation and early settlers.
Address: 204 S. Main St., Wichita 
This historic district features brick-lined streets, old-fashioned lampposts that you can tie a horse to and unique shops and restaurants.
Address: 830 E. 1st St. #3, Wichita 
This iconic statue stands at the confluence of Arkansas and Little Arkansas rivers and is a symbol of Wichita. The dramatic setting, with the river and the city skyline in the background, would make for a memorable Western film scene.
Address: 650 N. Seneca St., Wichita
A museum dedicated to Native American and Indigenous history and culture in North America.
Address: 650 N. Seneca St., Wichita 
Located along Douglas Avenue on the west bank of the Arkansas River at the end of the Chisholm Trail, Delano District was established during the days of the Chisholm Trail cattle drives as a place for the cowboys to blow off steam after months on the trail from Texas. Today, it is a historic neighborhood with a variety of restaurants, shops and entertainment venues. The Chisholm Trail is a historic cattle-drive route that passed through Wichita in the late 1800s.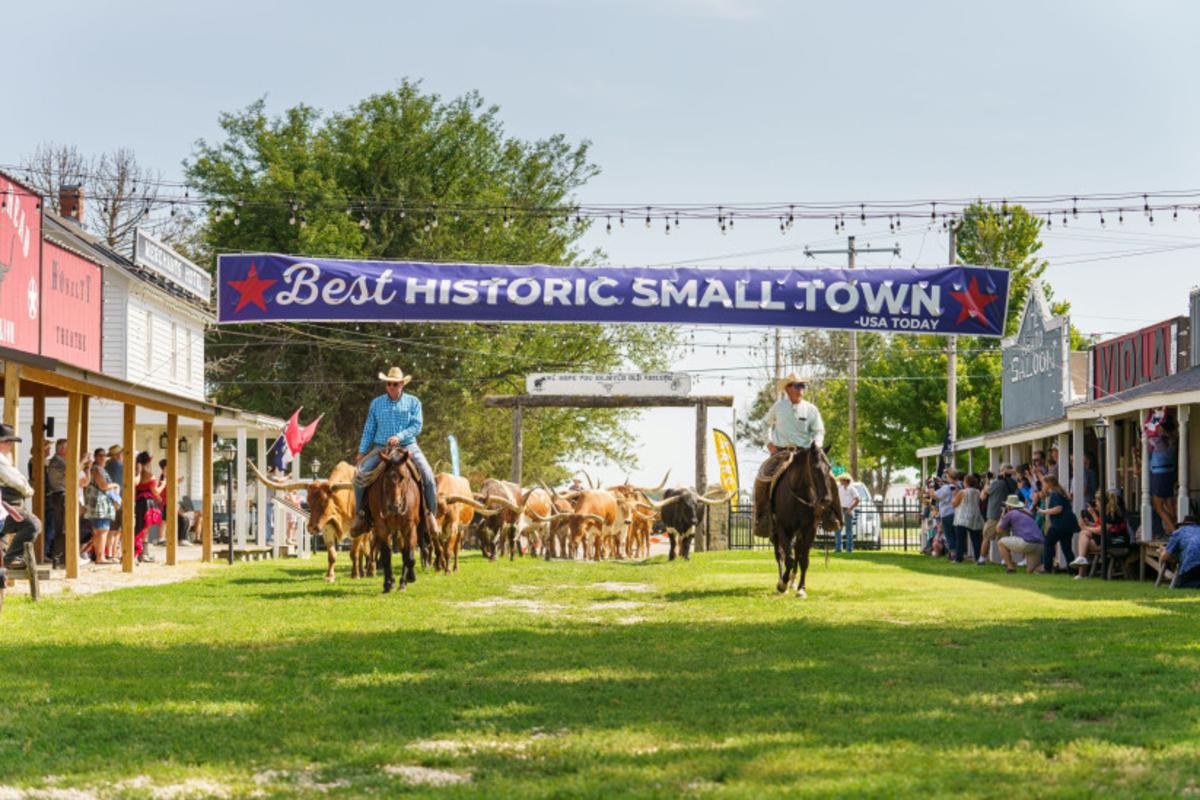 ABILENE
Old Abilene Town
See the Chisholm Trail Museum and Interpretive Trail Center in the Way Station at Old Abilene Town. Visitors can stroll the boardwalk, just as Wild Bill Hickok did during Abilene's wild and woolly days. Get a taste of the Old West by drinking an ice-cold sarsaparilla and watching can-can dancers as they perform on stage and on the bar from the original Alamo Saloon. Gunfighters stage mock shoot-outs during the summer travel season. Old Abilene Town also hosts Chisholm Trail Days during Labor Day weekend. Enjoy live cattle drives through Old Abilene Town, reenactors, country music performances and more! Be sure to check out the Great Western Cattle Co. building to see a complete re-creation of Abilene's original Texas Street. Tip: Make sure to see the Bull's Head Saloon Longhorn at the Trail Center in Old Abilene Town- According to a signed document, the bullhead is from the Bull Head Saloon that belonged to "Shotgun Ben" Thompson in Abilene. It was the headquarters for the drovers who trailed cattle from Texas to Kansas in the late 1860s and 1870s.
Address: 201 SE 5th St., Abilene, KS 
Dickinson County Heritage Center
Learn about Dickinson County's famous former residents, from C.L. Brown — whose telephone company eventually became known as Sprint — to Abilene's former Marshal Wild Bill Hickok to Joseph McCoy, who brought hundreds of thousands of cattle to Abilene in the 1860s, making the community a booming Cowtown at the end of the Chisholm Trail. Tip: Make sure to check out the Wild Bill Hickok Bronze Statue and a replica of his gun on display.
Address: 412 S. Campbell St., Abilene, KS 
World's Largest Belt Buckle
At 19 feet 10 ½ inches wide and 13 feet 11 ¼ inches tall, Abilene is home to the World's Largest Belt Buckle. Climb the spiral staircase to the top to take your photo "wearing" the buckle!
Address: 400 N. Pine St., Abilene, KS 
Big Spur
At 28 feet high, the big spur stands on its ends to form an arch and weighs a ton. It was built by Larry Houston in 2002 and was certified as the World's Largest Spur by Guinness World Records until 2017.
Address: 1810 N. Buckeye Ave., Abilene, KS 
Cowboy Boots
Celebrating its cowboy roots, the Cowboy Boot project pays homage to T.C. McInerney's Drovers Boot Store from the 1870s. The Arts Council of Dickinson County, Quality of Life Coalition of Dickinson County and Community Foundation of Dickinson County joined forces to add cowboy boot art throughout the community.
Murals
Celebrate the Old West by visiting murals around town!
Tom "Bear River" Smith Tombstone
Before Hickok, there was Smith. In 1870, Abilene had had enough. The city hired two professional police officers from St. Louis, Missouri. They arrived on the morning train and resigned by the end of the day, taking the midnight train going back east. They had quit, saying they could not handle the job. The city fathers then hired Tom "Bear River" Smith as their first city marshal. Smith was unknown to the cowboys but soon found out he was not to be taken lightly.
Address: 501 NW 4th St., Abilene, KS
Wild Bill Hickok Rodeo
Today, Abilene honors Wild Bill's Legacy with not only a mural and museum exhibits but an entire PRCA rodeo named after him. The Wild Bill Hickok Rodeo, named one of the best medium-sized PRCA rodeos in the country, attracts thousands of spectators and contestants each year in August. 
Address: 600 North Pine St., Abilene, KS
Dining
Stop for a bite to eat at the Hitching Post Restaurant and Saloon, 100 SE 5th Street, at Old Abilene Town or Legacy Kansas – Munson's Prime & Brookville Hotel, 105 E. Lafayette Ave. Or grab a drink at Abilene's newest bar, the Dizzy Donkey Saloon, 311 N. Spruce St.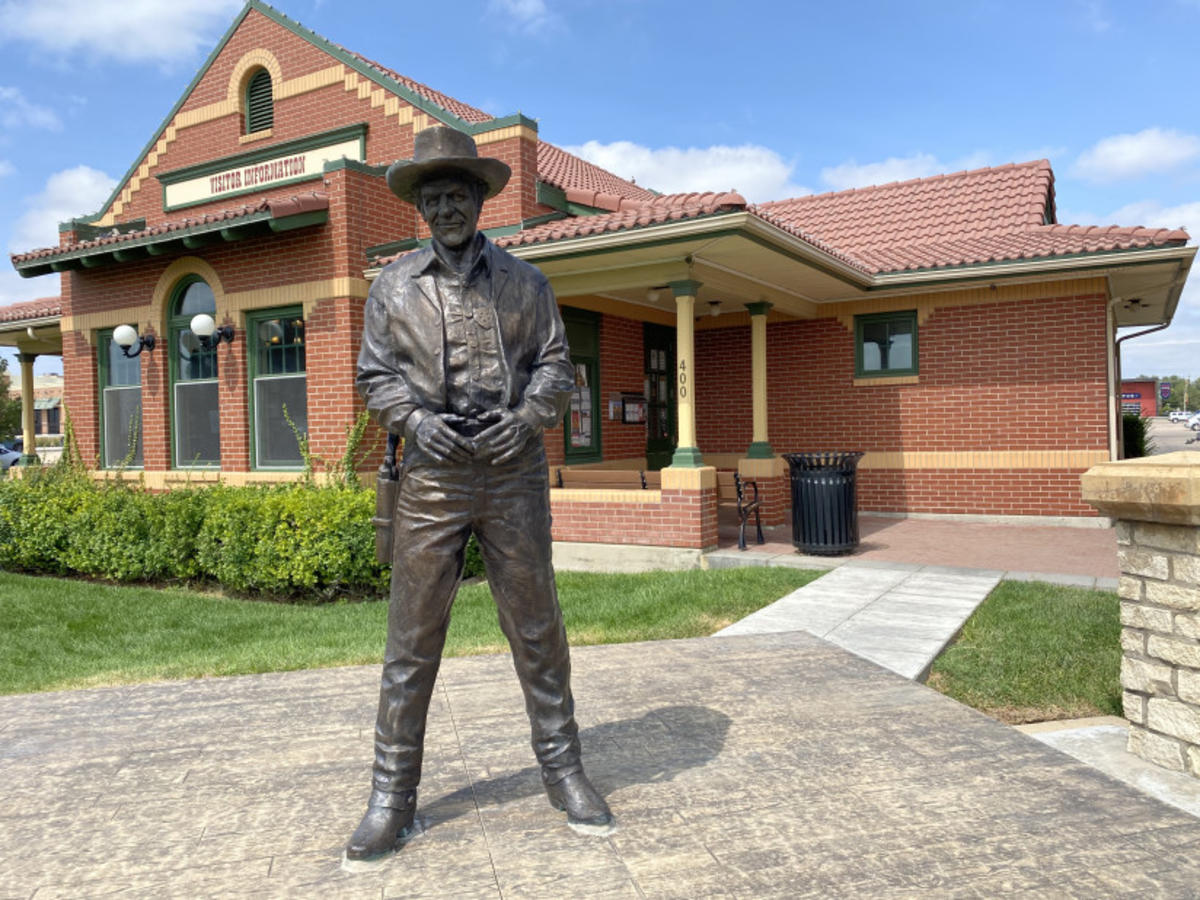 DODGE CITY
Boot Hill Museum
Boot Hill Museum is located on the original site of Boot Hill Cemetery and highlights the glory days as Queen of the Cowtowns with creative, lively, interactive displays and activities the entire family will enjoy. The collection at Boot Hill Museum includes more than 60,000 objects, photographs and documents. Most of our collection is from Dodge City's early days—the 1870s through the 1920s—and actually belonged to original residents of Dodge City. 
Address: 500 W. Wyatt Earp Blvd. Dodge City, KS 
Santa Fe Depot
Built in 1898, the Santa Fe Depot was home to the Harvey House Hotel and El Vaquero Restaurant.
Address: 101 E. Wyatt Earp Blvd., Dodge City, KS
Dodge City Trail of Fame
The Dodge City Trail of Fame, Inc. is part of the Historic Dodge City Walking Tour. This portion of the trail is marked with sidewalk medallions and statuaries to commemorate the many famous and infamous denizens of historic Dodge City. Additionally, many medallions are dedicated to notable movie and television stars who have portrayed famous Dodge Citians.
Address: 400 W. Wyatt Earp Blvd., Dodge City, KS 
Ford County Legacy Center
The Ford County Legacy Center's mission is to preserve the history of all of Ford County and its Communities of Bellefont, Bloom, Bucklin, Dodge City, Ford, Fort Dodge, Howell, Kingsdown, Spearville, Wilroads Gardens, and Wright Windhorst.
Address: 310 Gunsmoke, Dodge City, KS
Fort Dodge
Long before Dodge City was a hustling, bustling cattle town, Fort Dodge was established to protect those traveling on the trail and provide supplies and a resting place for traders and buffalo hunters. 
Address E. Hwy 400, Fort Dodge, KS
Gunfighters Wax Museum
Visit the Gunfighters Wax Museum and see the life-size wax figurines of famous western personalities like Wyatt Earp, Bat Masterson, Doc Holliday, Belle Starr, Davey Crockett, Buffalo Bill, Calamity Jane, Frank and Jesse James, Billy the Kid, Doc, Miss Kitty, Festus and many, many more!
Address: 603 Fifth Ave, Dodge City, KS 
Historic Walking Tour
Walk the streets of Dodge City and see where history was made.  This tour is self-guided and will take you through the streets of historic downtown Dodge City past multiple locations of interest, storyboards, pole art banners and the Dodge City Trail of Fame medallions and sculptures, including James Arness, the actor best known for portraying the fictional Marshal Matt Dillon for 20 years on the television series "Gunsmoke."
Address: 400 W. Wyatt Earp Blvd., Dodge City, KS 
Historic Trolley Tour
Hop on the Dodge City Trolley for a trip back to the 1870s. Visit the original locations of the Long Branch Saloon, Gospel Hill, the deadline — a dividing line meant to keep lawlessness from taking over the city, Front Street and so much more. This is a great way to get your bearings with an overview of Dodge City. Then you can plot the rest of your visit by adding those locations pointed out on the tour.
Address: 400 W. Wyatt Earp Blvd., Dodge City, KS 
Santa Fe Trail Rut Site
The Santa Fe Trail served as the pioneer highway from 1821 to 1872 as a link from the east to Santa Fe, New Mexico. The trail allowed traders to move goods across the country safely and easily. Nine miles west of Dodge City you can see the most clearly defined rut trails, still visible after almost 150 years. The site is nestled among the gently rolling hills of the Kansas plains, where the breeze moves the grasses and the peace of nature accompanies this enduring piece of unique history. Don't miss the opportunity to see this rare landmark.
Address: Highway 50/400 (nine miles west of Dodge City)
Longhorn Park
A small herd of longhorn cattle graze on prairie grass in a 40-acre park located at the Dodge City Regional Airport entrance. Dedicated to the millions of wild Texas longhorns driven to Dodge City during the 1870s and 1880s, the park setting includes corrals for the longhorns and commemorative signs relaying the history of the famous cattle drives.
Address: Hwy 50 & Airport Road, Dodge City, KS
Mueller-Schmidt House Museum (Home of Stone)
In an 1882 bird's-eye view of Dodge City, the Mueller-Schmidt House is proudly perched atop a hill northeast of town, alone in its new splendor and surrounded by a yard planted with trees. Built to be one of the most splendid homes in Dodge City, Ford County's "Home of Stone" lives up to this, even today. It remains the lone limestone house in Dodge City, elegant in its simplicity. It can also claim the distinction of being the oldest building in Dodge City that is still on its original site.
Address: 112 E. Vine St., Dodge City, KS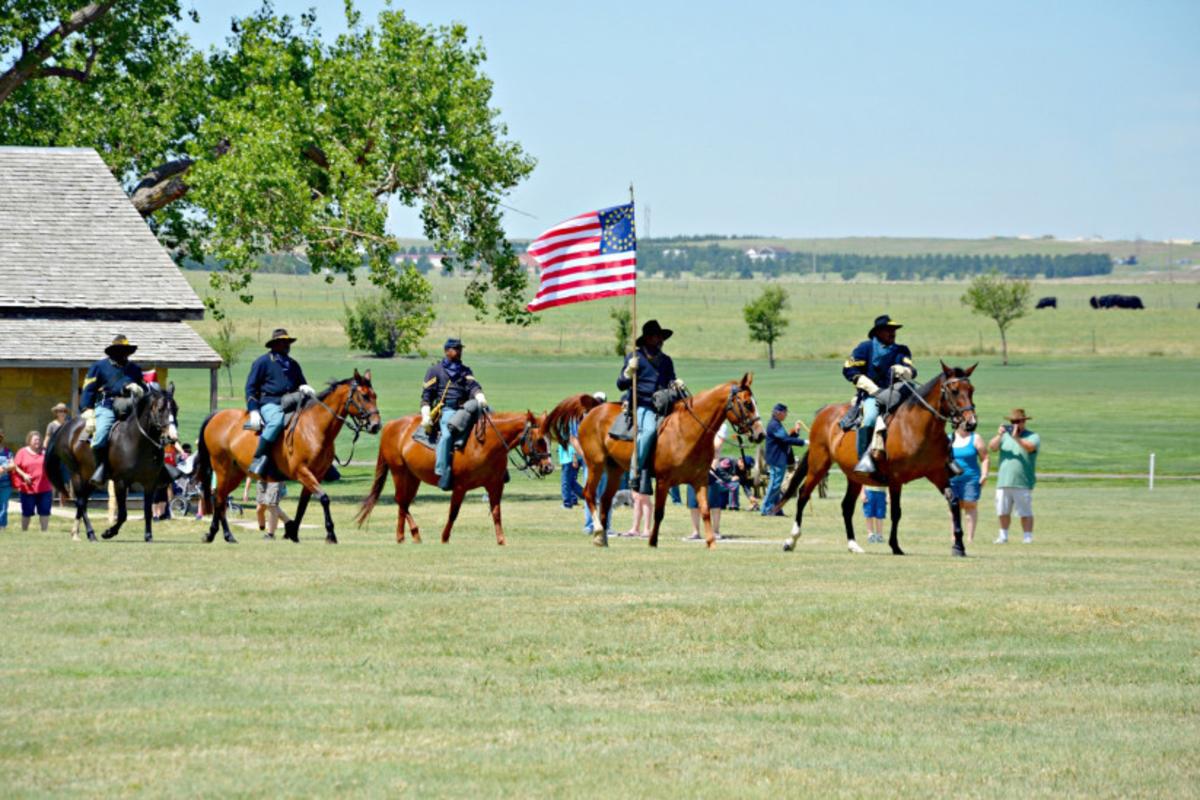 HAYS
Historic Walking Tour
Discover where history walked the streets of old Hays City on the Bricks in Downtown Hays. Bronze plaques mark the route of this self-guided tour and tell the stories behind the sites of former saloons, general stores and more. Start at 10th and Main Street.
Historic Fort Hays Site
Take a step back in time at the Historic Fort Hays Site that was home to the 7th U.S. Cavalry commanded by Lt. Col. George A. Custer. A visitors center and four of the original structures – the stone block house, guardhouse and two officer's quarters – are open for guided tours. Admission is free!
Address: 1472 US Highway 183 Alt, Hays, KS 
Limestone Sculpture Tour
Take a driving or walking tour of local artist, Pete Felten's limestone sculptures that decorate the community. Among these works, you will find the familiar faces of "Buffalo Bill" Cody (Hays Public Library) and "Wild Bill" Hickok (Downtown Pavilion). 
Murals
Explore murals featuring historic Old West icons and elements of Hays' history throughout the bricks in Downtown Hays.
Bison Herd
Stroll through Frontier Park and see the gentle giants of the Plains! The Hays bison herd began in 1952 with a bull named Wild Bill and a cow named Calamity Jane. Now the herd includes two white bison!
Address: Old Hwy 40, across from the Historic Fort Hays Site
Ellis County Historical Society
Schedule a tour of the Younger Harness Shop, which was relocated from W. 11th Street to the Historical Society property.
Address: 100 W. 7th St., Hays, KS 
Hickok's Steakhouse
If Wild Bill was still roaming the streets of Hays, he would surely be eating at Hickok's Steakhouse. Hickok's serves up hand cut, Midwestern Angus beef. Sit down for a hearty meal and enjoy the historic Hays décor.
Address: 3402 Vine St., Hays, KS 
Paisley Pear Whiskey Flight
End your Gunsmoke tour downtown with a whiskey flight at this family-owned wine bar, bistro and market, Paisley Pear. You will also find delicious local desserts, along with Kansas-made products and gifts.
Address: 1100 Main St., Hays, KS 
Other Kansas towns mentioned in "Gunsmoke" include:
Plainville
Bucklin
Spearville
Meade
Mullinville
Hutchinson
Garden City
Olathe
Salina
Kalvesta
Holcomb
Pierceville
For more ideas on things to do in Wichita, the Heart of the Country, browse this guide.