Over the last three years, Wichita has experienced unprecedented hotel growth, adding many new hotels offering meeting space, great locations and a variety of brands. Here are the exciting details about the new hotels opening in 2020.
Hilton Garden Inn, Downtown Wichita
With 127 rooms, this hotel sits inside a newly renovated high-rise building in downtown Wichita. In March 2020, the hotel is set to open their rooftop glass bottom suspended pool that allows guests to safely swim over the edge of the building and look down several stories at the street below, making it one of the few hotels in the world to allow this breathtaking experience. The first floor has a Starbucks Coffee and just outside is a stop along Wichita's Q Line, where you can enjoy complimentary transportation connecting popular entertainment districts on Wichita's Q Line shuttle, or you can enjoy a complementary shuttle service in a Cadillac Escalade from the Dwight D. Eisenhower National Airport and a five-mile radius around the hotel. This hotel is walking distance to Wichita's Old Town Entertainment District and Union Station, and is just four blocks from the convention center. Looking to dine in? The Hilton Garden Inn has two restaurant options now - the Hilton Garden Grille and 401 Pub - and a rooftop restaurant will be opening up later in 2020. The downtown Wichita area continues to grow, offering up shopping, food, entertainment and meeting space venues.
Meeting Spaces at the Hilton Garden Inn Downtown Wichita
401 Cellar Conference Room | 650 Square Feet |Capacity 80 People | A/V Available | Free Wi-Fi
Douglas Foundation Ballroom | 3300 Square Feet | Capacity 300 People | A/V Available with Live Feed Capabilities | Free Wi-Fi
The Vault Boardroom | 275 Square Feet | Capacity 12 People | A/V Available | Free Wi-Fi
Home2 Suites by Hilton Wichita Northeast
For guests looking for a longer stay, the 112 room Home2 Suites complex is in a thriving area. With fine dining, shopping and sports venues, the Home2 Suites offer free WiFi, breakfast, an indoor pool and pet-friendly rooms. Looking for nearby attractions that make for a fun place to bring your group? Wichita's Chicken N' Pickle is close to the Home2 Suites; try your (back)hand at a game of pickle ball and follow up with a great meal. 
Hyatt Place on the campus of Wichita State University
A new hotel is under construction at Wichita State University. The Hyatt Place will have 106 hotel rooms and three meeting spaces, as well as a breakfast buffet and light items for lunch. This hotel sits near the Innovation Campus at Wichita State University, a new take on higher education, where industry and education meet. Major manufacturers and companies are building on the Innovation Campus, allowing students to get hands on, state of the art learning opportunities. The Hyatt Place is expected to open in September of 2020.  
Meeting Space Available at the Hyatt Place at Wichita State University
Meeting Room 1 | 675 Square Feet | Capacity 112 People | A/V Available
Meeting Room 2 | 324 Square Feet | Capacity 54 People | A/V Available
Board Room | 204 Square Feet | Capacity 18 People | A/V Available
Note: Meeting Rooms 1 & 2 can be combined into one space | 999 Square Feet | Capacity 166 People | A/V Available
Hampton Inn, Goddard, Kansas
A new hotel is coming to the Wichita area later in 2020. The 133 room Hampton Inn in Goddard, Kansas will be located next to a new, privately owned aquatic center. This aquatic center will be home to major competitions, with the developer saying to local media that it will be very similar to a Great Wolf Lodge when it comes to connectivity from the pool to the hotel. 
New Hotels in Wichita Over The Past Few Years
These exciting additions join the following new hotels that have opened in Wichita in the last three years: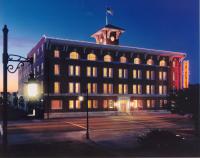 Wichita has several great hotels! Just a few months ago, the Hotel at Old Town was named the top hotel in the state of Kansas by MSN Lifestyle. Follow that with the Ambassador Hotel in downtown Wichita, the states only AAA Four Diamond rated hotel. 
When these 2020 openings are complete, Wichita will have added over 1100 rooms since September 2016. We invite you to come and see the exciting growth in our city for yourself!