There are talented women behind many successful cafes and restaurants in the Wichita area, from soup specialists to coffee experts and executive chefs to owners. Here's a look at three you should know in the Heart of the Country: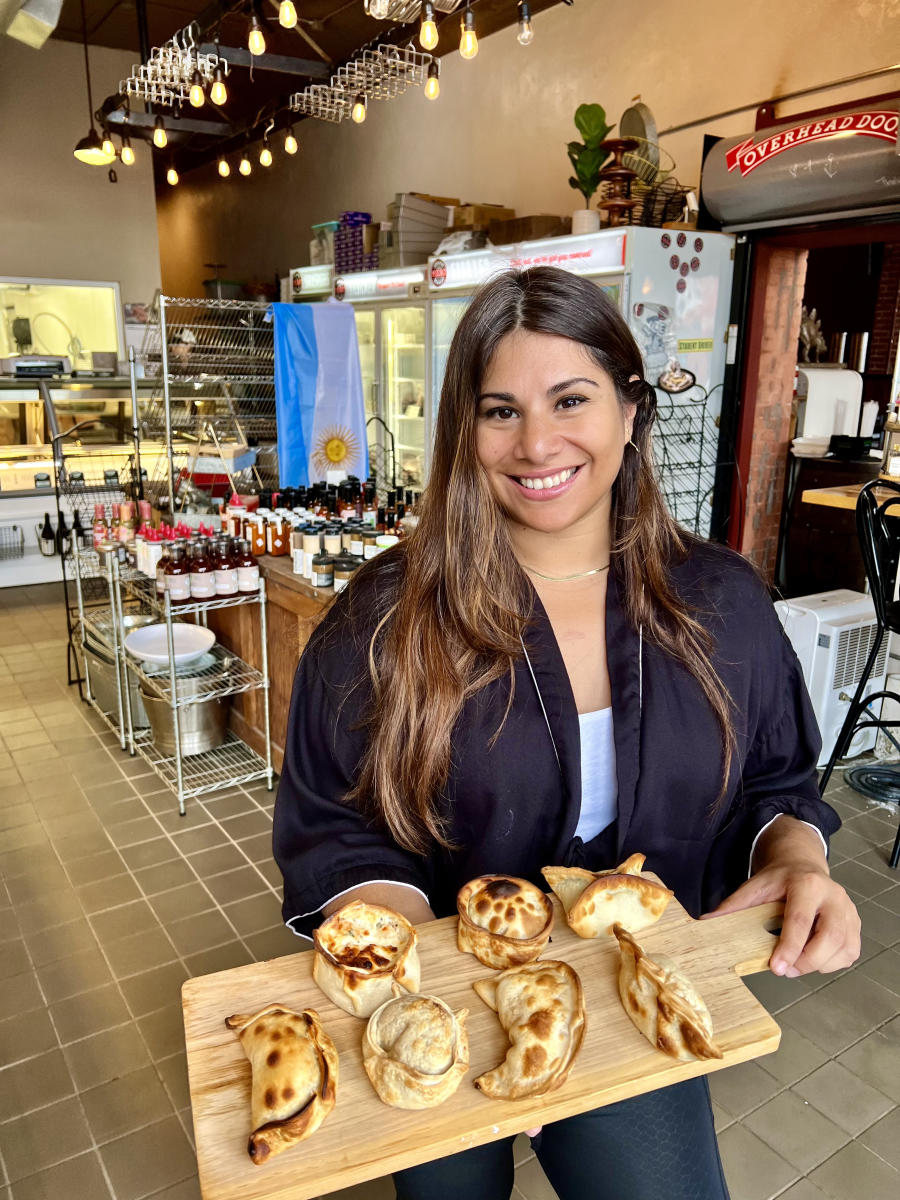 Carolina Freeman – chef and co-owner at Argentina's Empanadas
"If you do your research and keep your eyes open, you'll find an array of great food in Wichita, and everything here is done with more love than in bigger cities you might visit," said Carolina Freeman, who moved to Wichita from her native Argentina in 2017.
Among Wichita's diverse food options are the sweet and savory empanadas and South American desserts offered at Freeman's Argentina's Empanadas. The self-taught chef started filling to-go orders for her empanadas during the pandemic in 2020 and opened a storefront in 2022 where you can eat the hand-held pastries at a small counter or buy a dozen to go.
Her mother is from Peru and her father is from Argentina. While she's inspired by her time living in both countries, Freeman and her mother trained with an award-winning empanada maker in Argentina. Her empanadas are baked and not fried, and you'll find at least 12 gourmet flavors on the menu ranging from sweet to savory.
"What I love about empanadas is that the flavors can be so diverse, each one you try is like having a different meal," Freeman said. "I enjoy bringing the food from my culture to Wichita, and I like to travel and bring the flavors I find and enjoy back to the shop, too."

Natasha Gandhi-Rue – chef and co-owner at The Kitchen
Chef Natasha Gandhi-Rue earned her culinary degree at the French Culinary Institute at the International Culinary Center in New York City though years as a corporate chef and trainer with Williams-Sonoma equally influences her work at The Kitchen, the restaurant she opened in 2016 at Wichita's historic Union Station.
She opened The Kitchen to serve updated comfort food, from the Southern Fried Chicken BLT to delicious creme brulee for dessert. While not everything on the menu is healthy, the dishes are made with clean, fresh ingredients. That means burgers made from fresh-never-frozen beef with no fillers and bacon containing no nitrates, for example.
"We make everything we possibly can from scratch so it's food that's good for you and also good for your soul," she said. "We also pride ourselves in having something on the menu for everyone, whether they are vegan, eating gluten free or craving a juicy burger. We want people to feel good about what they are eating."
Gandhi-Rue also has a passion for sharing her food knowledge by teaching classes, either privately by appointment or on Sundays when the restaurant is closed (advance registration required and they sell out quickly). Watch The Kitchen's Facebook page for free 30-meal cooking demonstrations shown live online and meant for home cooks to follow along.

Jennifer Reifschneider – executive chef at Woodfire Grille
Chef Jen Reifschneider loves to take a classic and make it new again, and you can get a taste for that style at Woodfire Grille, the signature steakhouse inside Kansas Star Casino. The menu offers USDA Prime grade steaks, inspired fresh seafood and other entrees that rotate seasonally and are served in a cozy, fireside atmosphere.
Reifschneider returned to the Wichita area after earning a degree in business administration at Ball State University in Muncie, Indiana, and pursuing her passion for cooking with a culinary degree from the Art Institute of Colorado in Denver. She describes her cooking style as classical cuisine meets modern technique.
"I'm inspired by unique, seasonal and interesting ingredients," she said. "I believe in making everything from scratch, using the best ingredients we can source and creating a memorable dining experience for our guests."
Her advice to finding Wichita's dining gems? "Don't be afraid to go out of your way and it's okay to cross the river for a great meal."
You can find more female chefs, bakers and brewers by reading this blog post on women-owned and operated businesses in Wichita. We hope learning about these three diverse women will show you the talented chefs and variety of cuisine you'll find when you visit Wichita.