Pictured above: Aida Stenholm, owner of Aida Stenholm - Custom Shoes
It's Women's History Month! To celebrate we are highlighting some of the amazing women-owned and co-owned businesses Wichita has to offer.
But because there are so many wonderful Wichita businesses owned by women, not all are listed here. We hope you find a few to put on your must-visit list. Know of a business we should add? Tell us about it!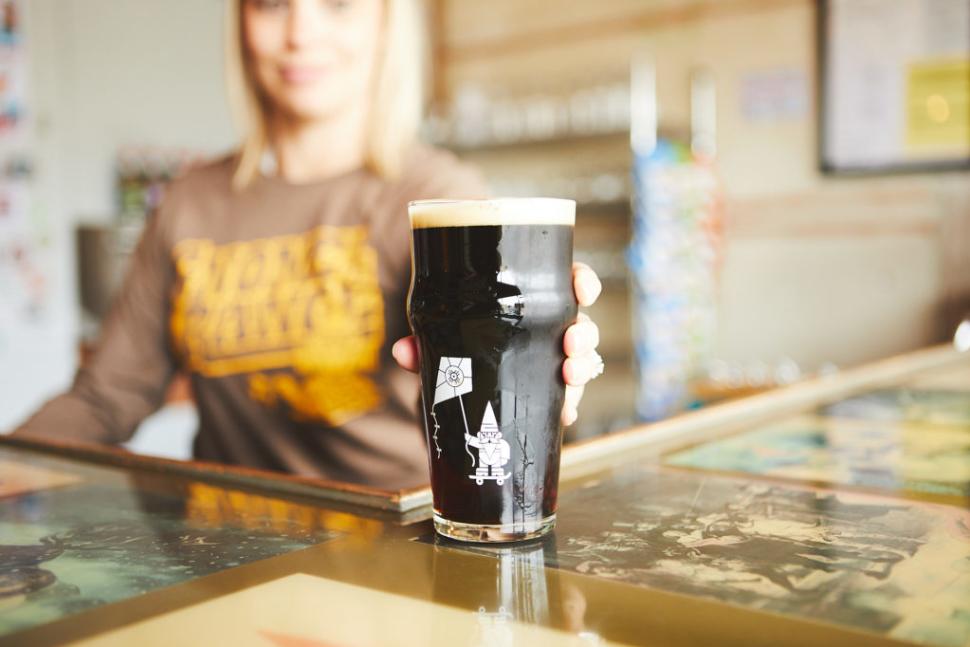 Stacy Ward Lattin, co-owner of Hopping Gnome / Photo credit: Pilsen Photography Co-op
Women-owned eateries & breweries
Brickyard and Public – Connected to Brickyard, a popular outdoor venue in Wichita's Old Town District, is Public, a restaurant owned by Brooke Russell and her husband, Travis. They opened the farm-to-table eatery in 2012, which is known for its menu full of craft beer, creative and delicious menu items and ambience. It's located at the bottom floor of a restored 1916 warehouse where Wichitans once made caskets. Together, they also operate Brickyard with Travis' mother, who opened the venue 25 years ago!
The Kitchen – Natasha Gandhi-Rue, the chef, owns the restaurant with her husband Scott. Together they offer food made from scratch in a casual atmosphere, a full-service bar, and have alternative options for specific dietary needs. To learn more about this woman-owned eatery check out this video.
Tanya's Soup Kitchen – Pull up a seat and this place will serve you a bowl full of soul. They offer hand-crafted soups, sandwiches and salads for vegans, vegetarians and carnivores alike. To learn more about what makes this place a hot spot click here.
Monica's Bundt Cake – The bakery provides delicious made-from-scratch desserts for Wichita and surrounding areas. They have an array of sweets to give you the sugar fix you didn't know you needed. Learn more about their bakery here.
Leslie's Coffee Co. – If you're looking for an IG-worthy carefully-crafted artisan coffee, this is the place to be. This coffee shop is located in the Historic Delano District and offers not only coffee, but teas, house-made pastries plus a unique food menu. Their avocado toast is a must-try!
The Donut Whole – This is more than a donut shop! It's a coffeehouse, art gallery and live music venue. Also located in the Douglas Design District, this tasty shop makes all of its donuts from scratch using locally sourced ingredients. They offer some crazy flavors including, root beer float, fluffernutter and sunshine citrus.
Mort's Martini & Cigar Bar – This bar has an impressive martini selection; with more than 160 options you are bound to find the perfect one. Mort's also offers a full bar and a quality cigar selection. During the spring and summer months, you can stop by and enjoy live music on the patio, and in the winter, they have smaller acts performed indoors. Regardless of the weather, their patio is heated so you are free to enjoy the outdoors all year round.
Hopping Gnome Brewing – The brewery's mission is simple, brew a variety of beers with quality ingredients. These craft beers are one of a kind, and you can either stop by and try them at Hopping Gnome or other local bars around Wichita. Check their website for a list of bars and restaurants that have Gnome beer on tap.
Doo-Dah Diner – If you're looking for comfort food, your search stops here. Doo-Dah Diner serves breakfast and lunch in a laid-back whimsical atmosphere. A few of their house specialties include their banana bread French toast, crispy corned beef hash and their smothered breakfast burrito.
Alzavino Wine Tavern – Have you ever been to a self-serve wine bar? This place has a modern and innovative way for guests to enjoy a glass of wine. Along with their other wine selections they have 16 that are self-serve. For a walk-through on how to navigate the wine bar click here to watch our TikTok.
Paradise Donuts – With two locations in Old Town and West Wichita, one of these donut shops is probably right around the corner from you. Not only does this place serve festive donuts they also have cinnamon rolls, apple fritters, breakfast burritos and more!
The Monarch – Two things about this place: it has good eats and better drinks! Proudly serving Wichita since 2012 with a variety of food items to satisfy every taste. They also have a vast selection of bourbon, whiskey, scotch and were recently named one of Bourbon Review's best bourbon bars!
Inspirit Kombucha Brewing Co. – If you're a lover of kombucha, this is the spot for you! If you don't know, kombucha is a tasty drink that aids in digestion health by feeding your gut with healthy bacteria. Inspirit brews hand-crafted kombucha teas, and also has a truck that can swing by events of all kinds.
Sunflower Espresso – This coffee spot brings coffee on the go to a whole other level. This place is a coffee shop on wheels! Sunflower serves the Wichita area using locally sourced snacks and beverages. The truck is usually located at 500 South Topeka, and they also have a space at that location where you're free to go inside and order too.
Farris Wheel – This candy shop has the cure for your sweet tooth. It has a variety of sweets from fancy candies, fine chocolates and gummies, to roasted nuts and trail mixes. They have a storefront located in the Cambridge Market but they also ship their tasty treats nationwide.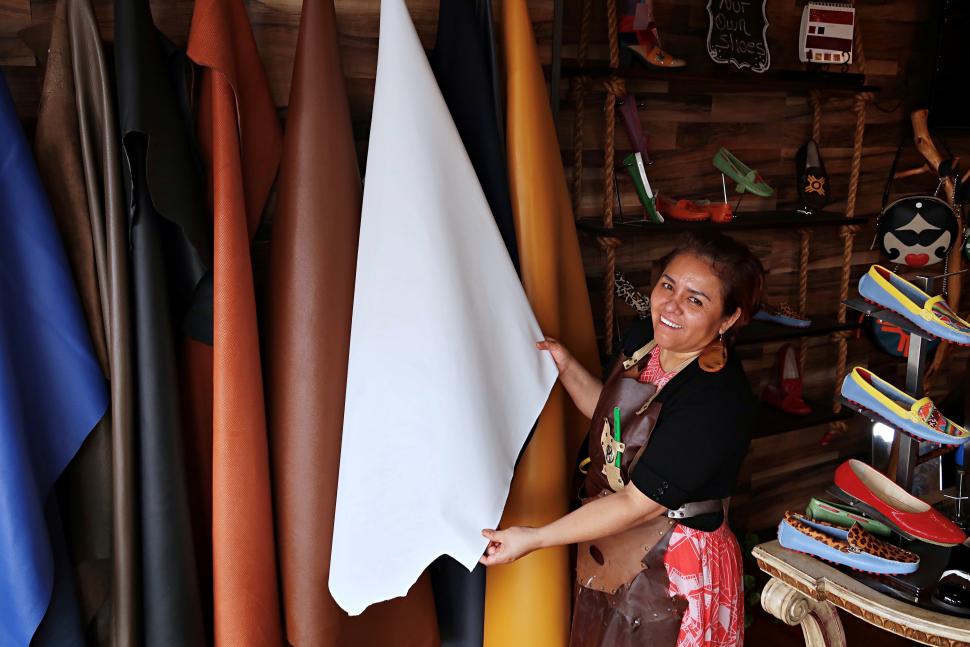 Aida Stenholm
Women-owned shops
Lucinda's – This place has an incredible selection of quirky and unique gifts. They have a mixture of home décor, little trinkets and great Wichita gear. Stop by and check out this adorable shop.
Uniquities Home – This old town shop specializes in all things unique. They offer salvaged furniture, antiques and repurposed gift items from around the world. You're sure to find a hidden treasure here, but be sure to check their schedule because they're only open one weekend per month.
The Workroom – Looking for #FlagSwag? The Workroom has you covered. At this shop, you'll find local art, artisan goods and all types of Wichita accessories. In addition, they have a sewing room for home textiles.
Urban Interiors – A place to find unique one-of-a-kind furniture or a special gift for a loved one. Come out and explore what Urban Interiors has to offer.
Aida Stenholm – Looking for a truly one-of-a-kind piece to elevate your wardrobe? Look no further. Stenholm designs handmade bags, accessories and custom shoes. Each pair of shoes is completely unique to the buyer. Stop by for a custom piece, you'll be happy you did.
Bungalow 26 – The place for people who love eclectic items. This shop offers a selection of products for the home, bath and body. You're sure to find something that makes something simple feel luxurious.
ICT Makers – This is the one-stop shop if you're in search of Wichita gear. They have a wide range of creative merch, featuring the Wichita flag and displaying Wichita pride. You can find their merch at the local shops around town.
Lola Candle Co. – Calling all candle lovers. Lola is sure to have a scent for you to fill your home or office. You can sign up for one of the candle workshops available and create your dream candle scent.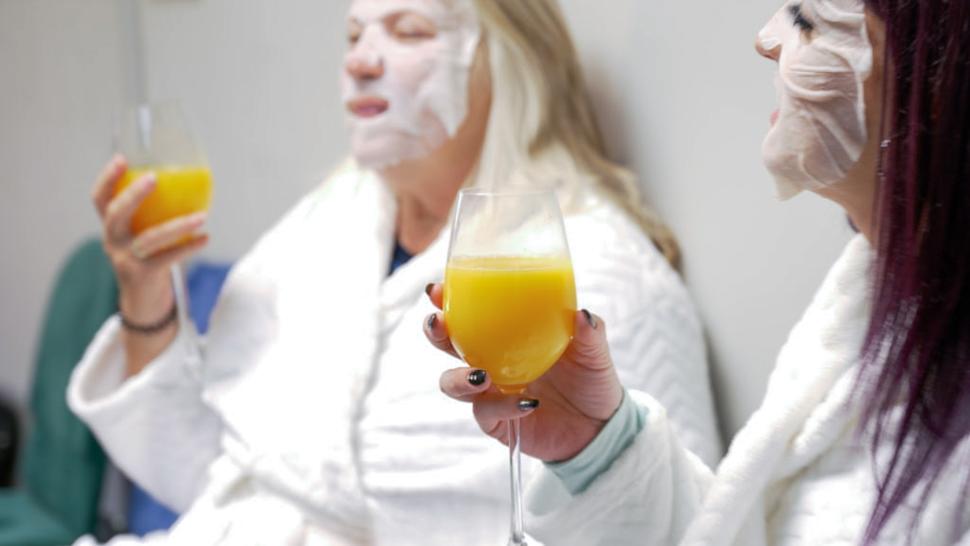 Women enjoying the relaxing services at A. Jay Health & Wellness
Women-owned beauty/health & wellness
Bohemia Healing Spa – In both locations (Delano & East Wichita) the spa uses natural and holistic treatment methods, specializing in therapeutic massage, facials, waxing, health wraps, and men's services. The goal is to provide you with a nice balance of healing and indulgence.
Colour T-Hair-apy Salon & Oxygen Bar – Not only can this place provide you with beautiful hair treatments and services, but they also offer the very first oxygen bar in Wichita. The bar provides relaxation and fun with many flavor choices.
The Health Connection – This is an alternative medicine and holistic healing store that carries a wide variety of CBD products. Additionally, they offer services including: yoga, guided meditation, pain therapy and more!
A. Jay Health & Wellness – Recovering from a surgery or injury? This place has you covered and will soothe away all your muscle aches and pains.
Want to get to know other influential women in Wichita? Go here for an overview of women who have made their mark on the city - past and present.