National Hispanic Heritage Month (Sept. 15 to Oct. 15) recognizes and celebrates the cultures and contributions of Hispanic and Latino Americans across the United States. It starts in the middle of the month rather than at the beginning of September to honor the anniversaries of national independence for a number of Latin American countries on Sept. 15, and because the commemoration started as a weeklong event.
To celebrate Wichita's Latinx community, we have compiled this list of special events throughout the month as well as businesses you can support year-round.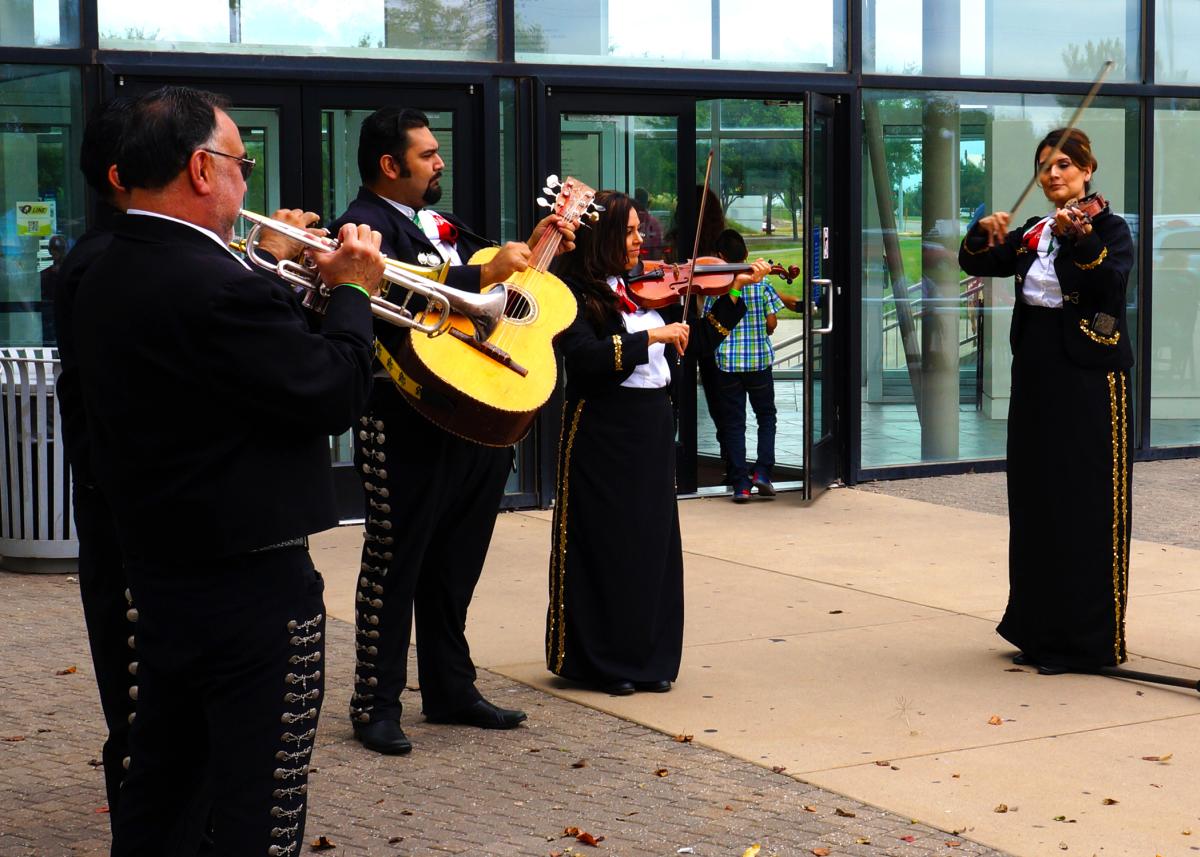 Special Events
Fiesta Hispana at Exploration Place (pictured in blog) – Sept. 11
Enjoy crafts, play games, savor delicious food, party on with music and dance, rev your engines with low riders and explore the exhibit galleries at Exploration Place. Indoor stage performances will include a mariachi band, folklorico dancers, matachines dancers, singers, a fashion show and more. The event is 10 a.m. to 5 p.m. and is included with general museum admission.
Latine Heritage Month Celebration at Wichita State University – Sept. 15
Learn the history, feel the music and taste the flavor of Latin America at this event organized by WSU's Hispanic/Latine Groups & Student Organizations. This celebration is 11 a.m. to 1 p.m. and will feature food, arts and craft vendors and even a piñata activity. There may be a cost at some booths; cash only.
"Selena" screening at Orpheum Theatre – Sept. 15
This 1997 American biographical musical drama film stars Jennifer Lopez in her breakout role as Selena Quintanilla-Pérez, whose contributions to music and fashion made her one of the most celebrated Mexican-American entertainers of the late 20th century.
LatinfestICT in Old Town Square – Sept. 17
Don't miss this free cultural experience with more than 24 vendors, authentic cuisine, games and contests, a historical presentation and lots of live music and performances, including a special tribute to Latinos on Broadway and in the movies. The documentary film "Nuevas Adelitas" presented by The North End Wichita Historical Society will debut and tell the story of the Mexican Queen Contest along with its evolution and use throughout the last century. The event runs 11 a.m. to 11 p.m.
"Power to the People: Mexican Prints From the Great War to the Cold War" at Wichita Art Museum – ongoing through Dec. 31
Drawing on work from the James and Virginia Moffett Collection, this exhibition explores the political and social conditions of early-20th-century Mexico and the dynamic, groundbreaking art that emerged from the Mexican Revolution (1910–1920). This period of war and dramatic social upheaval witnessed a flowering of artistic production, particularly in printmaking and graphic arts. Mexico's long printmaking tradition dates to the late 1500s. Teresa Molina, assistant professor of Spanish at Friends University, has translated exhibition signage and labels for each work of art for Spanish-speaking visitors.
Available Year-Round
Consider visiting these Latinx-owned and operated shops, markets, bakeries and restaurants. They are located throughout the city, though you'll find a concentration of businesses in Wichita's North End Mexican Community, often referred to as NoMar and roughly bordered by I-235 to the north, Broadway to the east, 13th Street to the south and Amidon to the west.
Aida Stenholm – find handmade bags, accessories and custom shoes by this Peruvian-American designer whose shop is in the Douglas Design District
Argentina's Empanadas – one-of-a-kind empanadas with a wide selection of fillings in the Douglas Design District
Monica's Bundt Cake – locally owned bakery offering scratch desserts and cakes from Revolutsia, Wichita's dining and shopping destination built using shipping containers
Playa Azul – an Old Town staple serving a large selection of Mexican dishes
AzTeca's Boutique – a shop at Revolutsia selling handmade goods imported from Mexico and ranging from clothing and accessories to pottery and toys
Connie's Mexico Café – Wichita's oldest family-owned Mexican restaurant
El Pollo Dorado – serving tacos and rotisserie whole chickens
El Rio Bravo Supermarket – two locations, both selling prepared foods
Felipe's – a four-restaurant local chain of Mexican restaurants that started in February 1967
Juarez Bakery – in addition to pastries, sweet breads and cakes, both locations of this bakery sell breakfast burritos, fresh tortillas, paletas, meats and other groceries
La Chinita Mexican Restaurant – serving authentic Mexican fare since 1976
La Tapatia Supermarket – groceries, prepared foods and home goods
Molino's Mexican Cuisine – serving an inventive fusion of traditional Mexican and Latin American dishes in downtown Wichita
Molino's Taqueria – an eastside, fast service concept from Molino's
Mr. Taco – enjoy tacos and their outdoor seating
Las Delicias ICT –  drinks such as aguas frescas and snacks including ceviche, Mexican street corn and ice cream
Palacana – Wichita's outpost of this favorite paleteria that first opened in Kansas City, Missouri, in 2004
Paleteria La Reyna – a full menu of entrees, snacks, aguas frescos and desserts, including homemade ice cream and Mexican popsicles, called paletas
Puerto Vallarta Mexican Restaurant – westside restaurant serving from-scratch cuisine
Ruben's Mexican Grill – a longstanding restaurant in the Historic Delano District
Tacos TJ 644 – two locations for Tijuana style tacos and more
Taqueria El Fogon – two locations known for street tacos
Tianguis Carniceria – Mexican market known for its butcher shop
Tortilleria Los III Potrillos – a tortilla factory that also serves burritos, tamales, churros and other Mexican treats
Uno Mas Fresh Mex – two locations plus a food truck that serves weekend nights
While not comprehensive, this blog post features businesses that visitors might be looking for when spending time in the Heart of the Country. Know of a business we should add? Tell us about it!