Wichita Pride is back in 2023 for another year of vibrant, exciting National Pride Month festivities. Here's what to expect this year.

Wichita Pride Festival
May 27 - June 25
The Wichita Pride organization's 2023 Wichita Pride Festival kicks off with a concert on May 27 and runs through June 25. The theme for this year's festival is "Looking Back Moving Forward." The organization looks to celebrate the work that has been done in years past but also look to the future as they strive to expand Wichita Pride to a year-round celebration.
New this year, Wichita Pride is partnering with the Tallgrass Film Association in a new initiative, Pridegrass, for three films during Pride Month. More details are forthcoming. Also new is the Family Swim Party, taking place at 6:30 p.m. on June 23.
Wichita Pride events:
May 27: Pride Month Kickoff Concert from 6 to 10 p.m. at Kirby's Beer Store
June 9: Pridegrass Film #1: "Hedwig & The Angry Inch"
June 11: Unity March, Family Picnic and Pridegrass Film #2: "Framing Agnes"
June 22: Wallflower on Ice and Teen Skate Party at Wichita Ice Center
June 23: Family Swim Party at Minisa Pool (Entry is limited to the first 150 attendees. Buttons are $8 for ages 5 and up and can be purchased at the event or in advance at The Workroom or the Century II box office.)
June 23: Pride Party in the Park at Naftzger Park
June 24: Interfaith Service and Opening Night Show & Pageant
June 24: Wild & Proud Day at the Zoo at Sedgwick County Zoo
June 25: Parade & Festival and Pridegrass Film #3: "Moonlight"
June 25: Rally & Pride Parade at the historic Sedgwick County Courthouse
June 25: Pride Festival at Century II Expo Hall
June 29: Pridegrass Movie Night, "The Bitter Tears of Petra Von Kant"
Keep an eye on their website and social media for more events throughout the month of June and the rest of the year.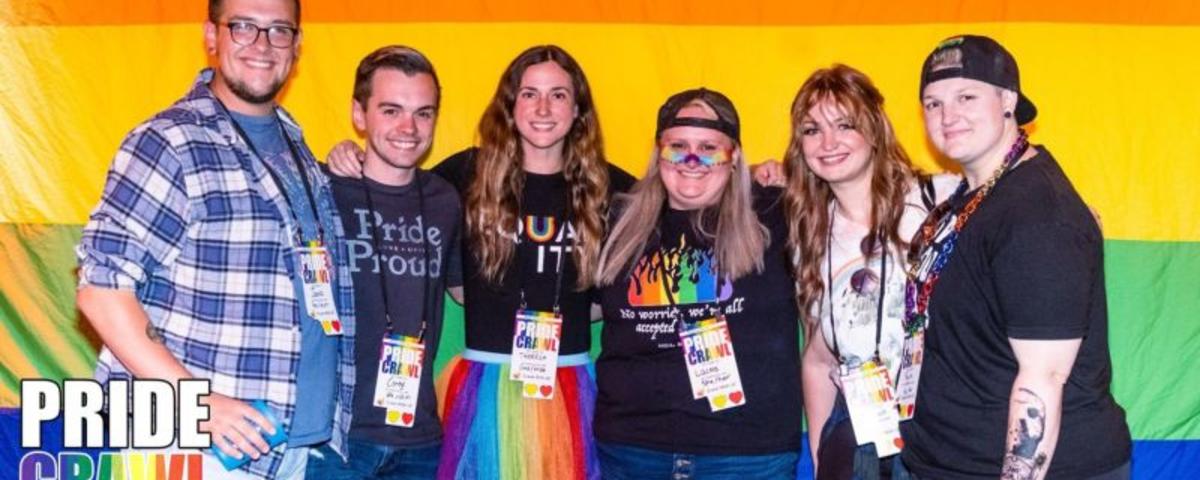 Community Events During Pride Month 
Senior Wednesday – From Stonewall to Small Town Kansas by Brandon West
May 24
10 to 11 a.m. at Wichita-Sedgwick Co. Historical Museum
The social revolution commonly known as Pride has deep connections to Kansas. The events at Stonewall Inn in Greenwich Village in 1969 galvanized a generation to stand up for their civil rights. Kansans contributed to this history, including the design of the iconic rainbow flag. Brandon West, executive director of the national nonprofit organization Project Q&A, Inc. and the development coordinator for the Independence Public Library, will trace early struggles to gain equality in rights for LGBTQ individuals and today's broad acceptance of Pride in rural Kansas. Doors open at 9:45 a.m. Tours follow at 11 a.m. Museum admission for non-members is just $2.
Rainbow Lips Paint and Sip
June 1
6 p.m. at Chico's Mexican Restaurant
In honor of Pride Month, head to Chico's Rainbow Lips Paint and Sip, an evening of painting rainbow lips. Step by step painting instructions will be provided or select a pre-sketched canvas. Just show up, sip a drink and let the creativity flow! Don't forget to pick up something sweet from Baked Cakes and More. This is an 18+ event and admission is $25. Food and drink purchases are not included in the ticket price. Tickets are required and sales will close at midnight the night before the event.
ICT Big Gay Market
June 4
9 a.m. to 3 p.m. at Leaf & Stone Apothecary
Shop your heart out at the ICT Big Gay Market at 11th & Bitting in Wichita's Riverside neighborhood. The street will be closed and instead filled with local and LGBTQ-owned and ally-owned vendors, live music and more.
Second Sunday Drag Brunch
June 11
Noon to 2 p.m. at Roxy's Downtown
Don't be down! Come on down to Roxy's Downtown for Second Drag Brunch with some of Wichita and the region's best-known Queens and Kings. In honor of Pride Month, come have a bowl of fun (and a great bowl of one of the brunch items) along with drink specials to fit any taste. It's Sunday Funday at Roxy's, where the performers are the only drag you'll have! Doors open at noon with the show promptly starting at 12:30. Your brunch is your ticket.
Pride Bar Crawl
June 17
4 p.m. at Peerless
Make plans to attend the 5th annual Pride Bar Crawl in Wichita's Old Town District. Stops will include River City Brewing Co., Revolution Lounge, Peerless and The PourHouse. Tickets include drink vouchers, exclusive drink specials and more. A portion of the proceeds will be donated to The Trevor Project. Tickets range from $10 to $20.
Pride Party with Echos at Brickyard
June 17
8 p.m. at Brickyard
Celebrate Pride at the Pride Party with Echos. This is a 21-plus event at Brickyard, an outdoor music venue adjacent to Public in Old Town.
To find more events and activities while you're in Wichita, visit our calendar of events. Wondering what visiting the Heart of the Country is like for members of the LGBTQ+ community? Explore our LGBTQ+ Community Guide to learn more about Wichita's LGBTQ+ culture through the eyes of those in the know. Also, connect with Visit Wichita and other destinations in Pride Journey's 2023 LGBTQ Travel Directory.