When you think of "Queer Vacation Destinations" Kansas' largest city might not be the first city that comes to your mind. However this city in the Heart of the Country offers a fusion of nightlife, unique dining, eclectic neighborhoods, rich history and world-class museums.
Wichita is known for its Midwest niceness, however members of the LGBTQ+ community know those pleasantries can sometimes only extend so far. So, what is it like visiting one of the largest cities in the Bible Belt as a member of the LGBTQ+ community?
Wichita doesn't have a dedicated "gayborhood" like many major U.S. cities, however you will find a number of LGBTQ+ friendly areas, restaurants, bars and shops spread throughout the city. In recent years, Wichita has made strides to be more welcoming and add legal protections to the city code. In 2021 the City of Wichita adopted the strongest Non-Discrimination Ordinance in the State of Kansas protecting sexual orientation and gender identity within city limits. This NDO is the primary reason Wichita scored a perfect 100 on the Human Rights Campaign's Equality Index.
Wichita is a relatively tolerant city. Queer couples are unlikely to face outright hostility, however public displays of affection in the more suburban areas of Wichita may draw attention. In the more central areas of Wichita (Downtown, Riverside, Douglas Design District, Delano), holding hands or other public displays are unlikely to garner a second glance.
The best advice I can offer you is to be a couple, don't hide your affection, but always be mindful of your surroundings when you do. This is pretty standard in any U.S. city outside of the East or West Coasts. Below you'll find some of my favorite places to visit in Wichita that are friendly to the LGBTQ+ community.
While there are no gay-specific hotels in Wichita, you'll find the vast majority of hotels are friendly and welcoming of same-sex couples.

LGBTQ+ Friendly Attractions
Being gay does not define which attractions most of us want to see in a city, and most queer travelers want to check out the top things to see in whichever city they happen to be visiting. Below you'll find my three personal favorite attractions in Wichita, however all of the attractions listed on this website are friendly and welcoming to queer travelers. 

Botanica Wichita
The Botanica Wichita gardens are a must-see for any visitor to the ICT. The gardens sit at the confluence of the Arkansas River and Little Arkansas River just outside of Downtown Wichita in the Riverside neighborhood (arguably the most gay-friendly neighborhood in the city). Botanica features a number of beautiful, selfie-ready gardens, a butterfly exhibit and event space. It is easy to visit via car, public transit or by bike/electric scooter.

Wichita Art Museum
Wichita's premiere art museum, often called WAM, features a collection that includes the works of Dale Chihuly, Charles Sheeler, John Marin, Mary Cassatt, Thomas Eakins and more. The museum is located in the Museums on the River District in the Riverside neighborhood and admission is free!
Tip: Enjoy lunch at the new 1400 By Elderslie Cafe located inside the museum.

Old Cowtown Museum 
Want a taste of history and a great Instagram photo? Check out Old Cowtown Museum and get a feel for what life was like for the first settlers in Kansas. The museum sits along the Arkansas River in the Riverside neighborhood (on what used to be the original Chisholm Trail) and features more than 50 historic and re-created buildings.
LGBTQ+ Friendly Neighborhoods

Delano & Waterfront
Delano District is one of Wichita's most "hip" (and LGBTQ+ friendly) neighborhoods - home to the Riverfront Stadium, boutiques and restaurants. Take an afternoon to visit some of our favorite spots like Vortex Souvenir which features local art and handcrafted goods from a number of queer artists in the community. Along the Arkansas River near Delano, you can find the iconic Keeper of the Plains, Boats & Bikes, the Wichita Baseball Museum and more.
Don't miss spots in and near Delano:
Milkfloat (dessert & coffee
The Monarch (food & drink)
Keeper of the Plains (Wichita monument
Vortex Souvenir (gifts & local art)
Bungalow 26 (gifts & apothecary
GROW Giesen Plant Shop/Botanic (plants & cocktails)
Visit Wichita (visitor information)

Douglas Design District
The Douglas Design District (DDD) is another gay-friendly neighborhood located along Douglas Avenue just east of downtown Wichita. You can find a wide array of shops, art galleries and restaurants along with 108 unique and vibrant murals that decorate the streets and buildings.
Don't miss spots in Douglas Design District:
The Workroom (gifts & local art)
Eightball Fashion (unisex clothing boutique)
The Spice Merchant and Company (coffee, tea and gift shop)
The Hereafter (LGBTQ+ owned vintage shop)
Watermark Books & Café (Bookstore with LGBTQ+ titles and authors)

Old Town District
Old Town District is a historic warehouse district that has been transformed into a bustling neighborhood with shops, boutiques, restaurants and bars. The majority of Wichita's nightlife options are centered around the old brick streets of this downtown neighborhood (including two of Wichita's gay bars).
Don't miss spots in Old Town:
Standard Issue Company (men's clothing & barbershop)
Lucinda's (women's clothing, gifts & novelties)
Norton's Brewing Co. (LGBTQ+ affirming brewery & restaurant)
Espresso To Go Go (coffeeshop)
Dead Center Vintage (LGBTQ+ owned vintage shop)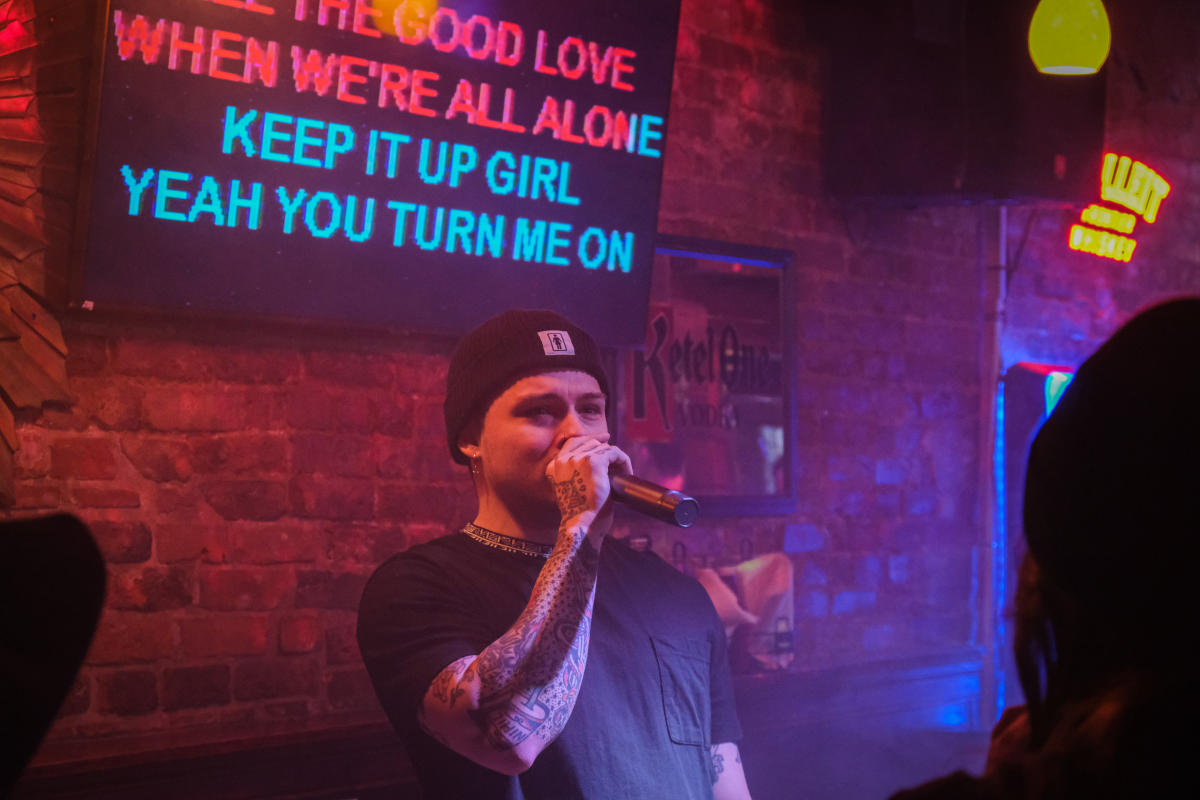 LGBTQ+ Friendly Nightlife
XY
XY is Wichita's newest LGBTQ+ nightclub. It features drag shows on Sundays, Karaoke on Wednesdays and pop/edm music with a live DJ on Friday and Saturday nights. XY is a mix of LGBTQ individuals and allies. It draws a large crowd of young party-goers who are ready to dance the night away. XY remains one of the most popular bars in Old Town and charges no cover.
Tip: Arrive before 11 p.m. if you want to avoid a line on Saturday nights. Bars and nightclubs in Wichita remain open until 2 a.m.
J's Lounge
J's Lounge is a gay dive bar just outside of Old Town. It's a small, no-frills bar with strong, cheap drinks, friendly bartenders and an eclectic mix of patrons. J's is most popular on Friday and Saturday nights and often features theme nights like "Pups and Leather."
Tip: Be mindful of your surroundings when coming and going. The neighborhood is relatively safe, however there have been safety issues with patrons leaving alone late at night. I visit with a group of friends frequently and have a great, safe and comfortable time!
Rain Cafe & Lounge
Rain is one of Wichita's oldest gay establishments. Its location near INTRUST Bank Arena and directly across the street from Naftzger Park making it a popular hangout spot during large events. It features an enclosed patio, pool table and full food menu (available during the day). Rain is locally famous for their Thursday night karaoke party which fills the bar each week.
Tip: Check Rain's Facebook for a schedule of drag brunches throughout the year!
Although not technically a gay bar, this small dive near Wichita State University is popular among LGBTQ+ college students and locals. The drinks are cheap, the music is loud and the decor is grunge.
Tip: Visit Kirby's on a themed night (like Goth Night) for a unique party you won't forget.